Meadow Lane: A Complete Baking Mix for Vegan & Gluten-Free Chocolate Chip Cookies (plus a Giveaway)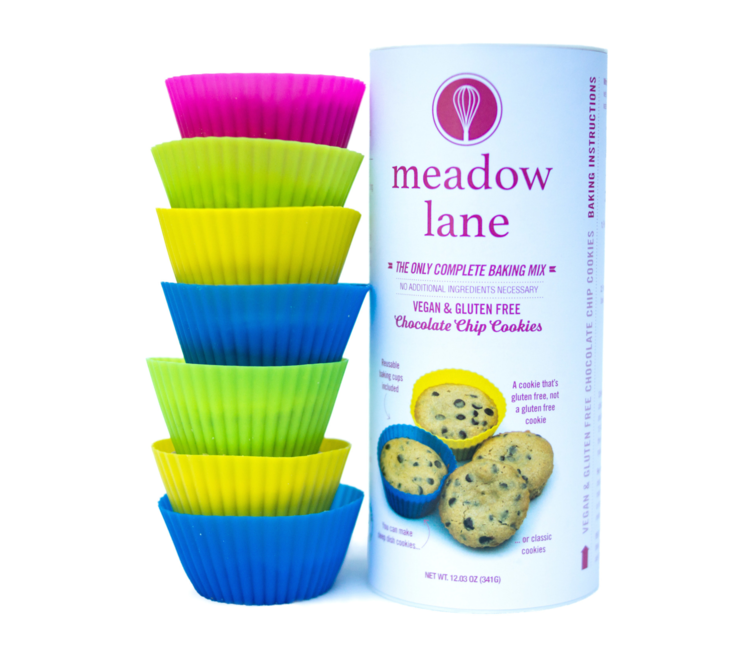 Ever have the desire to bake up a batch of gluten-free cookies, only to discover you are out of one or more ingredients and either need to run off to the grocery store or disappointingly shelf the idea? We've all been there, right?
Enter Meadow Lane, a Vegan & Gluten Free Complete Baking Mix for Chocolate Chip Cookies. Entrepreneurs Sara & Brendan, friends since attending high school together in Katonah, New York, set out to create an all-inclusive gluten-free and vegan baking mix, which according to the Meadow Lane website, is currently the only complete mix of this kind on the market!
(Enter Giveaway Below!) Sorry, Giveaway now closed.
The creative cylinder tube (which also takes up less space in the pantry!) contains one packet of baking mix chock full of vegan chocolate chips and one packet of wet ingredients (see complete ingredient list below). You don't need to add any other ingredients like eggs, butter, milk, oil or flavorings. Also included in a tube are 4 colorful reusable (dishwasher-safe) silicone baking cups which can be used to make deep dish cookies in addition to the classic rounds.
The Meadow Lane baking mix is also a healthier option for chocolate chip cookies as both the dry and wet ingredients are free from artificial flavors and colorings and are:
Gluten-Free (certified)* . Vegan (certified) . Dairy-Free . Gum-Free . 
Nut-Free . Refined Sugar-Free . Preservative-Free
All natural ingredients include: organic maple syrup, vegan chocolate chips, grape seed oil, chickpea flour, tapioca flour, certified gluten free oat flour, vanilla extract, baking soda, sea salt.
What I also love about this complete baking mix is there is little or no mess. Simply open the bag of wet ingredients, pour into dry ingredients, mix well and then spoon onto baking dish (and/or fill silicone baking cups if deep dish chocolate chip cookies are desired). That's it, easy-peasy and without the mess!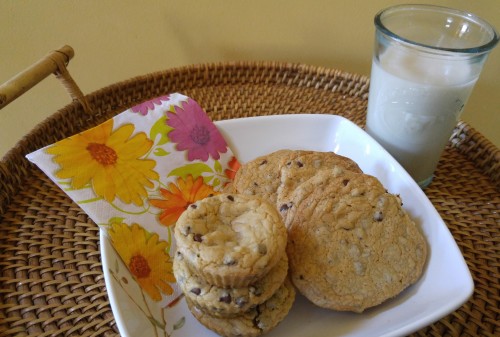 The cookies are moist and delish when done … and did I mention the plentiful amount of vegan chocolate chips!
One 12.03 oz. cylinder retails for $14.99 (see holiday discount below), yes a tad higher than your mainstream gluten-free cookie mix, but consider you are also getting the colorful baking cups, you do not need to purchase additional ingredients and best of all, you are feeding yourself and loved ones, a healthier cookie because there are no junk ingredients!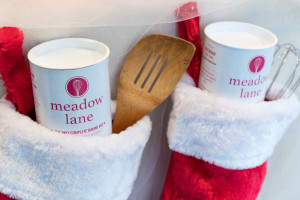 Meadow Lane Chocolate Chip Vegan & Gluten-Free Baking Mix would make a wonderful holiday gift, and you can now receive 25% off any order with promo code "Holiday" at checkout from now until December 25th

(place orders here)
*Meadow Lane's mix is packaged in a shared facility. However, according to Brendan, there is strict protocol for the production. All raw ingredients are gluten free, and a final product from every production run is sent out for external testing for gluten.
Keep an eye out for future baking mixes from Meadow Lane.
CeliacCorner received samples from Meadow Lane to try, but was not compensated otherwise for this Review.
XX GIVEAWAY XX
(Begins Tuesday, 15 December 2015!)
Courtesy of

Meadow Lane

, two lucky CeliacCorner winners will receive TWO (12.03 oz ea.) tubes of their Vegan & Gluten-Free Chocolate Chip Cookie Baking Mix ($30 value)!
(open to residents of the US only)