Orly is currently the resident Gluten-Free Head Baker at Chompies restaurants in Arizona.  Orly is working with the baking team to further develop Chompies' Gluten-Free Friendly bakery product offerings.  Orly plans to move into a dedicated gluten-free facility and open her own gluten- free retail operation in the fall.  
 contact: orly@glutenfreechallenge.org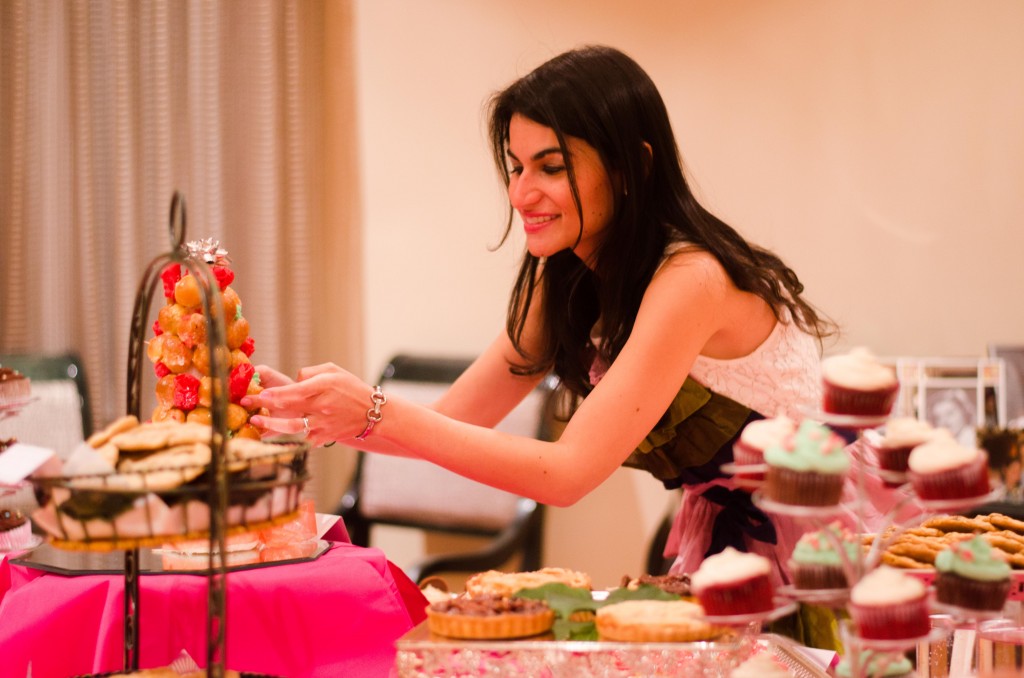 It all began in Paris with a French macaroon baking lesson and a husband who is a foodie with celiac.  I moved from Manhattan to Paris with my husband in August 2010. I did not speak a word of French and I did not have a working visa.  I searched for activities to pursue with all the free time that I had. My dabbling began with a beginner's French course at The Sorbonne.  I also took singing lessons with a former Broadway American actress who was living in Paris.  But, my favorite pastime was venturing on self-guided French patisserie tours around the city.  As I ate my way through the patisseries of Paris, I would ache for my husband who would pine for but couldn't taste the buttery French pastries.
When I heard about a small patisserie in the 5th arrondissement that offered private baking lessons, I signed up for a macaroon and a lemon tart lesson.  I discovered then, that my passion for eating dessert was second to my love for baking them.  For the remainder of the time that we lived in Paris, I shadowed and assisted the chef/owner of this patisserie.  I even developed a line of cupcakes for her with popular French themed flavors.
When I realized that I wanted to pursue a career in baking, I applied and was accepted to Le Cordon Bleu (LCB) in Paris.  Before classes commenced, my husband's job required us to move to Sydney.  I was disappointed that I wouldn't be able to attend LCB Paris, but the move to Sydney ended up being a blessing in disguise.  I began courses at LCB's Sydney campus. During my first term at LCB Sydney, I began to wonder if I could adapt these beautiful French pastries to gluten-free versions.
I then designed an independent study where I worked with the head pastry chef to create gluten-free versions of classic French pastries. I called it "The Gluten Free Challenge." I taught myself invaluable lessons about the properties of gluten-free flours and the key differences baking gluten-free.  I even created my own original flour mixtures for each genre of pastries I produced.  But the secret to my success in this challenge was my husband, who tasted the creations I brought home nightly and was my ruthlessly honest sampler. Some of my experiments were a quick success, but most required a number of trials before yielding a satisfactory product.
Baking gluten-free French pastry has its challenges.  During my study, I discovered that making beautiful and delicious French gluten-free pastries is not a simple skill to master.  You can read a detailed account of my challenges baking gluten-free French pastries on my blog www.glutenfreechallenge.org
I learned about the general properties of gluten-free baking while trying to master a gluten-free French tart crust.  Tarts are one of the most popular French desserts and can be served with a variety of classic fillings.  The first time I made a gluten-free French apple tart, I substituted the wheat flour with my gluten free "all purpose flour" mixture and followed the exact recipe that we did in class earlier in the term.
When I tried pinning out the dough, it immediately stuck to the rolling pin and broke apart.  I had to repeatedly stick it in the fridge to solidify before carefully rolling it out with a ton of dusting flour to prevent it from sticking. As per my LCB recipe, I rolled it to a 4mm thickness and baked the tart at 190 degrees celcius (about 370 fahrenheit) for 15 minutes.
The tart was over-baked and had a strong unpleasant aftertaste.  I discovered that gluten-free pastries bake more quickly than non-gluten free.  Therefore, baking at a lower temperature is often the best solution to ensuring that the product doesn't burn.
The subsequent trial, I made two tarts, one pinned out to a 2mm crust and one 4mm. Even though the delicate dough broke apart when I rolled it over the pie tin, I was able to stick it back together with my hands and mold it to the tin without a problem.  This time, I baked the crusts at 180 degrees celcius for 10 minutes.  The thinner crust was baked all the way through and had a nice buttery flavor and genuine tart texture.   The thicker crust didn't get baked enough on the bottom and tasted like raw gluten-free flour.  I learned to pin out my dough as thin as possible so that the crust bakes all the way through and has an optimal flavor.
The gratification I feel from my many successes is inspiring because it allows people on a gluten-free diet who love desserts to indulge in a whole new world of delights.  After baking over a dozen tarts, I've finally perfected a recipe that looks and tastes just as good as the tart you would purchase at a French patisserie.
Here is my recipe for my favorite French tart: "Tart au Pommes with Frangipane"
Ingredients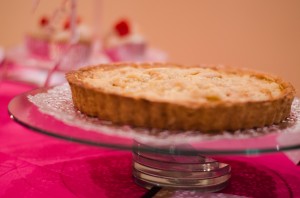 Sweet Paste:
250g all purpose gluten free flour
1.5 tsp xanthan gum
pinch of salt
125g sugar
125g butter
1 egg
1 tsp vanilla
1 tsp lemon juice or apple cider vinegar
½ lemon zest
Apple filling:
4 granny smith apples, peeled and cored
Cinnamon sugar to taste
Butter for sautéing
Frangipane filling:
100g butter
100g sugar
125g eggs (about 2.5)
100g almond meal
44g all purpose gluten-free flour
Instructions:
1) Make sweet pastry
-Combine gluten-free flour, xanthan gum, cold diced butter, pinch of salt, and lemon zest and mix on low speed until yielding a breadcrumb consistency
-Add egg, lemon juice, and vanilla and continue to mix to bring dough together.
-Roll the pastry up and flatten out.  Wrap in cling and refrigerate until dough becomes cold.
-Flour the surface of the chilled sweet pasty and roll out between two pieces of silicon paper to 2.5mm.
-Roll the dough over a pie tin.  If the dough breaks, you can use your hands to piece it back together.
-Bake on 350 fahrenheit for 10min
-Remove crust from the oven and eggwash the surface.  Bake for another two minutes and remove to cool
2) Make Frangipane
– Cream butter and sugar together in a mixer.  Combine gluten free flour and almond flour together.  On a low speed, alternate adding the eggs and the flours until all ingredients are evenly incorporated
3) Prepare Apples
-Cut each apple quarter in three.
-Sweat the apples in a buttered frying pan and then add cinnamon sugar to taste.  Make sure that apples are cooked enough with a slightly brown hue.
4) Arrange the Tart
-After the crust cools, pipe or spread a layer of frangipane into the crust to fill 60% of the way.
-Arrange sliced apples on top of the frangipane.  Return to bake in the oven until frangipane is cooked (use a toothpick to gage whether the frangipane is cooked.)
-Cool on a rack before slicing and Bon Appetite!
Thanks Orly!
If you would like to learn more about adapting classic french recipes to gluten-free versions, be sure to check out Orly's blogs: www.glutenfreechallenge.org    www.orlythebaker.com.  
Meet Orly via this ABC15 Phoenix segment: http://shar.es/wdHiF
Follow Orly
Other links and resources:
http://elanacastle.wordpress.com/2013/02/15/the-gluten-free-challenge/
http://elanacastle.wordpress.com/2013/03/07/the-gfc-returns-but-not-as-you-know-it/
http://www.youtube.com/watch?v=wrz5B2KdsDQ
http://www.youtube.com/watch?v=syIlLuqCxfc