Invisible Illness #60ForCeliac: Beyond Celiac's Campaign to Help Spread Awareness of Celiac Disease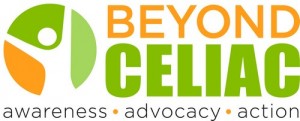 Help Spread Celiac Awareness During the Month of May (& beyond), Take #60ForCeliac
CeliacCorner, has joined Beyond Celiac's blogger force to help spread the word about their important campaign "Invisible Illness #60ForCeliac" during Celiac Awareness Month. The purpose of the campaign is to try to get people to"look beyond the surface and see what doesn't immediately meet the eye — see and understand the challenges people with celiac disease face day in and day out". How can you help spread awareness? Just take 60 seconds to watch the below video "The Invisible Truth Behind Celiac Disease" then share, share, share both the video and #60ForCeliacCampaign Page with family and friends so they, too, can take #60ForCeliac (watch the video!) to understand more about the challenges of living with celiac.
On Beyond Celiac's campaign page you will also find some great infographics (Fast Facts about Celiac Disease, Invisible Illness, Psychosocial Impacts of Celiac Disease). Share with family, friends and co-workers via social media. Print them out and post at schools, gyms, favorite restaurants … anywhere to help spread awareness!
Want to be eligible to win a swag bag? Share the video on your social media channels using the hashtag #60ForCeliac

! 
Sign up for a

FREE downloadable e-Cookbook

, featuring over 30 gluten-free recipes, courtesy of Beyond Celiac!