Introducing our newest sponsor: Francine's Finest, makers of raw, gluten-free, dairy-free, vegetarian, non-gmo Quinoa Protein Bars
---

CeliacCorner is so pleased to have Francine's Finest Food Products, Inc. of Kelowna, British Columbia join our family of sponsors.
The family-owned and run business began in 2004 after the founder's son, Jesse, was diagnosed with Autism and put on a gluten, wheat and dairy-free diet. Jesse's mom, Francine Burnett, an award-winning chef, found it difficult to locate easy to prepare, gluten and dairy-free meals that her son could enjoy so she decided to create her own line of healthy, affordable, protein snack bars, all-in-one ready-to-prepare meals, cereals & pasta. [Due to the high costs of equipment, Francine has temporarily limited her production to include the Quinoa Snack Bars only, but plans to reintroduce her Soup Mix and Quinoa Dream Cereal soon, due to consumer requests!] 
I applaud Francine's dedication to raising her children as a single mom, while simultaneously trying to create a successful business. She also cares about her gluten-intolerant consumers by maintaining a 100% gluten-free facility (despite the extra costs), and is completely "hands-on" by personally preparing the recipes and running them through the equipment from start to finish!  Francine's Finest Quinoa Snack Bars can now be found in numerous health food stores and supermarkets throughout Canada (and one location in the US), as well as via their website.
Products include:
All Natural, Raw, Protein Snack Bars which come in two varieties and several flavors:  The Quinoa Super Bar &  The Protein Bar.  Both bars are Gluten-free, Dairy-free, Soy-free, Vegetarian, Free of MSG, GMOs, Sulfates, Canola Oil, Artificial Colors & Flavoring & low in salt, making them a healthy high protein snack for the gluten-intolerant, lactose-intolerant, vegetarians, athletes, or anyone looking for a nutritious grab & go snack. Great lunch snack to pack for school!

The SUPER Bar

is made with a few, simple ingredients including: quinoa powder, whole grain brown rice, millet, date paste, himalayan salt, and kelp* and comes in two delicious varieties:

Chocolate / Peanut Crisp & Cranberry / Raisin Crisp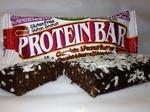 The PROTEIN Bar

, made with quinoa powder, millet powder, dates, unsweetened coconut, honey*, has a moist, fudge-like texture and comes in 3 delicious flavors:  

Chocolate Peanut, Chocolate Pumpkin & Chocolate Almond
*(See website for complete list of ingredients)
Both bars are high in a vegetable-based protein (Quinoa), rather than from a dairy or soy protein, and are sweetened with dates and honey only. "Healthy & Decadent"!
xx Made in a 100% dedicated gluten-free facility .. no chance of cross-contamination xx
Francine's Finest plans to resume production of the following, just in time for the upcoming Gluten-Free Expo in Calgary (March), and they will be available on-line beginning in April:
Quinoa Dream Hot Cereal (original):  (Gluten-free, Dairy-free, Vegetarian, free of MSG, Sugar, Salt, Artificial Flavors & Colorings); and Classic Pea & Lentil Soup Mix.
Look for Francine's Finest bars at many retail locations throughout Canada, and one location in the US (Moorhead, Minnesota). For a list of all locations click here. You can also order directly from their website!
Francine's Finest is a proud sponsor of athletes and athletic organizations and other causes! Way-to-give-back!
Meet Francine at the Francine's Finest booth at the upcoming Gluten-Free Expo
(March 24th, 2013)
Big Four Bldg. Calgary