Homemade gluten-free granola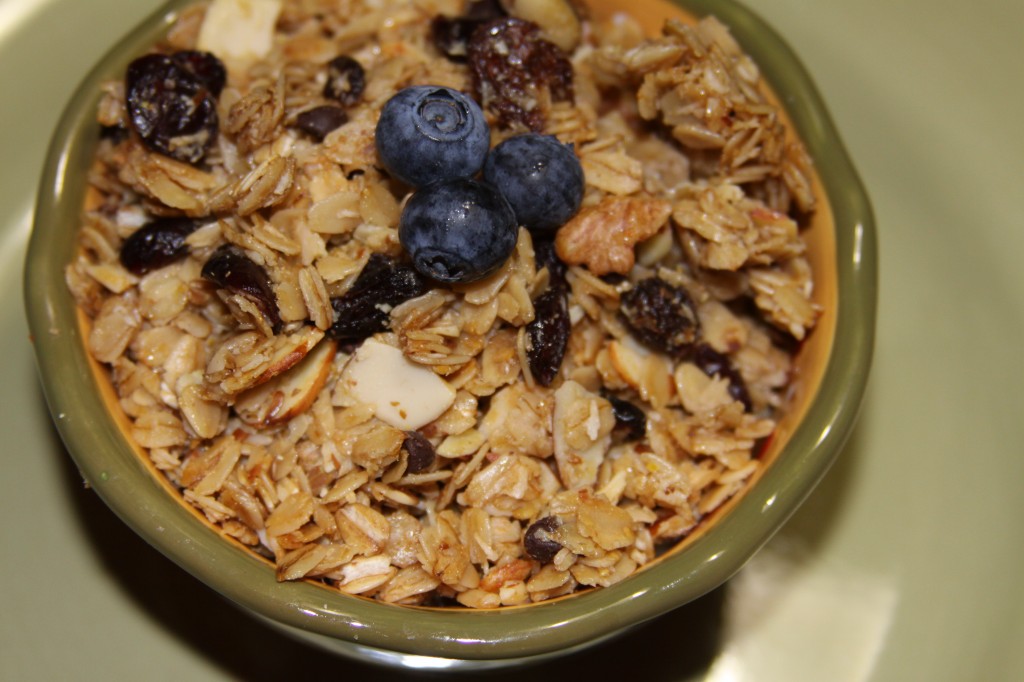 There is nothing like a tasty granola or muesli to sprinkle over yogurt or mix with your favorite fruit. I've been buying store bought gluten-free granola for years now, and finally decided to make my own. I recently discovered a recipe while watching the TV program "The Chew", and modified it to make it even tastier (in my opinion), healthier and of course gluten-free! Be sure to purchase certified gluten-free oats to use in this recipe. It is important to use the rolled oats, and not the smaller fast cooking ones.  I use Bob's Red Mill "Gluten-Free Old Fashioned Rolled Oats", and they toast perfectly. I store the granola in a BPH-free plastic container and it stays fresh in the refrigerator for quite a while. I hope this recipe will inspire you to make your own granola! You'll also save money, as you will have more than ½ of the 32 oz. bag of oats leftover to make another batch. Compare this to the price of store bought granola. Enjoy!
Ingredients:
3 cups Bob's Red Mill GF Old Fashioned Rolled Oats – 32 oz. size (or Gfree oats of your choice)
½ cup walnut oil (you can use peanut oil or nut oil of your choice)
½ cup of a mix of agave syrup (careful, some people have issues with Agave) and honey (you can also use just one of these)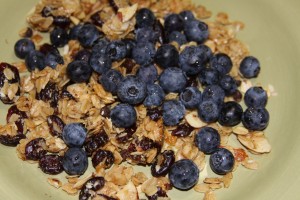 ½ cup raisins (regular or golden)
½ cup cranberries
½ cup slivered almonds
½ cup dried organic coconut flakes
¼  cup of walnuts
¼ cup of milled flax seeds (I use Carrington Farms, Gfree & organic)
1 tbsp. GF vanilla flavoring
blueberries
Variation: you can add in any type of unsweetened dried fruits: apricots, mangos, pineapple, etc., and seeds of your choice (sesame, sunflower)
Instructions:
Preheat oven to 250 degrees. In a bowl, mix (uncooked) oats, nuts, coconut, flax seeds, raisins, cranberries.  In a separate bowl stir together the walnut oil, agave & honey mix, vanilla flavoring, and pour over oats and other ingredients and mix well.
Spray baking sheet with non-stick (GF) cooking spray and spread out a thin layer of oat mixture (you may need two cooking sheets), and bake for approximately one hour, turning over a few times. The granola should be a nice light to medium brown – avoid overcooking.
Serve over yogurt or add your favorite fresh fruit.  I enjoyed it warm, straight out of the oven, over yogurt – absolute yumness! I'm so excited to share this easy recipe with you! I hope you love it as much as I do!
Serves: 3 cups of oats, etc. will serve 3-5 people at one time. If serving one person, it can last a week, depending on portion size used. If you want less granola, use less ingredients.