Hilton Garden Inn, State College, Pennsylvania – Review
by guest blogger – Anya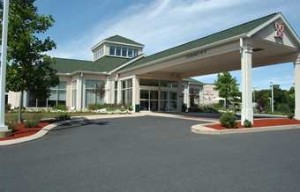 I stayed at the Hilton Garden Inn in State College, Pennsylvania for work in November 2011.  The hotel lobby, rooms, and fitness area were all clean and well maintained.  They have a 24 hour pantry which conveniently has a few gluten free snacks.  Even better, the hotel's restaurant, Harrison's, has gluten free options.
I went to Harrison's for lunch one day.  My waiter seemed very knowledgeable on their gluten free selections.  In addition to the gluten free items on the menu, he informed me that at least two of their soups are gluten free each day.  I tried the greens with rosemary chicken salad.  It was quite good.  They also have a quinoa risotto that sounds interesting.  At dinner they have a few gluten free entrees as well as gluten free pasta available.
Since it can be so hard to find gluten free options on the road, I wouldn't hesitate to stay at the Hilton Garden Inn in State College again just knowing that I could eat safely and well.
Location: 1221 East College Avenue, State College, PA 16801 tel: 1.814.272.1221 fax: 1.814.272.7777
http://hiltongardeninn.hilton.com/en/gi/hotels/index.jhtml?ctyhocn=SCESTGI
Reviewed by CeliacCorner guest blogger Anya.  Visit Anya's blog at:  http://anothergfblog.blogspot.com/p/about-me.html