Hearth Pizzeria Opens in Needham Center, MA: Organic, Gluten-Free and Vegan Menu Options Available
---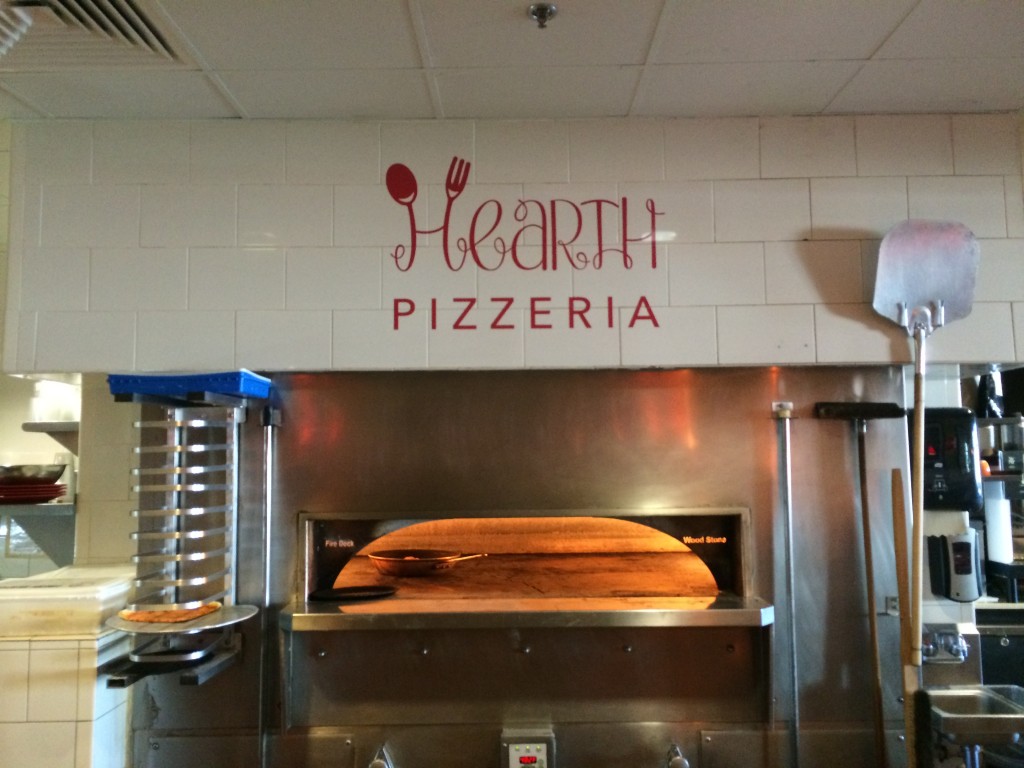 Ivan Millan-Pulecio purchased the former Stone Hearth Pizza Co. restaurant and building located in Needham Center, where he once worked as Line Manager and eventually advanced to Executive Chef (of 6 of the Stone Hearth locations). He renamed the restaurant Hearth Pizzeria after the kitchen's centerpiece open-flame hearth oven and is Executive Chef. This cozy eatery which opened in April, is located in the heart of Needham Center and can be enjoyed by families, couples, and friends desiring innovative Italian cuisine and a warm, friendly atmosphere. The restaurant also accommodates diners with special dietary requirements (an ever-increasing population!). See details below regarding Hearth's gluten-free options.
Chef Ivan learned to prepare traditional Italian cuisine under the culinary tutelage of chefs Tony Bettencourt and Michael Ehlenfeldt, and has worked in New York and Boston restaurants prior to Needham's Stone Hearth. In an April 2, 2015 Press Release, Chef Ivan expressed his enthusiasm for being both owner and chef at his new restaurant,"As Hearth's owner and Executive Chef, I can be as adventurous as I want with the menu." He recently added an Ancient Grains Salad to the menu consisting of a combination of quinoa, millet, brown rice and spinach, topped with julienned carrots and beets, roasted broccoli and sliced almonds, and drizzled with a shallot vinaigrette – nutritionally packed and delish!
This Executive Chef takes pride in using fresh, organic and locally sourced ingredients in his restaurant's dishes (all cheeses and meats are free of hormones)! [The National Restaurant Association has identified locally sourced proteins, locally grown produce, and natural ingredients/minimal processing as three of the top five food trends for 2015.]
Hearth Pizzeria also offers patrons the option of designing his/her own dish(es) to suit individual special dietary needs or food preferences [referred to as 'creative customization', another top food trend for 2015.]
In addition to the restaurant's regular menu which includes an array of creative appetizers, artisan pizzas, panini sandwiches, wraps and desserts, Hearth also offers several gluten-free (GF) options. Members of the celiac/gluten-sensitive community or anyone desiring to eliminate gluten can choose from appetizers such as Parmesan Flatbread, Meatball Poppers and Wings; salads (check out the new Ancient Grains salad pictured left); Neapolitan-style thin crust pizzas (12" size only), GF pasta (Chicken Broccoli 'N Cheese, Eggplant Parm and Mac 'N Cheese to name a few). GF sweet treats include peanut butter and chocolate chip cookies and a decadent brownie! Many dishes on the menu can be modified to be gluten-free.
Hearth offers one gluten-free beer (sorghum-based 'Celia'), in addition to non-GF local craft beers, and a selection of regional wines.
Chef Ivan is a certified Food Safety Trainer and is committed to ensuring the gluten-free items served in his restaurant are actually free of gluten! While Hearth Pizzeria is not a 100% gluten-free facility, the chef and his kitchen staff have taken steps to provide a safe dining experience including the kitchen being equipped with separate utensils, water, oven pans, cooling racks, screens, cutting tools for GF food preparation; and toppings being kept separate from the wheat flour preparation area and under cover. (Read Q&A with Chef Ivan below, for more details on preventing cross-contamination in Hearth's kitchen)
According to a Hearth rep "the restaurant had zero reported incidents of gluten contamination in the last 10 years (9+ years as Stone Hearth Pizza) and is widely promoted as one of the best gluten-free pizza options in the greater Boston area".
As many in the celiac community are aware, just because a restaurant offers a gluten-free menu, does not necessarily mean the restaurant is Gluten-Free 'Safe For Celiacs' , so I asked Chef Ivan a few questions regarding his commitment to provide safe dining for our community, and he promptly responded as follows:
"It is my pleasure to be able to provide amazing food. And to be able to offer gluten-free options is a great feeling …" Best, Chef Ivan.
Q. Are the gluten-free pizzas cooked in the same oven as the regular wheat flour pizzas?
Yes, they are cooked in the same oven. However, we cook them on a pan only used for GF pizzas. The only loose flour inside the oven is rice flour which reduces the chance of cross-contamination. It is the rice flour that we use to stretch ALL of the non-GF crusts.
Q. Has the kitchen staff been properly trained in cross-contamination?
Yes. As part of our training process we go over GF safety. It is very important for us to make sure our team is well aware of the GF process. We also have a designated box (blue in color) to differentiate pizza cutters, and all GF products get a GF mark for extra protection.
Q. Assuming there is airborne gluten due to regular pizza dough being used, how will the gluten-free pizza toppings be kept free of contamination (flour can stay airborne for several hours)?
Although we don't claim to be a GF facility, we do go to great lengths to ensure food safety. For that reason we have our regular dough made outside of the restaurant, so that we can use our mixer to only make GF dough and GF dressings. The ingredients used for our GF pizza include: rice flour, flaxseed, arrowroot, salt, yeast, olive/canola oil and non-fat dried milk (a new vegan version coming soon).
Thank you very much Chef Ivan for taking the extra steps necessary to keep our community healthy!               Paula Gardner, Co-founder, CeliacCorner.com
Hearth Pizzeria is located at 974 Great Plain Avenue in Needham, MA and serves lunch and dinner from 11:30 a.m. to 9:00 p.m. Sunday through Thursday and 11:30 a.m. to 10:00 p.m. on Fridays and Saturdays. Call 781.433.0600 to place orders for take out or delivery, and to inquire about catering or hosting your event at Hearth.
Visit Hearth Pizzeria's website to view their complete menu (open HERE)

Follow Hearth Pizzeria & Chef Ivan on 

Facebook

&

Twitter 
View Full Press Release