Green Mountain Gringo Salsa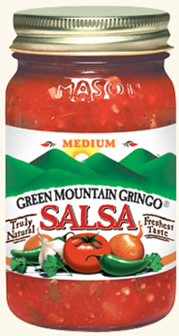 Generally when I have time, I like to make my salsa from scratch using simple, fresh ingredients: vine-ripened tomatoes, onions, garlic, fresh cilantro (a must), sea salt, black pepper, juice of lime, and jalapeno peppers – occasionally I will add a can of stewed tomatoes.   Whether I bring it to a party or serve it at home, my salsa is always enjoyed to the last tiny sliver of jalapeno   When I don't have time to make salsa from scratch I always have one or two jars of Green Mountain Gringo Salsa, on  hand. They come in a variety of  "Hot, Medium, Roasted Chile and Roasted Garlic".  Though I like them all, my favorite is the "medium", which provides a bit of fire, and just the right combination of flavor – not too "roasty".
Let's start with the ingredients for the "Medium" salsa:  ripe tomatoes, fresh onions, fresh tomatillos, fresh jalapeno peppers, fresh pasilla peppers, apple cider vinegar, fresh cilantro, fresh parsley, fresh garlic, sea salt, spices.  No preservatives and only fresh natural ingredients are included.
Though it comes out of a jar, Green Mountain Gringo Salsa always keeps a good texture, is never mushy and tastes fresh!  I would suggest purchasing a bag of Green Mountain tortilla chips, so you have something to dip into the salsa!  The chips are gluten-free as well.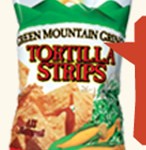 Why we also like Green Mountain Salsa:
– preservative free
– low sugar
– fat free
– GMO free
– allergen free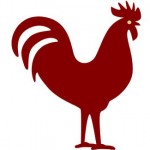 Camille's CritiqueCorner