Green Lentil Pilaf with Dates and Yams from Mariel Hemingway

Mariel Hemingway, is an actress and bestselling author (a memoir entitled
Finding My Balance; Mariel Hemingway's Healthy Living from the Inside Out (Harper Collins);
and 
Mariel's Kitchen: Simple Ingredients for a Delicious and Satisfying Life (HarperOne
) A mom to two daughters, Mariel continues to pursue her passion for yoga & healthy living and has led several wellness retreats across the US. You can follow Mariel by visiting  
http://www.marielhemingway.com/index.php
and 
http://www.marielhemingway.com/blog/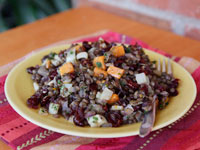 I made this recipe with French Green Lentils, which take longer to cook than regular green, red or brown lentils but they hold their shape better. You can certainly use the other types of lentils; cook according to package instructions until just tender.
| | |
| --- | --- |
| 8 ounces French green lentils | 1 medium yam or sweet potato, peeled and diced |
| 1/3 cup dried cranberries | Zest and juice from 2 oranges |
| | 1 medium red onion, diced |
| | 8 medjool dates, pitted and chopped |
| 1/4 cup flat leaf parsley, chopped | Sea salt and freshly ground black pepper to taste |
Place lentils in a medium saucepan and cover with 2 inches of water. Bring to a boil over high heat, reduce heat and simmer until tender, 40-45 minutes. Drain and set aside.
Place yams in a small saucepan and cover with cold water. Place over high heat and bring to a boil. Reduce heat and simmer until tender, about 10 minutes. Drain and set aside.
Place cranberries in a small bowl with orange juice. Set aside.
Heat oil in a large skillet over medium heat. Add onion and sauté, stirring frequently, until soft, about 4 minutes.
Add fennel and yams and continue cooking for another 5 minutes.
Add orange zest, dates, parsley, cranberries, and orange juice. Increase heat to high and cook, stirring constantly, for 2 minutes.
Add lentils and cook until just heated through. Remove from heat and season with salt and pepper. Serve hot or cold.
Thanks Mariel  (& Nanci) for your recipe contribution!