Gluten Free Dining on Cape Cod, Massachusetts
My family and I spent a lovely week on Cape Cod, Massachusetts recently. Our accommodations were in Dennisport (mid-Cape), a great base for visiting the area beaches, historic towns, hiking and biking trails, as well as the upper and lower Cape attractions. There were plenty of kid-friendly activities to keep my 12 year olds entertained including, hiking, biking, kayaking, go-carts and a few rounds of mini-golf. The entrance to Cape Cod National Seashore in Eastham (and ending in Provincetown) is nearby, where the 40 mile drive will take you past pristine shorelines, lighthouses, marshlands, kettle ponds, sandy dunes, and historic structures.
Having spent time on the Cape before, I was already aware of a few gluten-free eateries in the mid-Cape area, but I did my research before leaving, and came up with a few new ones to try. All the restaurants noted below are casual, family-friendly and provided a safe, gluten-free dining experience (except for one  … see below note).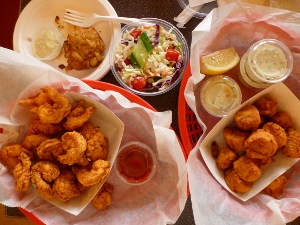 Chatham Fish & Lobster Co., 1291 Main Street, Chatham (my favorite!) View menu HERE. 
Gluten-Free Options:  The fry batter is 100% gluten-free, so most all of the fried seafood, which was lightly battered, is safe.  Other GF options included:  rolls, banana bread, a nice assortment of salads/antipasto located in the front case, coleslaw, wrapped Tate's cookies and an individual-sized packaged cheesecake by Chuckanut Bay Foods. My absolute favorite item had to be the gluten-free crab cakes!  I haven't been able to enjoy crab cakes since my celiac diagnosis (and I'm a New England gal!). I ordered a combo dish of fried scallops and shrimp with side of tasty coleslaw. The crab cakes and fried seafood came with a serving of tangy tarragon tartar sauce. Everything was fresh and delicious. (Tip to get there: Chatham Fish & Lobster Co. is located further down Main Street (heading towards Dennisport), away from the quaint, but congested, shopping area. It is located in the Cornfield Plaza, next to Chatham General Store), easy to park. They have a second location in South Dennis, but this is not a sit down restaurant, but rather a take-out of uncooked food to prepare at home. [Visiting tip: Stop by lovely Chatham Beach, near the lighthouse .. but beware, sharks have been known to lurk off shore and often times swimming is prohibited. Nevertheless, it is still enjoyable to walk on the silky, white sand along the shoreline and on the paths through the billowy grasses.]
Palio Pizzeria, 435 Main Street, Hyannis (peanut free facility) View regular menu HERE.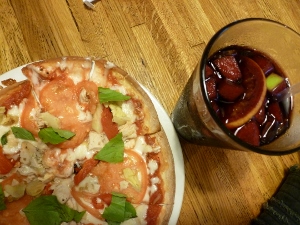 Gluten-free Options: Specialty brick-oven pizzas & salads, gluten-free beer and the home-made Sangria is filled with fresh fruit and is sweetly refreshing! Their GF pizza is cooked in same oven as regular pizza, but a separate tray is used, and they are careful about cross-contamination (I inquired!).  I ordered a GF crusted pizza topped with chicken, basil, artichoke, tomato and cheese. No GF desserts available.  [Visiting Tip: A short drive from the Hyannisport dock area, is the Kennedy Compound on Marchant Avenue. Senator Ted Kennedy & his wife were the last to live in the main house (I believe he died there in 2009). The front of the home can best be viewed by boat, but you can see a tiny corner of  it if you park at the top of Marchant, and also from another viewing point, across the water. There you can see the sprawling lawn that was visible in so many documentary films about the Kennedy's (the Kennedy brothers playing football, JFK walking towards the beachfront with Jackie O … the late John Jr. and Caroline frolicking nearby). The Senator donated the residence to the Edward M. Kennedy Institute for the United States Senate and it may be open to the public at some point in the future.]
Idgy's, 23 S. White's Path, South Yarmouth (tucked away in a retail strip).  View Menu HERE. 100% gluten-free facility and menu. This casual eatery/bakery offers gluten-free (some vegan) breakfast and lunch items, breads, pizza, entrees, cakes, pies (whole & by the slice) muffins, dessert bars & much more. I bought a few sweets to go which were delish.  100% worry-free, gluten-free dining at Idgy's! [Visiting Tip:  Just a short drive from Idgy's is Gray's beach in Yarmouthport. You can stroll along the Bass Hole boardwalk and at low tide meander out onto the sand bars, while visiting at high tide later in the afternoon, provides a different experience. At that time, the boardwalk leads you over bogs and marshes, and towards a majestic sunset. Spectacular!]
 A Fan of Salt Water Taffy?  While in South Yarmouth consider stopping along this roadside stand (984 Route 28) to fill a bag with sweet taffy! Select from over 30 flavors … cranberry, vanilla, root beer, strawberry, rum, watermelon .. the variety of flavors goes on. According to the workers, the taffy is made in a gluten-free (but not peanut-free) facility.
Guapo's Tortilla Shack, 239 Underpass Road, Brewster (second location in Orleans), View GF Menu HERE.
Gluten-Free Options: Tacos,  Unwrapped Burritos called Guapo's Burro Bowl (Carne Asada Burro Bowl, Surf n'Turf Burro Bowl) and a few sides: Mexican Street Corn, Beans, Red Rice. Vegetarian options available. I ordered the Carne Asada Burro Bowl with a side of rice and thoroughly enjoyed it. There are only a few seats inside, but it is more enjoyable to sit outdoors on the picnic tables. Pet-friendly outdoors!
Clancy's, 8 Upper County Road, Dennisport  View Gluten Free Menu HERE.
Many gluten-free items at Clancy's, including clam chowder (yay!), a nice assortment of salads, entrees and a few burgers and sandwiches, including a GF Lobster Roll.  GF beer (Redbridge) available. I ordered the Cobb Salad topped with massive portions of grilled chicken, shrimp, avocado, and lobster meat. The zinfandel vinaigrette dressing was light and delish (Lunch portion $15). If weather permits, I recommend sitting outside on the back deck which overlooks a serene, marshy area where you can watch kayakers paddling up river.
Hit Pizza, 613 Main St. (Route 28) Dennisport  View Regular Menu HERE.
Gluten-Free Options:  A few salads, and most of their specialty pizzas can be made gluten-free (they use French Meadow flour/dough). Kitchen staff was well aware of cross-contamination issues, and I felt comfortable eating there. Both BZ's Pizzeria (see below) and Hit Pizza are near each other. If you want slightly more ambiance, and a few more GF choices, I would choose BZ's. If you only have time for a quick salad/pizza, consider Hit.
BZ's Pizzeria, 682 Main Street, Dennisport  View GF Menu HERE. 
I had my first gluten-free pizza here years ago in this lively, family-friendly eatery. Gluten-Free options include homemade chili, pizza, nachos, fajitas & enchiladas, GF beer and a GF brownie available. Servers are knowledgeable and accommodating to special dietary eaters. Didn't have a chance to go this time, but a good GF option if in the area.
Below are a few other eateries offering gluten-free (some vegan) options, which were on my list but we didn't have time to visit:
The Box Office Bistro (Chatham)
San Diego's (Barnstable)
Green Lotus Café (Hyannis)
Bistro De Soleil (Barnstable)
There are also numerous chain restaurants around the Cape offering gluten-free menus: Outback Steakhouse, Olive Garden, British Beer Company, Ninety-Nine to name a few.
[Note: There is a restaurant called Red Cottage in South Dennis which popped up on almost every internet list of gluten-free eateries at the Cape. We visited and though very charming and popular for breakfast (and yes, there were numerous GF menu items, including waffles with berries, french toast .. I was salivating thinking I was about to order something yummy) please be aware the majority of GF items are UNSAFE for the gluten intolerant!  Both gluten and gluten-free items are cooked on the same grill and they use the same toaster. About the only really safe item is a fruit cup, or possibly an omelet if made in a separate pan. Our server agreed the GF menu items were not a safe option for the celiac, gluten-sensitive, gluten allergy community. Too bad.]
Do you have a favorite Cape Code gluten-free eatery? Please share below!