Gluten Free British, American & Italian Fare at "From Across the Pond" Restaurant, Colleyville, TX
by Jennifer Kreykes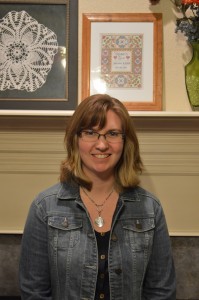 "Never loose sight of your goals, dreams & aspirations!"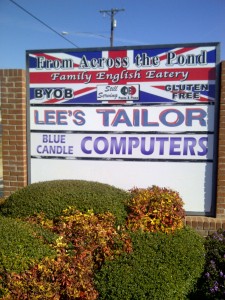 From Across the Pond is a sweet little restaurant nestled in the Mid Cities area (Colleyville) between Fort Worth and Dallas, Texas.The owners, Lee and Emma, from London (Abbey Road) and Hertfordshire respectively, are amazing people who care so much about the quality of the food and their customers.Overall it is a great place to go whether you are gluten-free or not!They serve a wide range of gluten-free food from Italian to American main staples as well as British favorites (Shepherd's Pie, Beef & Ale Stew, to name a few). I started going to "The Pond" as we call it, early on after my diagnosis having convinced myself there were simply some foods that I would just never eat again, one of those items was Fried Fish!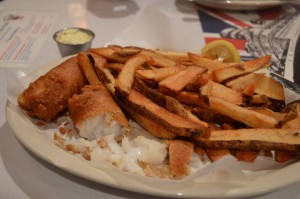 The gluten-free Fish and Chips at The Pond are delicious. This was the first dish that I ordered from their huge 11×17 full page GFree Menu and I literally could not tell the difference between regular Fish and Chips and their GFree version. One of the best parts of the restaurant is that they understand the severity of being GFree as one of the owners, and son, are gluten-free. Not only do they have a wide variety of items to choose from but they also educate on what you can or shouldn't be eating, and answer questions about the gluten-free diet! Anyone who is GFree understands the difficulties of finding a good, safe place to eat where you don't have to constantly worry if you are going to get sick. For me, this is just that place and I wanted to share this with others in the area so they too will discover what a special place From Across the Pond is.
Also note The Pond has a new head chef, a husband of a celiac. New additions to the gluten-free menu include Chicken Tikka Masala, Scotch Eggs, Bread and Butter Pudding, and Treacle Sponge! The Pond also offers complimentary gfree bread on arrival!
Visit From Across the Pond, 3809 Colleyville Blvd, Colleyville, Texas 76034
Telephone: 817-428-2332
Email:  fromacrossthepond@yahoo.com
To see ALL CeliacCorner restaurant reviews click here!