Gluten Free Authentic Indian Food at Kabob and Curry, East Side of Providence, RI
---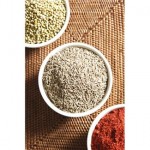 Before my Celiac diagnosis I enjoyed dining at ethnic restaurants throughout the US and on various travels abroad.  Indian cuisine of aromatic curry dishes, naan bread, and rice pudding with cardamom and pistachios being among my favorite!  I hadn't been out for Indian food since my diagnosis, so when I read Kabob and Curry, winner of an Award of Distinction from Top Restaurants of RI (2008), offered gluten-free options I made a point of choosing it as a venue when planning lunch out with a friend who lived nearby. It was time I let go of my fear of eating out at other than American food eateries. Located on Thayer Street on the East Side (College Hill) of Providence, the area is a pleasant location for dining as well as browsing the boutiques and bookstores. Rhode Island School of Design is also nearby and worthy of a stroll along cobblestoned Benefit Street lined with historic homes and dotted with eclectic street art.
When we walked through the entrance of Kabob and Curry at 11:30 am and were seated in the casual enclosed porch dining area, we were literally the only two diners.  Not a good sign I thought … but what a difference 30 minutes can make, and by noon, the entire dining area was filled to capacity, with what I assume were Brown students and east-side workers enjoying a lunch break.  In addition to the smaller, enclosed porch area, there was also a larger dining area located on the second floor.
I don't know why I waited so long to reintroduce Indian cuisine into my diet, as much of it is naturally gluten-free, as long as wheat flour is not used as a thickener or as a breading. Yes, naan bread and somosas were off-limits, but there were numerous gluten-free (as well as vegan and vegetarian) options on the menu, which were clearly labeled. I felt the server understood my dietary needs, and I was delighted when he brought papadum to the table, and told me I was able to partake.  I happily dipped the lentil and cumin crackers into an assortment of sweet and fiery condiments and was off to a delish gluten-free start!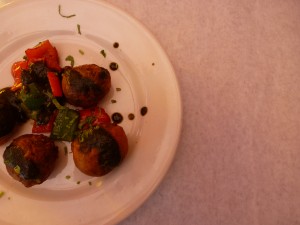 The chef (& owner) Sanjiv Dhar prepared Lam Garley, a minced lamb dumpling ($5) for my appetizer, which was both gluten and dairy-free and deliciously spicy.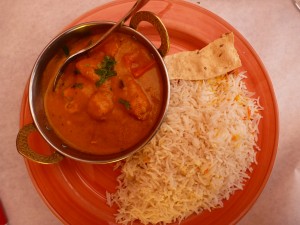 For my entrée, the mango chicken curry arrived smothered in a fruity mango and cashewnut paste ($6.75), and was accompanied by basmati rice.  Neither the mango or curry was the dominant flavor, but the combination of both and the added spices were flavorful.
I thoroughly enjoyed both the appetizer and entrée, but honestly the most memorable part of my meal was the sweet ending of homemade green cardamom infused ice-cream, drizzled with mildly sweet rose syrup and topped with ground pistachio ($3.99).  Artfully presented and absolutely scrumptious … easily one of the best ice-cream dishes I have ever tasted, and certainly the most beautiful!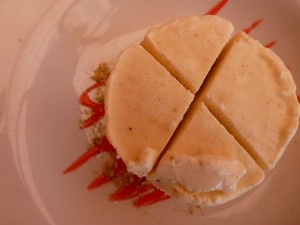 The lunch portions weren't enormous, but they were adequate and filling, and allowed room for dessert.  The servers were very accommodating and polite.
In addition to Kabob and Curry's wine and beer list (they offer one gluten-free beer by Green's), there were several "signature" drinks including Adam & Eve, Delhi Dawn, Bombay Blossom and Bollywood and containing such exotic ingredients as passion fruit and tamarind juices,  and St. Germain Elderflower Liqueur, to name a few.
Kabob and Curry is open for both lunch and dinner, 7 days a week (see website for hours).  Both take-out and delivery is available.
Following is Kabob and Curry's statement on their blog describing why their cuisine is perfect for all types of diets.
–         Gluten-free diets: With the exception of naan bread and a few select sauces, Indian food is highly compatible with a gluten-free diet. Vegetable and meat dishes alike can please your palate without aggravating gluten sensitivity. Most dishes are served over rice, so you won't even have to skimp on the starch in your meal.
–         Vegan or vegetarian diets: Vegetable-based entrees are a cornerstone in Indian cuisine, so you have a variety of tasty dishes to choose from if you are not a meat eater. Vegan eaters can also find something to love, as our menu offers many vegan dishes that are conveniently noted with a green leaf.
–         Dairy-free diets: There are two items that you should look out for if you have a dairy restriction in your diet: ghee (clarified butter) and paneer (homemade cheese). Our Indian restaurant offers flavorful entrees containing meat, seafood, or vegetables that are free of dairy ingredients so you can enjoy freely.
–         Food allergies: If you have any food allergies aside from dairy and gluten, simply notify your server. Dishes can often be specially prepared to suit your specific needs.
"Enjoy the freedom of dining out without worrying about your special diet by visiting Kabob and Curry for lunch, dinner, or takeout. Call us at (401) 273-8844 or visit our website for more information about our healthy menu selections."
Kabob and Curry has a sister restaurant in Pawtucket, RI (Blackstone Place) called Rasoi.