Giveaway – TriumphDining's Essential Gluten-Free Grocery Guide ($24.95 value)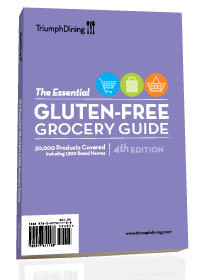 Two lucky CeliacCorner winners will receive a FREE copy of this easy-to-use grocery guide from TriumphDining – a $24.95 value.
The guide lists over 30,000 products, from Applesauce to Yeast, (1,200 of which include brand names), and including such categories as Dairy & Eggs, Beverages, Baking Aisle, Baby Food & Formula, Canned & Packaged Foods, Snacks, Novelties and many more. The guide will save you the time of calling manufacturers directly to inquire if a product is gluten-free and uses symbols to easily identify if, for example, the product was processed on a dedicated gluten-free line (i.e. no chance of cross-contamination), if gluten testing was performed, or if procedures are in place to avoid cross-contamination, in addition to other identifications to help you make an informed decision when purchasing.The guide is a convenient size and you can easily pack it in your purse!
Read our recent review: http://celiaccorner.com/celiac-gluten-free/triumphdinings-essential-gluten-free-grocery-guide-4th-edition-product-review/
Features:
–      over 30,000 brand-name and store-brand gluten-free products at grocery stores across the US
–      color-coded system makes meal planning and fining your favorite food a snap
–      4th edition has 280 budget-friendly and time-saving pages
–      includes general tips for gluten-free grocery shopping
Enter to win the TriumphDining Guide for yourself or give it as a gift to someone you love!
Giveaway rules:
Leave us a comment below telling us why you would like to be the lucky winner!
VISIT TriumphDining's website/blog to learn more about the Grocery Guide and other products http://www.triumphdining.com/glutenfree/triumph-gluten-free.php
LIKE Triumph's Facebook page http://www.facebook.com/pages/Triumph-Dining-Gluten-Free-Publishing/88848623512?ref=ts
LIKE CeliacCorner's Facebook page http://www.facebook.com/CeliacCorner and leave us a comment on FB that you've entered the Giveaway.
Consider following CeliacCorner on Twitter (if you're a tweeter!): https://twitter.com/@celiaccorner
Lastly, if you decide to purchase other Triumph items (Gluten-Free Restaurant Guide, Dining Cards, Stickers) – place order by clicking on Triumph's Ad on the CeliacCorner Home page! If you do, you will be supporting CeliacCorner as we are proud to be an affiliate member of TriumphDining and will receive a tiny percentage of sale!
TWO (2) winners will be announced on March 1st, and will be contacted via email.
(Giveaway open to US and Canadian residents only)