Girl Scout Diagnosed with Celiac Disease Offers Gluten-Free Camp in Ithaca, NY (August 2014)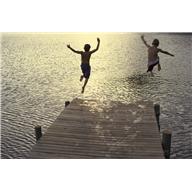 I received a message on Facebook the other day from a very proud mom. Her daughter, Sabrina DeVos, diagnosed with Celiac Disease in 2002, is a Girl Scout member working towards earning her Gold Award. Mom shared that Sabrina's project  is to start a gluten- free camp in the Finger Lakes region (Comstock), Ithaca, New York. Sabrina has been attending a summer camp in Rhode Island for years, and now wants to offer others with CD in her area a chance to enjoy a  gluten-free camp. "As a Girl Scout, I've gained leadership and organizational skills and feel I now have the tools to organize this great experience!"
The entirely gluten-free weekend camp  is open for boys and girls ages 8 – 15 years old, and will be held August 1, 2014 – August 3, 2014. Children with Celiac/Gluten Sensitivity and Lactose Intolerance can be accommodated.
What a great way to earn a Gold Award, Sabrina!
To register, sponsor, become a volunteer, and to learn more about this project, visit Sabrina DeVos' website: http://celiacstrong.weebly.com/. If you have questions, Sabrina's email is: sabrina40154@yahoo.com
Check out this interview Sabrina did with Molly Cavanaugh of Based on a Sprue Story blog HERE.