General Mills to Label Cheerios Gluten-Free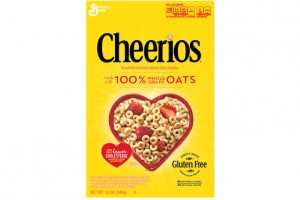 General Mills will be labeling their Original Cheerios (in yellow box), Honey Nut Cheerios, Multi-Grain, Apple Cinnamon and Frosted cereals gluten-free beginning in July of 2015.
As reported in a Wall Street Journal article featured on wsj.com, "General Mills didn't need to change ingredients. The main ingredient in Cheerios is oats, which are naturally gluten free. But oat crops are often contaminated by wheat, rye or barley in fields or transport trains that carry multiple types of grain, says Mr. Murphy. It took the Minneapolis-based company about three years to invent a mechanical filter to take out the gluten grains at its facilities, he says. (Of the five Cheerios varieties making the switch including the best-selling cereal in the U.S. Honey Nut Cheerios, only Multi Grain Cheerios needed a recipe change because it contains wheat and barley.)"
Though it is always great to have more gluten-free cereal options, many in the Celiac/Gluten Sensitive community will want to know if the oats used in the products are safe to consume. Watch a video HERE from General Mills describing how they plan to keep their oats gluten-free, testing below 20 parts per million.
Read the entire WSJ article HERE.
Image Credit: WSJ.com      
(Trisha Thompson of Gluten Free Watchdog communicated with General Mills' representatives about their process to keep the oats safe, and she shares her thoughts HERE and here is an article featured on Gluten Free Living.com regarding the new GM gluten-free cheerios)