Garden Lites, Veggies Made Great! A Healthier Line of Gluten-Free Frozen Products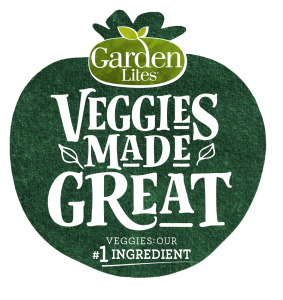 I find myself falling short of getting my daily recommended amounts of fruits and veggies (5-13 servings depending on age), how about you? Often I'm running out the door in the morning with a piece of toast in hand, and sometimes my teens are heading to school with same or dare I say, no breakfast at all, because they simply ran out of time. Veggies aren't always readily available at lunchtime either.
Enter Garden Lites.
Garden Lites is an award-winning manufacturer of super healthy frozen products. What makes Garden Lites healthier than other frozen products on the market? Their line of Muffins, Super Food Veggie Cakes, Waffles, Entrees, Bakes, and Bites are filled with veggies … zucchini, spinach, carrots to name a few. The company prides itself on the fact that vegetables are always the number one ingredient and they keep added ingredients clean and simple. Garden Lites products are not only vegetable based and gluten-free, but also allergy-friendly, soy-free, peanut & tree nut-free, non-GMO, kosher, and vegetarian (they do use eggs). How do the products taste? Well, my family and I sampled an assortment of Garden Lites products and we all came to the same conclusion. Delicious!
The newest Garden Lites' addition is the Frittata line, available in two varieties, Veggie Bacon & Potato Frittata and Spinach Egg White Frittata.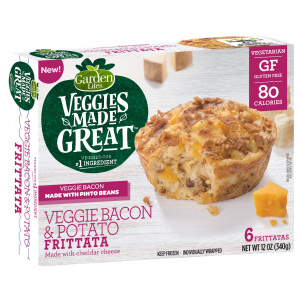 We recently sampled the Veggie Bacon & Potato (bacon is made from pinto beans) and posted about it on the CeliacCorner Facebook page (outstanding taste!) and our review of the Spinach Egg White Frittata is below, spoiler alert … pretty darn good.
All the Garden Lites' products are easy to prepare by either baking in the oven or a quick zap in the microwave. Preferred method is oven/toaster oven, but I found microwaving to be the most convenient, and the products were still moist and fluffy when done. The Garden Lites' packaging clearly labels the products as GF (Gluten-Free) as well as NonGMO certified, and the calorie count is also included (Weight Watcher Smart Points included too!).
Garden Lites' products are great for adults and kids will love them too. If your little one is not eating as many veggies as you would like consider these kid-friendly muffins, with 'hidden' veggies: Spongebob Chocolate Krabby Square (first two ingredients are zucchini and carrots, 50 calorie muffin contains 2 grams of protein, 33 mg of calcium, and 78 mg of potassium, along with fiber and iron) and Ninja Power (contains zucchini), among other yum Garden Lites' choices. Great tasting, nutrient-packed, guilt-free snacking!
We sampled Garden Lites' new Spinach Egg White Frittata, the Banana Chocolate Chip Muffins …  Ninja Power Muffins … and Blueberry Oat Muffins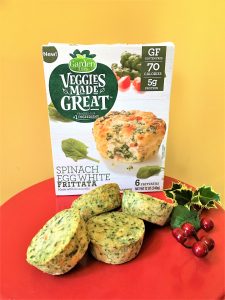 Spinach Egg White Frittatas (made with mozzarella) – 6 in a package, contains spinach, tomatoes, onions, red bell peppers, egg whites, view full list of ingredients here.
We found this frittata to be full of flavor, with great consistency, fluffy not mushy, and at 70 calories and 5 grams of protein, a healthy breakfast (or anytime!) option. Really tasty!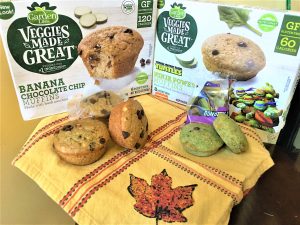 Banana Chocolate Chip Muffins (made with fresh zucchini) – 6 in a package, contains zucchini, egg whites, certified gluten-free oats, view full list of ingredients here.
Ninja Power Muffins, on right (made with fresh zucchini and spinach) – 8 in a package, contains zucchini, eggs, certified gluten free rolled oats, semi-sweet chocolate chips, spinach, view full list of ingredients here. These are slightly smaller than the other muffins, but are chockfull of healthy nutrients (fiber, protein, calcium, iron and potassium) and are only 60 calories each. Your ninja loving little warriors will never know they are eating zucchini!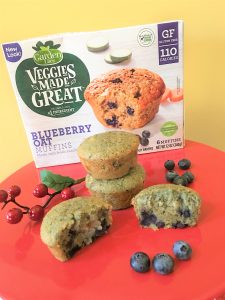 Blueberry Oat Muffins (made with fresh zucchini and carrots) – 6 in a package, contains zucchini, egg whites, blueberries, certified gluten-free oats, view full list of ingredients here.
We enjoyed all the muffins. Each variety is full of flavor, texture is good (not overly crumbly) and surprisingly moist – amazing for a frozen, gluten-free product. Even after I microwaved and stored in frig for later, they still tasted great cold! The muffins aren't as big as bakery bought muffins, but they are a decent size and the calorie count is much lower, better health-wise (muffins contain 50 – 120 calories ea.). Where the muffins lack in size, they certainly make up in flavor and nutritional impact. Six, or eight, medium-sized healthier muffins retailing for approximately $4.59 a box, reasonable I'd say.
Garden Lites are a cut above other frozen products on the market. Each product my boys and I sampled offered optimal taste. You do not need to be gluten-free to love these products. My boys are not required medically to eat gluten-free, often complain about the taste and texture of GF products, yet they really liked everything from Garden Lites. For someone with celiac/gluten-sensitivity, like me, it is thrilling to find healthy, great tasting gluten-free options as so many GF products are high in fat, calories and lacking in taste.
Love that the company uses BPA-free plastic and recycled cardboard for the packaging … way to keep consumers healthy and stay green!
Next time you are walking through the frozen aisle of your favorite market, look for the bright green Garden Lites "Veggies Made Great" label and the prestigious Good Housekeeping Institute's Nutritionist Approved Emblem. In my honest opinion, I do not think you will be disappointed. Looking forward to trying even more of their products!
Garden Lites can be found at Costco, Stop and Shop, Giant, Kroger, Target and many other grocery stores in the US and Canada. Open here for store locator. You can also order on-line.
The nice folks at Garden Lites are offering a special discount to CeliacCorner followers!
Save 20% off your first on-line order over $45.
Simply enter Code CELIAC20
(a one-time discount to be used on first order only).
Also download this $1.00 off coupon to use at a store near you!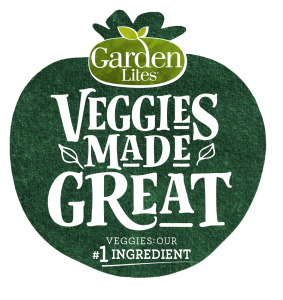 Follow Garden Lites
CeliacCorner partnered with Garden Lites to bring you this honest review of their new Frittata line and other products. I was compensated for my time but was not influenced in my opinion.