Flourless Lemon Almond Cake from the Spanish Mediterranean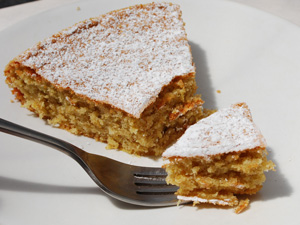 This recipe comes to us from our friends at Gluten Free Around the World
gluten & wheat free
grain free
casein free
yeast free
flourless & vegetarian
This recipe is for a lemon almond cake, or gató, from the Mediterranean area of Spain, where both citrus and almonds are plentiful. Instead of regular flour, almond flour is used, so the cake is gluten free.
Variations of this traditional recipe have their roots in Europe, turning up disguised as layer cakes, tortes, and sponge cakes.
This type of cake is sometimes referred to as an almond torte, and because it's a flourless almond cake recipe, you can make it a low carb cake if you use a sugar substitute.  I use palm sugar.
The almond flour, also known as almond meal, ensures that the cake is moist, and stays fresh for several days.
The flavor can be varied by any kind of citrus or flavoring. For a rich tasting almond flavored cake use 1½ t almond extract and leave out the zest and cinnamon.
To make a layer cake, either make two cakes or split in half, and fill with frosting or any kind of filling and/or frosting combination. I like to simply sprinkle powdered sugar over it.
Flourless Lemon Almond Cake Recipe

Prepare a 9 inch cake pan or springform pan: grease bottom and sides well. Cut out a circle of wax paper and fit it into the bottom of the pan. Grease the paper. Coat the bottom and sides of the pan with almond flour, shaking out the excess.

Preheat oven to 375º

4 large egg yolks
5t lemon zest, packed*
½ t cinnamon
2T sugar
1½ C blanched almond flour
2T sugar
4 large egg whites
4 T sugar
pinch salt*For an almond flavored cake substitute 1½ t almond extract for the zest and cinnamon.

Beat egg yolks, zest, cinnamon, and 2T sugar with electric mixer.

Stir in almond flour and 2 T sugar.

Beat egg whites, pinch of salt, and 4 T sugar until soft peaks form.

Blend a large spoonful of the egg white mixture into the almond mixture with a spatula. (It will be very stiff so mash it in, and add more whites until it's soft enough to fold in the rest…)

Fold in the rest of the whites

Pour into prepared pan.

Bake for 35 minutes until tester comes out clean.
Cool in pan, then un-mold and turn onto a serving platter.
Sprinkle with powdered sugar, or frost however you like.
Ingredient Tip: Honeyville sells the most finely ground and best priced almond flour I've found. The fine grind makes for a smoother, lighter result.
Check out more delicious recipes from around the world:http://www.gluten-free-around-the-world.com/