Enter to Win a (Gluten-Free) Culinary Getaway in Italy (Fall 2015), hosted by Jovial Foods
---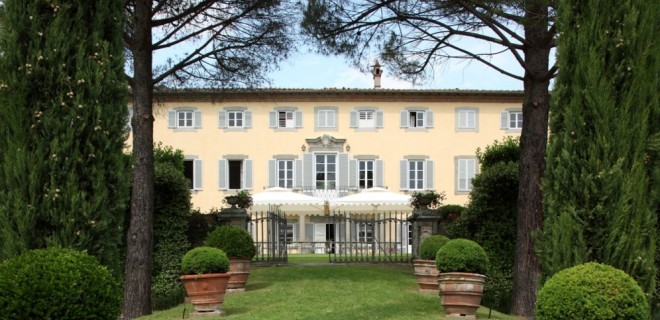 Jovial Foods, Inc. is hosting a Gluten Free Culinary Getaway to beautiful Tuscany in the Fall of 2015. While residing in an 18th Century villa, learn to prepare (& then enjoy consuming!) authentic Italian food in a state-of-the-art gourmet kitchen alongside Carla (Jovial founder), pasta artisans, and other guests. Enter contest below for a chance to win a FREE trip.
Jovial's villa is located near the lovely city of Lucca, and offers guests luxurious accommodations, a solar heated swimming pool, and beautifully landscaped grounds of olive trees and a vineyard. Guests will have plenty of free time to relax in the villa's peaceful setting, go hiking on a nearby trail, or venture out to explore all that Tuscany has to offer (accessible by auto, train or bus). Learn more about Jovial's Gluten Free Culinary Getaway HERE.
ENTER TO WIN (CONTEST NOW CLOSED):  Now through June 30th (11:59 pm est), enter Jovial's Culinary Giveaway to win a prize package to attend one of their Culinary Getaways! Winner will be announced July 1st and may choose to attend either of the following:
October 3-October 10, 2015: Gluten Free in Italy                                                                         
October 10-October 17, 2015: Cooking with Einkorn*
(*Note: Einkorn is wheat, so for obvious reasons the "Cooking with Einkorn" getaway is not recommended for anyone with Celiac). 
Prize Package Includes:
–        Airfare (you and a guest) and ground transportation to Lucca, Italy
–        8 days, 7 nights in a beautifully restored 18th century villa
–        Hands-on cooking classes & the delicious meals that follow
–        Daily breakfast with an assortment of freshly prepared baked goods and local delicacies
–        Welcome Dinner & Farewell Dinner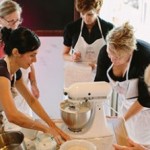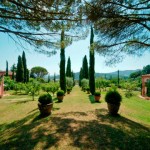 If Italy is a destination you have been desiring to visit (or revisit!), and you enjoy cooking and conversation, take advantage of this opportunity to win a free trip! ENTER above.
Don't want to miss out on this wonderful Culinary Getaway, reserve your room now (open HERE)!  If you happen to be the lucky contest winner, you will receive a refund.
[CONTEST ELIGIBILITY: Open to permanent, legal residents of the 48 contiguous United States and District of Columbia, must be 18 years of age or older at time of entry. Void elsewhere and in any state or jurisdiction where prohibited by law. Read more when you enter contest.]
Meet Carla, founder of Jovial Foods

The nice folks over at Jovial continue to offer CeliacCorner fans free shipping & 10% off Jovial products,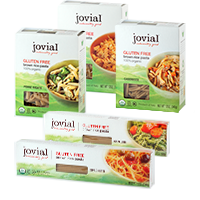 through the end of 2015. Use Coupon Code:  CELIACCORNER at checkout!
"Jovial is all about family, feeling good, celebrating life, and showing love with good food. After years of worrying about food allergies, Carla and Rodolfo's family finally found a way to eat well and feel happy again. That inspired their company's name, jovial"