Enter to Win: 6 pack of Nuwi Quinoa Banana Flavored Smoothies, plus a T-Shirt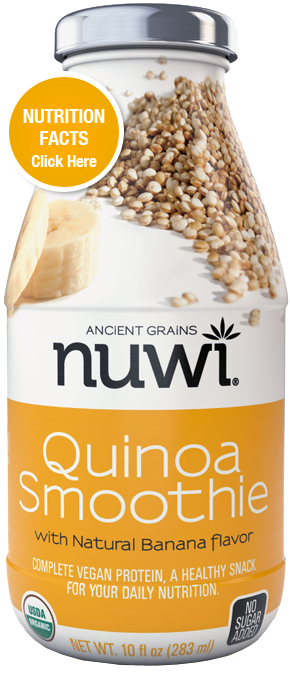 Since we received such a great response to our last (blueberry flavored) Ancient Grains Nuwi Quinoa Smoothie & T-shirt Giveaway, our wonderful sponsor is once again offering a lucky CeliacCorner winner one 6 pack of their newest Nuwi Quinoa Smoothie flavor – BANANA – plus a fab teal-blue T-shirt (in preferred size)!
As we shared with you in our recent review of the new Banana flavor, Nuwi Quinoa Smoothies are:
GLUTEN-FREE
LACTOSE-FREE
SOY-FREE
PRESERVATIVE-FREE
NON-GMO
CERTIFIED ORGANIC
COMPLETE VEGAN PROTEIN
Enjoy a delicious, creamy, smoothie at breakfast, snack-time, post-work out, or anytime a healthy, refreshing snack is desired. A great option for the gluten-intolerant, lactose-intolerant, vegetarian or vegan.
GIVEAWAY BEGINS:  THURSDAY, 18 JULY at 10:00 am (EST) and ENDS THURSDAY, 25 July AT 10:00 am (EST)
– GIVEAWAY NOW CLOSED – THANKS FOR ENTERING!
Giveaway Rules:
1. Leave a comment below telling us why you would love to win this 6 pack and T-shirt from Nuwi (be sure to solve the math problem/captcha code before hitting the submit button). Note: Comment awaits moderation, and will not show up immediately.
2. LIKE Nuwi on Facebook .. LIKE CeliacCorner on Facebook
3. Follow CeliacCorner on Twitter (if you are a tweeter!)
4. If you tweet about the giveaway & post to your Facebook page you may enter again increasing your chances of winning (show proof that you have done this in your 2nd entry).
That's it … Good Luck!
Open to US residents only.
One winner will be notified by email and will have up to 3 days to claim prize, otherwise another winner will be selected.
6 pack and T-shirt will be mailed out to you directly from Nuwi.