Enter CeliacCorner Giveaway of Kim Wilson's new recipe e-book Good and Easy Eats
---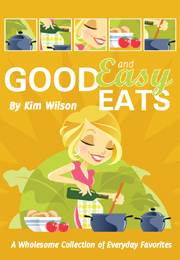 CeliacCorner Free Giveaway
(1 copy) Good and Easy Eats, a new recipe e-book
from cookbook author Kim Wilson of  SimplyNaturalHealth.com
with over 70 wholesome, allergen-free recipes
& including numerous helpful tips!
(Read our Review of Good and Easy Eats here)
Contest Begins: Friday, 12.9.11 @ 12:00 noon
Contest Ends: Friday, 12.16.11 @ 12:00 noon
You won't want to miss out on this one!
Since it is holiday time, you could even "gift" the e-book!
It would make a great gift for:
A friend who is attempting to eat more healthy

A family member struggling with food allergies

A co-worker who has to avoid gluten in their diet

A teacher who is trying to accommodate multiple food allergies in the classroom

A relative who wants to prepare foods for friends and family with food sensitivities or restricted diets
Contest Entry Rules (1 – 4 are on the "honor" system)
LIKE CeliacCorner on Facebook  http://www.facebook.com/CeliacCorner
FOLLOW us on Twitter http://twitter.com/ @CeliacCorner

SHARE this contest with at least 3 people via FB (button below) or email

TWEET about the contest

Once you have done 1 thru 4 post a comment below telling us why you would like a copy of Kim's e-book which focuses on allergen-free, healthy  recipes for the entire family  (mandatory)
One winner will be notified via email shortly after December 16th, and the e-book will be emailed directly by the author, Kim Wilson.