Dare Foods Now Offering Gluten-Free Breton Crackers (Giveaway)
---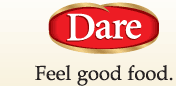 I became very excited today. No I didn't hear about a cure for celiac (not yet anyway!), or win Mega Millions … but I did receive a delivery of the new Breton gluten-free crackers from Dare Foods (Ontario).Yes, this did bring me joy, because before going gluten-free, Dare Breton (wheat) crackers were one of my go-to crackers to serve at parties, but for obvious reasons I haven't bought them in years. You may recall a few weeks ago, I shared a post on the CeliacCorner Facebook page, about Dare Foods now offering a gluten-free Breton cracker. The post received quite a few comments … basically anyone who tried them, loved them. I received a request to sample the crackers by a Dare rep, and was looking forward to trying them!
If you are among those who think "gluten-free" food products are bland tasting, resembling cardboard, you should try the new Breton gluten-free crackers (enter our Giveaway below to win a box)! I sampled the Original with Flax and Herb and Garlic. Made with green lentil flour (providing iron, fiber and protein) and a few other ingredients, the Original with Flax are light and buttery tasting while the Herb and Garlic provided a subtle garlic flavor, not overwhelming. Both are delicious.
Dare Breton gluten-free crackers are hands down my new favorite gluten-free cracker …
In my opinion, you would never know they are gluten-free! The rounds are a good size, unlike the vast majority of other gluten-free crackers on the market and will make a great base for your favorite topping. Actually they taste delish, sans topping!
Dare's Breton gluten-free crackers are certified gluten-free by the National Foundation for Celiac Awareness, according to the box.
The crackers are baked in a nut and peanut-free facility, and contain soy and milk.
The Breton gluten-free crackers are sold widely in Canada, and in some US locations. You can order them via the Dare website Here. (Retail: $4.54 a 4.76 oz. box, $20.67 for 6 boxes). You can also check out the complete list of ingredients.
Also visit Dare's Facebook page to inquire where you can find them in your area.
I received samples from Dare Foods for the purpose of this review. The opinions expressed above are most definitely my own.
Enter CeliacCorner Giveaway to try a box of the new Dare Breton gluten-free crackers!  

giveaway now ended.
Because the Dare rep was so generous in the amount of samples sent, I decided to share a 4.76 oz. box with two (2) lucky winners. Winners may choose either a box of the Original with Flax or Herb and Garlic.
Here is what you need to do to be eligible to win:
LIKE CeliacCorner and Breton on Facebook
Leave a comment below telling us which flavor you would like to win (be sure to solve CAPTCHA code, before selecting SUBMIT) and also please leave a comment on CeliacCorner's Facebook page that you have entered this Giveaway.  If you do not have Facebook, no problem, you may still enter.
That is it!
Giveaway begins Wednesday, 1.29.14 at 1:30 pm (EST) and ends Friday, 1.31.14 at 9:00 pm (EST).
GIVEAWAY NOW CLOSED – THANK YOU ALL FOR ENTERING. WINNERS WILL BE CONTACTED VIA EMAIL SOON.
Open to US & Canadian residents only.
(Winners will have up to 2 days to claim prize, otherwise another winner(s) will be chosen)