Cheese & Egg Toasty Breakfast Treat
Ingredients:
One slice of gluten-free bread, toasted (my recommendation is UDI's whole grain)
One egg
One slice of swiss cheese (don't substitute if you want a richer taste)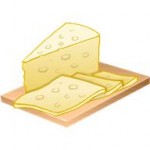 Cook egg in pan and when just about cooked-over-medium/hard, add the slice of swiss cheese on top.  Let cheese melt, then bring toast to the pan and set egg & cheese on top!  No need to put another slice of bread as a cap, just place toast in dish or pick-up and eat with fingers!   The sweetness of the melted swiss cheese makes this a delicious and quick breakfast treat.