Celiac & Non-Celiac Moms: Consider Taking Survey on Breastfeeding Experiences
IF YOU OR A FAMILY MEMBER GAVE BIRTH TO A CHILD  IN THE LAST  TEN (10) YEARS,
PLEASE TAKE A FEW MOMENTS TO COMPLETE THIS SURVEY.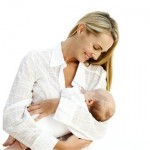 The Celiac Disease Center at Columbia University is conducting a study on the breastfeeding experiences of both healthy women and women with celiac disease. If you, or a family member, gave birth in the last TEN years, you may participate.
To contribute to the study, researchers ask that you take a few minutes to fill out a survey.
Participation is completely voluntary and anonymous!
Click HERE to learn more and to take the survey.
According to the Celiac Disease Center, there is no compensation for participating in this study, but the information provided can help further knowledge about celiac disease.  If you have any questions about the study, please email celiac@columbia.edu or Danielle Heller at dh2478@columbia.edu.
The Celiac Disease Center at Columbia University Medical Center was established within the Department of Medicine at Columbia University in 2001.  The Center's mission is to redefine the future of celiac disease and treatment through continuing advances in patient care, research, education and patient advocacy.   All of the Center's research is directed toward celiac disease clinical, epidemiology, and mechanisms of pathogenesis of celiac disease and patient and physician education.