Casa Di Bertacchi's Italian Style Beef Meatballs Now Gluten-Free (Review & Giveaway)
---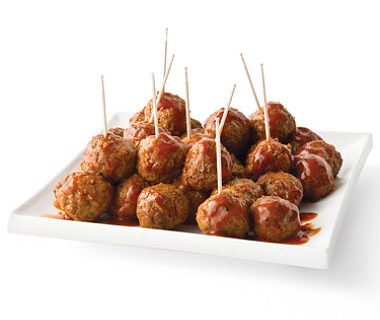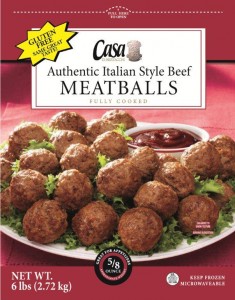 Recently I was sent a bag (a huge 6 pounder!) of frozen beef meatballs to sample. In all honesty, I'm not a huge fan of packaged, frozen food. I prefer to cook from scratch using fresh ingredients … most of the time. I do like to keep a few favorite frozen products on hand to grab on a family pizza night, when I'm unable to partake, or occasionally I'll buy them while on vacation, if the room comes with a kitchen, so I am spending less time over the stove, and more time outdoors with my family. Packaged, frozen meatballs … easy prep … happy to give them try!
(Don't miss Giveaway below) 
The makers of the USDA inspected beef meatballs, Casa Di Bertacchi recently launched its reformulated 6 lb. bag of  5/8-oz.-sized meatballs (I'd call them medium, rather than mini) which come fully cooked and now Gluten-Free. I followed the package prep instructions for oven (450 degrees for 30 minutes), but they can be microwaved, cooked on the stove top or even in a slow cooker. I sprinkled the meatballs with a little basil, and on half I added some fresh tomato sauce and left the other side plain. I didn't add any other seasonings. Thirty minutes later the meatballs were done and I have to say, they were delicious! Tender and flavorful. I found myself popping one or two into my mouth as I passed the baking dish. The meatballs were also a hit with my boys. One night I added a layer of greens at the bottom of a taco shell and added the meatballs, tomato sauce and drizzled with parmesan cheese. Another night I topped our gluten-free pasta with the meatballs. Deliciosio!
You can easily get 5 meals from one bag (depending of course on how large your family is). I've already made 3 separate meals for a family of 4, and still have meatballs leftover. At a cost of $14.98 per bag (again, this is a huge bag), I'd say you are getting a pretty good value. You can use the meatballs in soups, stews & chili, as well as over Mac and Cheese and on top of pizza, to name a few ideas from the Casa Di Bertacchi website (see RECIPE for Meatball Nachos below!). I also love that the bag is resealable.
Casa Di Bertacchi meatballs are a great meal option for busy moms and dads looking for a quick, tasty, meal to prepare. Bring them to a potluck dinner!  Enter our Giveaway Below.
*Note: Case Di Bertacchi does not "certify" their meatballs as gluten-free (perhaps the company will consider this in the future). The rep said even though the meatballs are not produced in a separate gluten-free facility, they are tested quarterly and meet all of the specified FDA requirements for a gluten-free product.  "…. It (product) also went through vigorous testing prior to launch, and that testing was verified through a third party."  Also note:  their larger 1 oz sized meatballs contain gluten.
Ingredients (5/8 oz. Meatballs): Beef, water, textured soy protein (soy flour, caramel color), onions, defatted soy flour, contains 2% or less of each of the following: corn syrup solids, dehydrated garlic, dehydrated onions, grill flavor (maltodextrin, grill extract), natural flavorings, romano cheese (made from sheep's milk, salt, enzymes), salt, soy protein concentrate, soybean oil, spices, sugar.
Allergen info:  Contains milk and soy.
View HERE for complete Nutrition Facts  – diabetics check sugar content.
Case Di Bertacchi meatballs are available exclusively at Sam's Club's nationwide. $14.98 for the 6 lb. bag. Use this product locator to find a Sam's near you!
More from Casa Di Bertacchi:
"Casa Di Bertacchi meatballs trace their roots back to Mario Bertacchi, who founded a small New Jersey meat market in the 1920's and eventually developed a sought-after recipe for hearty, flavorful meatballs. Today, we still make our meatballs using the cherished family recipe. They're:  Fully cooked to make every recipe quicker and simpler, Prepared with quality beef and real Italian ingredients, Seared and steamed in the traditional way. Check out this recipe from Casa Di Bertacchi:
Easy Meatball Nachos – Gluten-Free*
Serves: approximately 3-4 people
Ingredients
16 Casa Di Bertacchi Gluten-Free Meatballs (5/8-ounce size), thawed
1 medium onion, chopped (optional)
1 green bell pepper, chopped (optional)
1 tablespoon olive oil
1 envelope taco seasoning
1 can sliced stewed tomatoes, with liquid
1 can black beans, rinsed and drained
1 bag tortilla chips
Cheese (shredded)
Sour cream to top
*Always read all product labels carefully, to ensure ingredients are gluten-free.
Directions
Cut meatballs into quarters. Sauté the onion and bell pepper in olive oil over medium heat, until tender. Stir in meatballs and cook on high heat for 3 minutes. Stir in taco seasoning, tomatoes and beans. Reduce heat to medium and simmer for 10 minutes, stirring occasionally and breaking meatballs into smaller chunks. Spoon meat mixture over individual servings of tortilla chips and sprinkle with cheese. Top with sour cream, if desired.
 XX GIVEAWAY XX
NOW CLOSED 
Courtesy of Casa Di Bertacchi one lucky winner will receive:
A whopping 6 lb. bag of gluten-free meatballs (delivered direct to front door!)
Giveaway begins Monday, 9/16/13 9:00 pm (est) and ends Monday, 9/23 at 9:00 pm (est)
Giveaway Rules:
1. Tell us below how you would use Casa Di Bertacchi meatballs (be sure to solve the easy math problem, before hitting SUBMIT) – Note: comment will not appear right away, as it awaits moderation.
2. Like CeliacCorner on Facebook (please leave a message on our FB page, that you have entered).
3. Follow CeliacCorner on Twitter if you are a tweeter, and please tweet about giveaway at least once
4. Share with your friends and relatives via Facebook
That is it – good luck!
Open to US residents only, 18 and older.
One winner will be chosen, and will have up to 3 days to claim prize, otherwise another winner will be chosen. The bag of gluten-free meatballs will be mailed out directly from Casa Di Bertacchi rep.