Carol Fenster's Pizza Crust and Sauce
Adapted with permission from Gluten-Free 101 by Carol Fenster, (Savory Palate, Inc, 2010)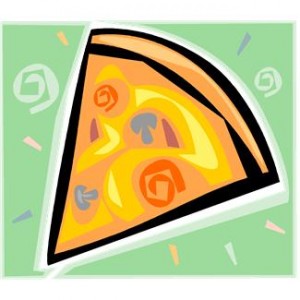 This pizza crust is so delicious it has received national acclaim! You can hold it in your hand and it won't crumble. Pizza is a perfect choice for weeknight dinners or leisurely weekend dining and everyone will enjoy this pizza, whether they're gluten-free or not.
Crust

1 tablespoon active dry yeast

¾ cup warm (110°F) milk of choice

2 teaspoons sugar

⅔ cup brown rice flour, plus more for

dusting

½ cup tapioca flour

2 teaspoons xanthan gum

½ teaspoon salt

1 teaspoon Italian seasoning

1 teaspoon olive oil

1 teaspoon cider vinegar

Toppings of choice: cheese, sausage, pepperoni, onions, bell peppers, mushrooms, etc.

Sauce

1 can (8 ounces) tomato sauce (gf)

½ teaspoon dried oregano

½ teaspoon dried basil

½ teaspoon dried rosemary

½ teaspoon fennel seeds

1 minced garlic clove

2 teaspoons sugar

½ teaspoon salt
Sauce
Combine ingredients in small saucepan. Simmer 15 minutes. Makes about 1 cup or enough for 12-inch pizza.
Crust
[1] Preheat oven to 425ºF. Dissolve yeast and sugar in warm milk for five minutes. In food processor, blend all crust ingredients, including yeast mixture, until ball forms. Dough will be soft.
[2] Put mixture into greased 12-inch nonstick pizza pan. Liberally sprinkle rice flour onto dough; then press dough into pan with hands, continuing to dust dough with flour to prevent sticking. Make edges thicker to contain toppings.
[3] Bake pizza crust 10 minutes. Remove from oven. Add sauce and toppings to crust. Bake another 20 to 25 minutes or until top is nicely browned. Serves 6; 1 slice each. 
Carol Fenster, is the author of 10 cookbooks including 100 Best Gluten-Free Recipes, the award-winning 1,000 Gluten-Free Recipes, and her recently released 125 Gluten-Free Vegetarian Recipes. Her books are not only enjoyed by the gluten-intolerant community, but also the general public seeking delicious recipes!  In addition to being a guest lecturer here in the US  and world-wide including Canada, Italy and Tokyo, Carol has taught gluten-free cooking classes in Mexico, and was recently inducted into the invitation-only Les Dames d'Escoffier. Carol is also the developer of the gluten-free products for Bob's Red Mill, and has appeared on PBS, the Health Network, and numerous radio shows as well as a contributor on a number of websites.
Thank you Carol for contributing this easy and delicious recipe to CeliacCorner.com – we appreciate it!