Carmine's Restaurant, Theater District, NYC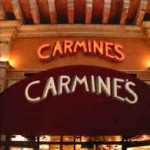 Known for serving Italian comfort food, in family-style epic proportions, Carmines is one of my go-to gluten free restaurants when in NYC. When the server recommends ordering only a few dishes to share amongst your dining companions, believe him/her! Yes, the average dish costs $30+, but two or three people can share one dish. There are quite a few gluten-free options to choose from – appetizers such as Zuppa di clams and mussels, grilled Portobello mushrooms, and an assortment of pasta dishes including Pomodoro, Calamari, Pesto and Bolognese for entrees.  We ordered the Chicken Contadina and the Shrimp Fra Diavolo which was accompanied by a mammoth sized portion of gluten-free ziti and we enjoyed both.  We shared a gluten-free Tartufo for dessert which was out of this gluten-free world delicious! Although there was a disclaimer on the menu cautioning of the possibility of cross-contamination, I felt the sever was very knowledgeable about gluten-free and though it was extremely busy the night we visited, apparently the kitchen staff was careful as well, as I avoided getting sick! Carmines' décor is upscale casual and the ambiance is warm and very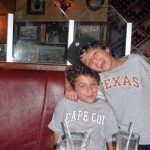 lively, chock full of  visiting tourists and locals, and very family-friendly.  Our kids and their cousins had a ball, and even their loud voices were drowned out by the restaurant-wide chatter. Located in the theater district at 200W 44th St., it is a great location for dinner.  Carmines serves lunch as well, but I recommend an evening dinner, so when finished you can walk it off sauntering around nearby Times Square, which is so electrify at night. If you are looking for an intimate restaurant to have a quiet conversation, then skip Carmines.  But if you enjoy sharing a hearty gluten-free meal with family and friends, head to Carmines, just be sure to make a reservation if you want to avoid the wait for a table.  If you don't make a reservation and happen to be fortunate enough to get a seat at the bar, you can eat there as well, though I recommend this for a party of 2 only. Keep in mind on a busy weekend, servers are going to be extremely busy. Be patient and expect some special requests may take a little longer getting to the table, and just enjoy your night!
Tip:  Best to make a reservation a day or two in advance if possible, otherwise expect to wait at least 1 hour for a table.  You may want to consider putting your name in and then heading outside again to shop at the nearby stores.  I'd recommend Carmines for a group of people, rather than just a couple. La Dolce Vita!
The "original" Carmines is located at 2450 Broadway, but I still recommend the Theater District venue at 44th St. for its close proximity to Times Square.
http://carminesnyc.com/locations/tdny/index.php
Did you find this post useful?  Please comment below!