Berry & Walnut Salad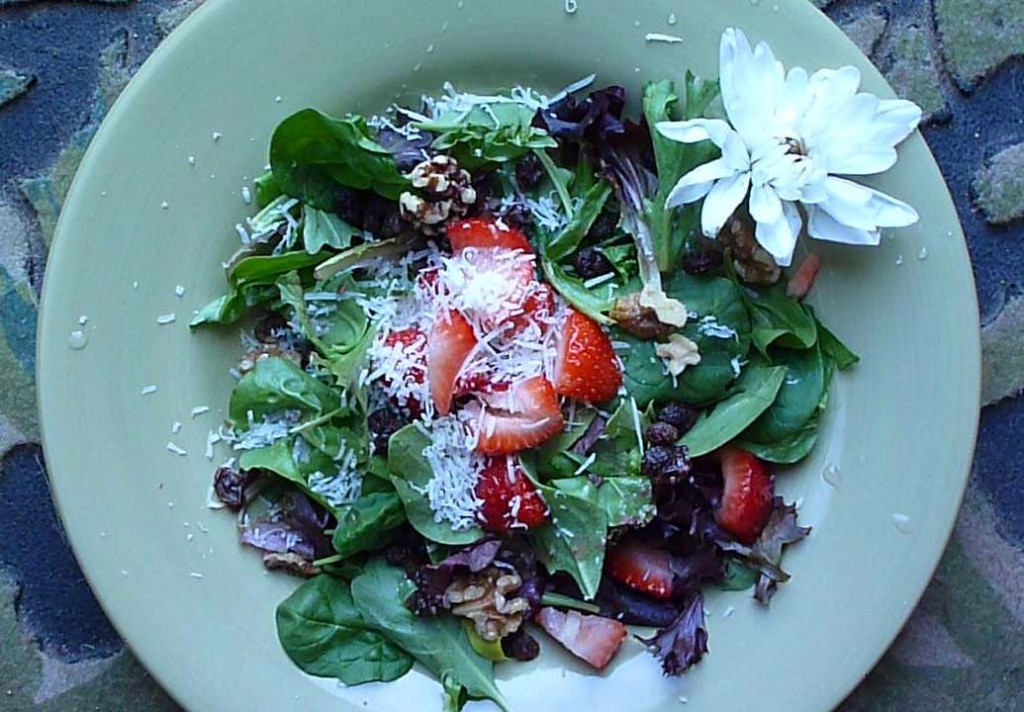 This is one of my favorite salads to prepare for family and friends during the summer months … though I basically prepare it throughout the year! It is light, refreshing and healthy.
Ingredients:
assorted organic greens
organic strawberries
walnuts (you can buy the larger unshelled ones, and then crush)
raisins
Italian Pecorino Romano cheese, grated
*Bottle of Newman's Own Light Raspberry & Walnut Dressing (or make your own dressing with crushed strawberries or raspberries, balsamic vinegar, extra virgin olive oil, your favorite sweetener [agave, honey, light brown sugar], salt & pepper to taste, add in some crushed garlic if you prefer)
Start with a base of organic greens – my favorites are: red & green romaine, chard, spinach, radicchio, beet greens, arugula, kale and collard.  You can buy these individually or pick up a package of organic spring mix greens (be sure to check the expiration date!). Wash the berries thoroughly and cut into pieces.  Top the greens with the berries, raisins and walnuts.  Grate the Pecorino Romano Cheese, or your favorite variation of cheese, over top.  Drizzle the Newman's dressing over the greens, which adds a deliciously sweet, walnut & raspberry flavor.  Don't over-soak otherwise the greens will become too soft, and you want to serve them crisp!
Variations:  add garbanzo beans & cucumbers.  Substitute almonds instead of walnuts
*At the time of this publishing, Newman's Own Light Raspberry & Walnut dressing did not contain any gluten ingredients.  You may want to check the Newman Website to be sure it is still on the gluten-free list!  www.newmansown.com Ingredients: water, vegetable oil, (soybean and/or canola), red wine vinegar, corn syrup solids, contains 2% or less of raspberry, walnuts, salt, natural flavor, orange juice concentrate, onion, xanthan gum, garlic, spices, natural elderberry extract and annatto (for color).