Ava Anderson Non-Toxic (Gluten-Free) Products: Review & Giveaway
---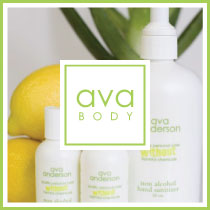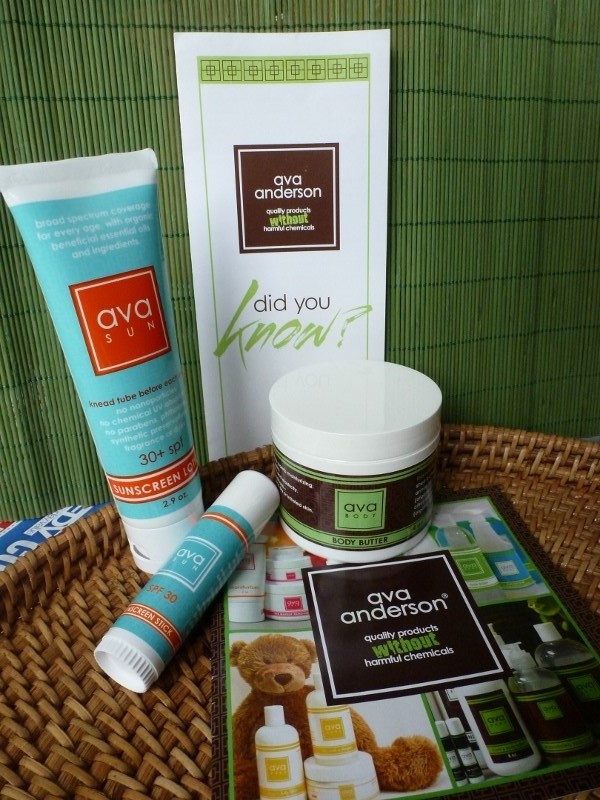 A few weeks ago I was contacted by Allison, a consultant for Ava Anderson Non-Toxic, a privately-held (Rhode Island based) company offering a line of Face, Skin, Body, Hair, Sun, Baby, Pet, Home & Scent products that are free from many of the harmful ingredients that can often be found in similar products on the market. No endocrine disruptors such as Parabens, Phthalates, Triclosan, Oxybenzone, Octinoxate, Petrolatum. No PEGS (polyethylene glycol), SLS & SLES (sodium lauryl sulfate, sodium laureth sulfate), and no formaldehyde, to name just a few unhealthy ingredients absent from Ava Anderson Non-Toxic products.
Product ingredients are organic and I'm happy to share the entire line is also GLUTEN-FREE! The Skin and Body line offers vegan options as well. (Don't miss our Giveaway below!)
Haven't heard of Ava Anderson Non-Toxic? Here's a little background. The company was launched in 1997 out of "a youthful idealism and passion" by a then, 14 year old Ava. After watching a news program about a EWG (Environmental Working Group) study of teens who tested positive for hormone disrupters and other harmful toxins, Ava was on a quest to find safer body products to use. Dissatisfied with what she found on the market – even from products labeled natural and pure – she eventually put her entrepreneurial gears into motion and started her own company using primarily organic, and less harmful product ingredients. Yay for Ava! The company uses environmentally safe packaging and products are never tested on animals.
Allison was kind to send me the following Ava Anderson Non-Toxic products to sample:
Body Butter (from the Ava Body line) – 4 oz. jar – ($18.95)
[Ingredients: water (purified), butyrospermum parkii (organic shea butter), simmondsia chinensis (organic jojoba) oil, (Helianthus annuus, (organic sunflower) oil, citrus medica limonum (organic lemon essential) oil, citrus aurantifolia (organic lime) oil, citrus reticulate (organic mandarin) oil, rosmarinus officinalis (organic rosemary) leaf extract.] The jar states "Helpful with skin conditions – eczema, psoriasis and dry or irritated skin".
I love the body butter, which is silky smooth, non-greasy and the light citrus aroma is refreshing and lasting. I used it all over, but mostly on my legs and they did feel (and looked) hydrated!
30+ Sunscreen Lotion (from Ava Sun line) – 2.9 oz.   ($18.95)
[Ingredients: Active ingredients: zinc oxide (21%, non-nanoparticle). Inactive: beeswax (organic), theobroma cacao seed butter (organic cocoa butter), butyrospermum parkii (organic shea butter), olea europaea oil (organic olive oil), simmondsia chinensis (organic jojoba oil)]
The sunscreen lotion provides broad spectrum coverage for both adults and children and contains no nanoparticles, chemical UV absorbers, parabens, phthalates, synthetic preservatives and is free of fragrance and dyes. It is water resistant. Though it contains zinc oxide, it is colorless when rubbed in. I have very sensitive skin, and occasionally break out when using sunscreens/blocks. I didn't notice any blemishes after using.
30+ Sunscreen Stick (from Ava Sun Line) – .5 oz  ($23.95, for a set of 2)
[Ingredients: Active ingredient: zinc oxide (21%, non-nanoparticle), inactive: cocos nucifera (organic coconut oil), helianthus annus (organic sunflower seed oil), butyrospermum parkii (organic shea butter), beeswax (organic)]
I used this to apply to my family's ears & noses! I still keep it in my purse or car and grab for a quick reapply when we are out for a hike or at the beach. Great for kids that are always in motion … one quick swipe and their faces are protected!
I enjoyed the three products I sampled. Ava Anderson Non-Toxic offers a wide-range of products, and I look forward to trying more. Sure, they are on the pricier side, much like other organic, better for you brands. If you are sensitive to other products on the market I would consider giving them a try to see how they work for you. As they do not contain gluten, they should be a safe option for those with Dermatitis Herpetiformis (the skin manifestation of celiac disease), but best to consult with your doctor prior to use, especially if your skin is irritated from the DH. Also be sure to check entire ingredient lists for additional allergens. People with nut allergies need to be mindful of the nut oils included (shea butter, etc.). Those with a citrus allergy may need to avoid products with citrus.
The Ava Anderson Non-Toxic website is a helpful resource for learning more on the harmful products that can be found in many personal care products. (from website  "…Many products that you use daily have one or more endocrine disruptors, and some will have all of them! They are very important to avoid, because the endocrine system regulates all biological processes in the body including development of the brain and nervous system, growth and function of the reproduction system, metabolism and blood sugar levels, ovaries, testes, pituitary, thyroid and the adrenal glands. (Natural News) The World Health Organization and the UN recently released a report that called endocrine disruptors a "Global Threat." Small amounts of endocrine disruptors matter, especially to the developing fetus")
If you decide to purchase Ava Anderson products please consider purchasing them directly through Allison Klusmann, consultant.  If you have any questions about a product you may contact her directly. Email: allisonnontoxic@yahoo.com or Telephone: 404.578.7175 .
A note of thanks to Allison, for generously offering sample products from her own supply for the purpose of this review and for offering a $50 credit for Ava Anderson Non-Toxic products for our Giveaway!  Though I was provided samples to review, the opinions are my own, and no monetary compensation was received.
Visit the Ava Anderson Non-Toxic website.
XX   GIVEAWAY   XX (now closed)
One lucky celiac corner winner will receive $50 credit to use towards Ava Anderson products (winner will be advised to order via:  Allison

www.avaandersonnontoxic.com/allisonk

)
Giveaway begins Friday, August 23 at 5:00 pm (EST) and ends Friday, August 30th at 5:00 pm (EST)
Giveaway Rules:
Tell us below which

Ava Anderson

product you would love to try most! (be sure to solve the simple math problem, before hitting 'submit')
Next, head on over to Allison's Ava Anderson blog and check out the complete line of Ava Anderson Non-Toxic Products!

LIKE CeliacCorner on 

Facebook

  (please leave a comment on FB that you have entered Giveaway)

Consider following CeliacCorner on Twitter,  if you are a tweeter!
SHARE with your friends and relatives via social media, so they can also learn about Ava's non-toxic line.
Open to US residents only.
If you would like to comment below, without registering for the Giveaway, you can do that as well (just leave a note that you do not wish to be considered for Giveaway) – thank you!
(You can visit the EWG website and check how Ava Anderson Non-Toxic products scored – most received a 0-1 score .. low hazard)
 Meet Ava !