Annie's Quahogs on the Grill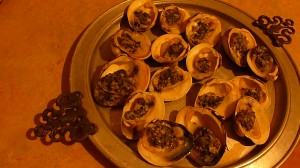 Like many New Englanders, Annie loves to go clamming. She walks out her back door, down her sprawling green lawn which leads to the bay, and enters the water waist deep. No clam rake for Annie … she prefers to use her feet to feel around for the clams (which are about 3 inches or so below the sand) trying to avoid cutting her feet on shell fragments! After a few hours of clamming Annie brings back her catch, discards any open shells and then scrubs and rinses the closed ones clean.  She then prepares the most delicious tasting Quahogs on the grill.
Ingredients:
10 – 15  fresh Quahogs, scrubbed clean
bunch fresh basil
3 cloves garlic
extra virgin olive oil
Serves: 4 to 6
Scrub and rinse the live, fresh Quahogs.  Tip –  Place them in the freezer for 1 hour – this allows for easier opening (or shucking), and the meat remains on both sides (doubling the quantity).  Open as soon as they come out of the freezer using a regular paring knife – slide it in cutting the connecting pieces.  In a food processor blend basil, garlic, olive oil and spoon over each quahog.  Place them directly onto a medium to high heated grill and cook until the quahogs are a light brownish color and begin to bubble – approximately 10 – 15 minutes.  Place quahogs on serving dish and add just a tiny sprinkle of fresh basil for color.  The Quahogs should be served warm. Use a small seafood fork to eat them.  A delicious appetizer!
Want to know a little more about the "Quahog" (classified as a salt water mollusk)? The name comes from the Narragansett Indian name of "poquauhock".  The scientific name is mercenaria and is derived from a latin word which means "wages or money".  Seems the Indian's made beads with the shells and used them in place of money.  If they are 1″ thick they are called "Little Necks"; next in size is the Cherrystone; and the largest are called "Chowders".  Quahogs can be found in abundance between Cape Code and New Jersey.  Quahogs are the state shellfish of Rhode Island. In areas other than New England, a Quahog is simply called a clam.
Did you find this post useful?  Comment Below!