A Gluten-Free Road Trip to Sedona & the Grand Canyon, AZ
My husband and I travelled to Arizona years ago, and simply fell in love with Sedona and the awe-inspiring Grand Canyon National Park (who wouldn't?).  We knew we wanted to take the kids back at some point before they began rising up in revolt upon hearing the words "family vacation".  Ten was a good age.
This was the first extended period of time I travelled away from home with Celiac, but I was up for the challenge!  I did my research (contacted Arizona support groups for restaurant recommendations, googled GF restaurants and natural food stores in the area).  I didn't make any special airline meal request as I knew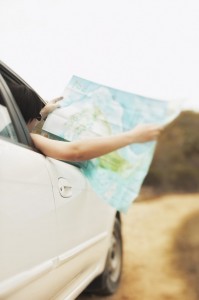 it would only be a 5 hour flight and likely would be offered peanuts or pretzels anyway (if  I had been travelling to Singapore, now that would be a different story).  I packed several snacks in a carry-on bag (GF granola bars, chips & fruit) which I placed under my seat, and also packed a few favorites in my suitcase (Udi's granola, great for adding to yogurt, which I did throughout the entire trip). After arriving to an oppressively hot (110 degree) Phoenix we headed to Budget to pick up our economy car (which we quickly upgraded to a mid-size – as not only would the luggage not fit in the trunk, but our knees were backed up into our chests – note to self – next time spend the extra bucks for a mid-size!  We headed to our pre-booked La Quinta Inn in Tempe, a short 15 minute drive from Sky Harbor Airport, and a bargain at $50/night (Expedia).  We happily discovered a Denny's adjacent to the hotel. Generally I don't get excited over seeing a Denny's, but it was late, not much else was open and we were hungry!  Their allergen menu listed a few gluten-free options, and I selected an omelet, and as always, requested it be cooked in a separate pan.  Great, I avoided being glutened on my first night of vacation – off to a healthy start!
The next morning, we headed north on Highway 17 towards Sedona (about a 2.5 hour drive if  non-stop)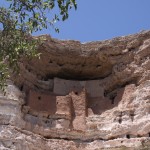 planning to see a few sites along the way including Montezuma Castle National Monument, a five-story, 20-room dwelling built in the recess of the cliffs about 100 feet from the valley, by the prehistoric Sinagua people (1100's).  Just before arriving at Montezuma's, we stopped in the little town of Camp Verde (in the Verde Valley) for lunch.  A woman from the tourist center recommended a restaurant called Sweet Grace http://www.sweetgracecv.com/ which she was almost certain offered gluten-free options.  Sweet Grace (37 Hollamon St.), named after the owner's mother, is small-scale and very charming.  No separate GF menu, but most of the sandwiches could be prepared on GF bread, and many other dishes could be modified to be GF. The ingredients were organic and fresh. My boys, as usual were the loudest in the place, but no one seemed to mind. The homemade sweet tea was GF, deliciously refreshing and our glasses were refilled often! After dining, we headed to Montezuma Castle, and enjoyed the short walk from the visitor center out to the dwellings, which really are quite remarkable, well preserved and worth a visit if in the area. About  20 miles outside Sedona, we diverted to the small, historic town of Jerome, a once bustling copper mining town of 15,000,  turned ghost town, and now attracting travelers to the many eclectic shops, art galleries, and restaurants.  Jerome became a National Historic Landmark in 1967. Situated high atop Cleopatra Hill (actually clinging to it!)  the panoramic views of the Sedona red rocks in the distance, and of the valley below are alone worth a visit to Jerome, but you could spend anywhere from 1 hour to an entire day there. http://jeromechamber.com/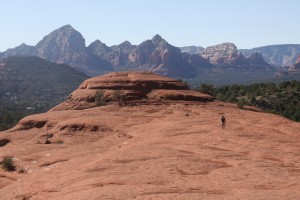 As soon as the red rocks came into view, we knew we had arrived in magical, majestic Sedona!  I have visited temples in Bali, cycled the European countryside, explored Mayan ruins, and overlooked vistas which have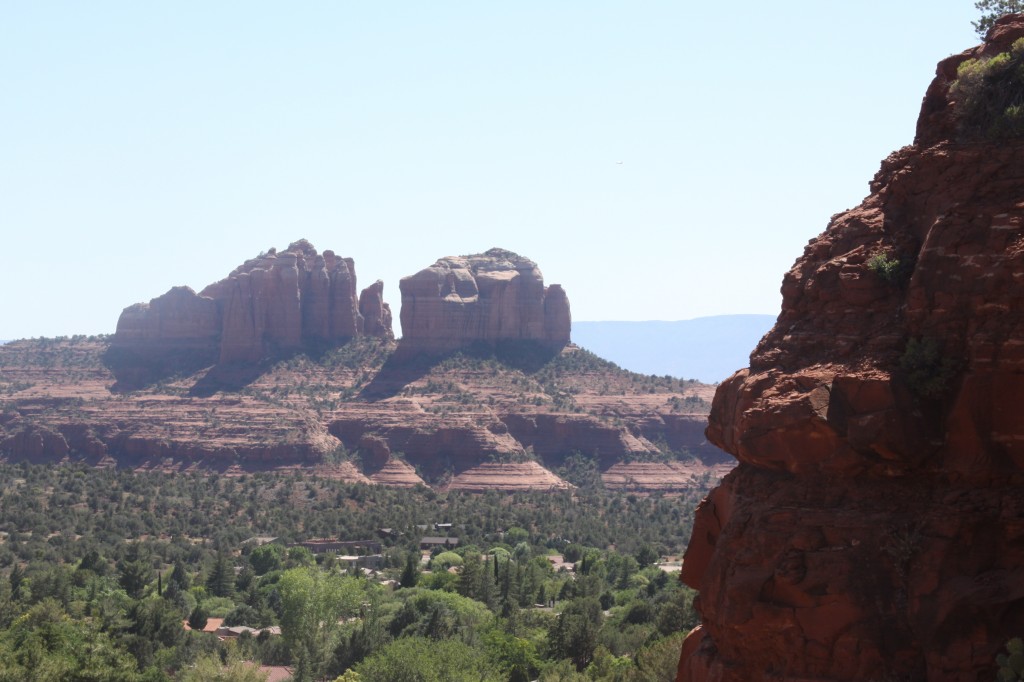 taken my breath away.  Sedona's beauty rivals any of those destinations.  The red rock monolithic formations, canyons, natural energy vortexes, ancient ruins, history, and southwestern charm make  Sedona a perfect destination for exploring. There is something for everyone – from spectacular hiking (easy to difficult), helicopter & jeep tours, air ballooning, golfing, fishing, camping, rafting, horseback riding, train rides, golfing, spa retreats, spiritual centers, art galleries, and of course dining & shopping!   The ever-present breeze  kept us comfortable throughout the day, though I recommend packing a wide-brimmed hat and sunscreen, if travelling anywhere in Arizona during the summer.  We checked into the King Ransom's Hotel (http://www.kingsransomsedona.com/) which was located on Highway 179, and nicely situated for exploring Sedona (also very near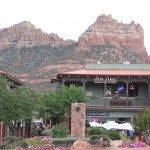 the Tlaquepaque Arts & Crafts Village, an upscale shopping area).  Nothing posh ($89/nightly plus room, state & city tax), but comfortable and with a great view of the red rocks once we stepped out of our room onto the grassy lawn.  We had an "executive suite" which was spacious and the 2 queen beds were comfy.  The room décor was bland, but the bathroom was updated and clean and there was also a refrigerator.  I recommend this hotel for families and for couples looking for a moderately priced accommodation. For a couple traveling with 10 year old boys, this hotel fit the bill.  (If you are looking for a resort with a spa, etc. there are several ideal accommodations, including the Enchantment Resort and Amara)  A couple of perks came with the King Ransom – about a 10 minute walk behind the hotel was a very easy hike through the Coconino National Forest.  The views from atop the hill were just stunning.  Adjacent to the hotel is the nationally-acclaimed Elote Cafe serving "upscale Mexican fare", and judging by the nightly queuing diners, and the wonderful aromas wafting through the air, it must have been pretty darn good.  I'm sure the restaurant could have prepared something GF, but we opted to frequent restaurants with

GF menus.  My favorite had to be Picazzo's Organic Italian Kitchen http://www.picazzos.com/, serving not only pizza, but a wide variety of  gluten-free dishes prepared with local organic and fresh ingredients.  We ordered a take-away pizza and ate it by the pool on our first evening.  Delicious! My husband surprised me by also bringing back a slice of cheesecake smothered in chocolate raspberry sauce … decadent, delicious and gluten-free!  Needless to say, most of our dining in Sedona was at Picazzo's.  My cousin lived in Sedona for awhile and suggested we visit the New Frontiers Natural Marketplace (1420 W. Highway 89A). Similar to Whole Foods, New Frontiers stocks several packaged gluten-free products as well as freshly made (packaged) dishes.  I enjoyed a chicken curry dish with brown rice & veggies, and warmed it in the microwave provided. There were other GF options available from the café.  Another afternoon we stopped for lunch at the Heartline Café located on 1610 W. Highway 89A. Heartline didn't have a GF menu, but a few items could be modified to be GF, (sandwiches in corn tortilla wrap, salads).  Everything was made with fresh, organic ingredients.  I ordered a salad topped with turkey and an assortment of sumptuous fruits & nuts accompanied by a slightly sweetened blackberry dressing.  Though the GF options were limited, I definitely recommend this little gem of a place, for its healthy, organic ingredients and quaint charm.  We also discovered the Sedona Sweet Arts Bakery at 2655 W. State Route Hwy 89A (http://www.sedonaweddingcakes.com/Bakery) After noticing the very prominent GLUTEN-FREE sign in the window, I just had to check it out. The bakery offered several GF flours, and an assortment of GF goodies … biscotti's, scones, cookies, slices of cake.  The biscotti left a little bit to be desired, but it was fine for dunking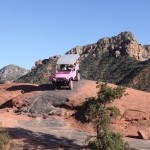 in my morning cup of coffee.  While in Sedona, we booked a Pink Jeep Tour http://www.pinkjeep.com/jeep-tours/sedona/ late one afternoon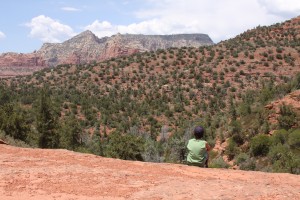 – definitely a highlight for the boys.  The driver picked us up at the hotel in a bright pink jeep and off we went for an off-road adventure through the red rock canyons, stopping periodically to take photos of the awesome scenery.  If visiting Sedona, do not miss watching the sunset (7:45 pm) on Airport Road lookout!  After a 4 night say in Sedona, we headed north on US 89A passing through Oak Creek Canyon and alongside the winding Oak Creek, where we let the boys cool off and skip rocks.  The landscape changed rapidly from the monolithic red rocks in Sedona to dense Ponderosa Pine forests.  There are numerous hiking trails in the area as well and a great swimming spot is Slide Rock, where you can slide down a natural water chute, on your derriere!  We stopped for a brief time in Flagstaff, where we happily discovered another Picazzo's restaurant and I was able to enjoy yet another delicious GF pizza (I wish there had been a Picazzo's in every town!)  From Flagstaff, we drove to the tiny town of Williams to saunter along historic Route 66, visiting the many souvenir shops selling vintage memorabilia.  Williams is also where you can pick up the popular Grand Canyon Railway, which travels through scenic areas directly into the Grand Canyon National Park's South Rim (AAA has packages available).
We arrived to the town of Tusayan,  1 mile from the main entrance of the Grand Canyon National Park – South Rim and checked into The Red Feather Lodge  ($165/nightly plus $12.77 assorted taxes) located on AZ State Route 64.  I wish I could say I was impressed with the lodge, but …   The outdoor pool was small and uninviting, there was no indoor pool, and our room had a stale odor.  I'd recommend Red Feather for visitors on a budget, hikers not spending much time there, or for a short stay.  Since breakfast was not offered at the Red Feather (another disappointment), it was recommended by Reception to head over to the Grand Hotel across the street,

which we did.  After visiting The Grand(http://www.grandcanyongrandhotel.com/) with its upscale rustic charm, bustling lodge-style lobby, café & gift shop, and large inviting dining room we decided to inquire if a room was available!  We promptly checked out of the Red Feather and headed over to our new digs.  We absolutely loved our stay at the Grand ($207/nightly plus room taxes of approx. $24).  The boys enjoyed the indoor pool and game room and my husband and I enjoyed ordering a coffee from the café, and relaxing in the comfortable lobby.  You can book several tours (helicopter, plane, rafting) at the concierge desk.  I would recommend spending the extra bucks to stay at the Grand Hotel, especially if you have kids, though I noted many couples, young and old, sans kids staying there.  In the morning, I passed on the buffet, and ordered an omelet from the menu and requested it be prepared without gluten ingredients and with a side of yogurt & fruit. Our server was well acquainted with "gluten-free" – too bad gluten-free toast was not an option.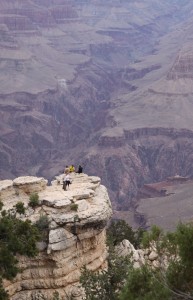 After a restful night's slumber, we headed into the Grand Canyon Park (South Rim). When you head down the paved path from the Visitors Center towards the rim and finally arrive at the rail, the landscape before you is just so incredibly beautiful, it renders you momentarily speechless … you need a minute, or two, to take it all in!  Gorgeous – spectacular, a true wond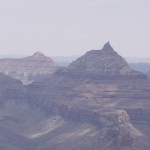 er of the world.  And this was my second time seeing it!  We bought a $25.00 visitor pass, and visited the park for several days.  You need to view it more than once, as the hues change depending on the light, the clouds and time of day.  We hiked a bit, nothing too strenuous but enough to feel we "entered" the canyon, rather than just being a spectator from atop.  There were a couple of nicer restaurants at the South Rim (El Tovar, Bright Angel), but the majority of time we opted to eat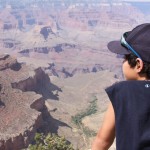 before we headed into the park, and carried snacks (lots of GF granola bars).  We had lunch one day at a cafeteria (near the Desert View Watchtower), and I was able to grab a pre-packaged salad with a Newman balsamic vinegar pack.  Surprisingly for cafeteria fare, the salad had a nice assortment of greens .. red leaf and arugula, as opposed to simply ice-berg.  We hopped on and off of the convenient bus shuttles which took us to various points along the rim. We saw Mule Deer and Elk grazing alongside the road as we entered and exited the Park.
The town of Tusayan was very Celiac-friendly.  We had dinner one evening at the Yipee-Ei-O Steakhouse.  Though there was no gluten-free menu, the server was knowledgeable about gluten and suggested items which could be modified to be gluten-free. I ordered a steak, requested a bottle of A1, and was able to enjoy sides of pinto beans and corn-on-the-cob. The atmosphere was lively, western-themed and family-friendly.  Vegetarian and kids menu available too.  For fast food options, there is a Wendy's and McDonalds in town.  Not to be missed is the Tusayan General Store which to my joyful surprise, was well stocked with a variety of organic, as well as gluten-free options (Pamela's cookies, chips, trail mix). I stocked up for daily trips into the Park, and also to take in the car on the drive back to Phoenix.
We took at day trip from Tusayan to Page near Lake Powell, as we wanted to explore Antelope Canyon.  It was approximately a 3 hour drive, but we enjoyed some of the most beautiful scenery along the way (a portion of the painted dessert, sandstone hills, a never-ending sky), and stopped at several stands along the road, to check out Navajo turquoise & silver jewelry & other handcrafted items.  We passed through the small town of Cameron, and stopped at the historic Cameron Trading Post run by the Navajo tribe, where we ate lunch and browsed the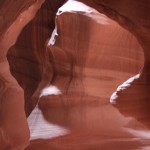 store. No GF menu, but I was able to order pork chops, vegetables and a salad, modified to be gluten-free.  We made the mistake of not pre-booking our Jeep Ride out to Antelope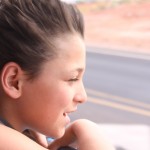 Canyon but we were lucky there was space available. I would definitely suggest pre-booking.  It was a fun ride out to the Canyon in the open-air jeep through the deep desert sand.  Our Navajo guide walked us through this "slot" canyon of smooth, narrow, winding, carved walls.  Antelope Canyon, once featured on the cover of National Geographic, is definitely worth exploring (visit http://www.navajonationparks.org/ for more info on visiting the Canyon).
After our stay in Sedona and the Grand Canyon area, we headed back to Phoenix, but not before visiting two other destinations on my "must see"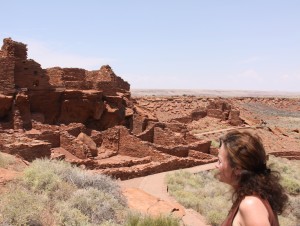 list – The Wupatki National Monument and Sunset Crater, both located off highway 89 (approx. 16 miles from Flagstaff).  Wupatki is an ancient pueblo which was home to several groups of people as early as the 1100s.  When we arrived the well preserved ruins were bathed in a rich, red glow from the late afternoon sun which contrasted beautifully with the intensely blue sky.  This area was definitely one of my highlights ( if you go try to arrive in the late afternoon!).  After visiting Wupatki, we drove on the Loop Road passing rocky mesas and rolling hills and leisurely made our way to Sunset Crater – a volcano which erupted around 1064 AD, leaving the mountain and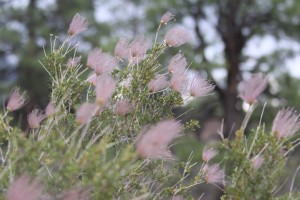 surrounding landscape forever changed. The area is beautiful, yet haunting.  Ponderosa Pines dot the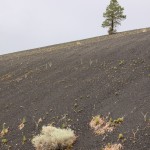 stark, black-cindered hills … a testament to their will to survive.  I loved the feathery pink buds of the apache bush blowing in the wind, and in contrast to the dark ash ground. We followed the Lava Flow Trail, a short one mile walk, winding through huge blocks of black lava, frozen in time.  I don't know how the landscape looks in other months, but in late June, it was just amazing.  You can easily drive through the Wupatki and Sunset Crater areas in a few hours, but I recommend allowing at least a 1/2 day for exploring by both car and on foot. There are no gas stations or restaurants within the 35 mile loop road, so you may want to pack a picnic! (Note: the visitor centers do offer beverages and a few snacks).
We arrived back to Phoenix and stayed our last night at the Tempe Mission Palms http://www.missionpalms.com/, an attractive hotel with a lovely spanish-style courtyard.  Our room with modern southwestern-style furnishings, opened up to an inviting pool.  The downside –  the hotel was located directly below the flight path of the incoming planes to Phoenix airport, though the sound of the A/C unit did a pretty good job of drowning out the roar!  After a pleasant breakfast in the morning, we headed back to the Sky Harbor airport, about a 15 minute drive away.
Two wonderful weeks of travelling the open highways & back roads of Arizona with my husband and boys, visiting mystical cities and ghost towns, many with stunning views and rich in ancient history.  I am thankful to have had, once again, the opportunity to gaze out upon the vast beauty of the Grandest Canyon of them all.  And, whilst doing so, remaining 100%  gluten-free & healthy along the way, thanks to the availability of gluten-free products on store shelves, and also the awareness of Celiac & the GF diet by restaurant staff, which certainly made this road trip a lot more convenient!


A few Notes:
We didn't visit the new Skywalk at the West Rim of the GC, but if interested you can find info here:   http://www.grandcanyonskywalk.com/. Many people visiting the West Rim fly into Las Vegas but since we wanted to visit Sedona, it was more convenient to enter at the South Rim.
If you plan to stay within the GC Park itself you need to book months in advance. Otherwise, there are several hotels in Tusayan, situated 1 mile from the Park entrance (we recommend the Grand Hotel!).
Located adjacent to The Kings Ransom Hotel in Sedona, is her sister "boutique hotel" – Kings Ransom Inn, which admittedly had a prettier-looking exterior – not sure about the price difference.  Both hotel & inn are "Green Suites Certified"! http://www.kingsransomsedona.com/green-hotels-in-sedona.html
There are many "visitor/tourist info" centers in Sedona, but be careful, as many are just office fronts for condominium/time sharing properties, and really have limited tourist info.  You can tell if it is a condo property if you see the name of the condo – in small print – listed under "tourist info"!  The "Chamber of Commerce Visitor Center"  (corner of Route 89A & Forest Rd., Uptown Sedona) is the best place to obtain info, in addition to what you may find in your hotel lobby.
What is a Vortex? (located in Sedona):  An area of natural energy believed to bring out positive, as well as negative energy in a person.  Some people claim to experience a heightened sense of awareness when visiting the areas.  There are several vortexes in Sedona. Want o learn more about vortexes visit http://gosw.about.com/od/sedonaarizona/a/sedonavortex.htm
Phoenix has a Whole Foods store if you want to stock up on GF items (5120 S. Rural Road in Tempe) – and remember there are also New Frontiers Markets available in some towns which also stock GF food.
Kudos to the Phoenix airport for stocking the "GoPicnic" gluten-free snack packs in one of their stores!
Did you find this post useful?  Please comment.