A (Gluten-Free) Travel Story: Sarasota & Bradenton, Florida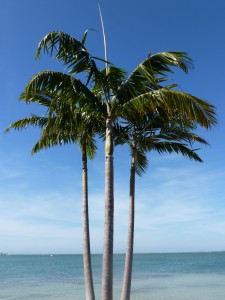 I love a girls' getaway. Spending quality time with women most important to me is something I treasure. With a husband, 12 year old twin boys, and a beloved pooch at home, getaways with the girls are far and few between. Last month, I was fortunate to leave behind the grey, blustery cold days of a New England winter to head south to Bradenton / Sarasota, Florida to spend time with my best girlfriend of all … my perpetually cheerful, still vibrant 87-year old mom (which is now a much loved tradition). Yes, a day doesn't pass that I fail to reflect on just how lucky I am to still have her (& my dad). I'd like to dedicate this post to Emelin (Emmy), my mum … my rock … the woman I love and admire most.
While my dad enjoyed a few days of homebound relaxation, mum and I set out each day to revisit our favorite Sarasota and Bradenton locales, as well as discover a few new ones.
Day 1: John & Mable Ringling Museum of Art (Sarasota).
In 1927, John and Charles, two of the 5 original Ringling Brothers (of the infamous Ringling Brothers & Barnum Bailey traveling circus) chose Sarasota as the winter home for the circus. The beautiful compound (which was willed to the State of Florida by John & his wife Mable) consists of 66 acres and contains several buildings: 1. The John & Mable Ringling Museum of Art (which is now the state museum of Florida) is designed in Renaissance style with a beautiful courtyard with Italianate gardens and towering Baroque sculptures. The museum is home to masterpieces by Rubens, El Greco and Velazquez, among others; 2. Ringling's Museum of the Circus housing John & Mable's private railroad car, carved wagons, historic circus memorabilia, as well as the world's largest miniature circus; 3.The Asolo Theatre – an 18th century Venetian theater, which was dismantled in Asolo, Italy, brought over to Sarasota in the 1940's, reassembled, and now functions as a venue for cultural events.
4. "Ca' d'Zan John and Mable's venetian-inspired palatial estate built in 1924. The Ringling estate sits on the bay, and is surrounded by swaying palms and mammoth Banyan trees and Mabel's favorite rose garden is nearby. You could spend an entire day touring all the buildings or just a few hours walking around the exteriors and enjoying the beautifully landscaped grounds.
Day 2. Mum and I were on a mission … to locate The Island Gluten-Free Bakery (Sarasota).Tucked in a non-descript retail strip, the Island's owners Karen, Vickie and Kim were among the first bakers to use whole grains and no white rice flours in their gluten-free baking. The bakery sells their signature "Stellar" brand of gfree mixes, named for both its quality, and also in honor of Stella Peters, a newly diagnosed celiac who (back in 2006) asked the bakers to make something gluten-free for her, which eventually led to the bakery becoming a 100% dedicated gluten-free facility. There are a few tables to sit and enjoy whichever gluten-free delight you've selected from The Island's variety of muffins, scones, cookies, cakes, pies and delicious homemade breads, buns, rolls, French loafs, pizza crust and granola. Dairy-free, casein-free and vegan options available as well as daily sandwiches/subs and quiche specials. The Island's two freezers are stocked with take-away gluten-free pizza, lasagna, chick pot pie, cinnamon roll, pie crusts, bread crumbs/croutons and waffles, convenient if you are staying in accommodations with a kitchen. I couldn't pass up the slice of Key Lime Pie that was calling out to me which was hands down the best Key Lime Pie I've tasted, gluten-free or otherwise. I grabbed a loaf of Cranberry Orange Raisin bread ($8.99) on my way out, which was fresh and delicious!
Day 3. We both love our nature walks. Whether on narrow boardwalks winding through swampy
mangroves, underneath dripping Spanish moss, or along the pristine shoreline, mum and I always make sure we have time to explore at least two or three trails. We spy on large, graceful birds tiptoeing on the sand, and always discover some new exotic plant or flower. Below are a few of our favorite walks:
De Soto National Memorial (Bradenton) 
Myakka River State Park (Sarasota)
Emerson Point Preserve  (Bradenton)
Robinson's Preserve (Palma Sola, Bradenton) 
Joan M. Durante Community Park (Longboat Key) 
Palma Sola Botanical Park (Bradenton)  (There is a nice play area for kids here)
(Note: There is also a residential area along Longboat key, where wild peacocks like to roam. If you are lucky enough to drive through when they are around, just stop the car, open a window, and watch quietly as they fan their iridescent blue & green tails – just gorgeous! Take street near Barrier Island Realty, drive onto Broadway .. then ask residents where to look for them).
Day 4. After one of our morning walks, we headed to Sarasota for lunch, stopping first at the Marietta Museum of Art & Whimsy. The Marietta's eclectic collection of colorful and creative sculptures, paintings and assorted art creations would make even a curmudgeon smile. After viewing the interior we walked out back to the garden area for a short stroll along an oak tree canopied path passing wrought iron sculptures and other delightful creatures peeking out from behind the tropical foliage!
We drove to St. Armands Circle (Siesta Key, Sarasota), for lunch at the Columbia Restaurant (411 St. Armand's Circle), having researched it offered a gluten-free menu. The original Columbia located in historic Ebor City (home of the cigar makers/Tampa) was founded (1905) by a Cuban immigrant and has been acknowledged with many restaurant awards for its Spanish cuisine. The St. Armands venue has a charming mediterranean-style interior dining area as well as an outdoor area and both were packed with assumingly holiday travelers visiting the circle's upscale boutiques and specialty gift shops. Our server, a very sweet and accommodating Hungarian woman, pointed out several items which were considered gluten-free. (Tip: Just ask for the "printed" gluten-free list, it is easier to order from). Gluten-free items included soups, salads, and a few meat, poultry & fish dishes (they have gluten-free paella!).
I began with a glass of refreshing homemade Sangria ($6.95 glass), followed by an entrée of Mahi Mahi "Cayo Hueso" marinated in citrus juices and served with mojo marinated onions, accompanied by yellow rice with red peppers and plantains. Delicious and reasonable at $12.95 (lunch price). Adjacent the dining room is a gift shop with a variety of pottery and glassware, etc. from Spain. I actually found the exact pattern of ceramic dishes that I purchased in Barcelona years ago. I bought a trio, but one cracked, so I was able to pick up a replacement!
After lunch, we drove over to the Marina Jack area of Sarasota, to visit the charming park overlooking Sarasota Bay (if you have kids take them to the water fountain!). Just outside the entrance to the park is something of a landmark in Sarasota – a statue (created by Seward Johnson) known as "Unconditional Surrender". The statue built of aluminum was erected in 2005, and apparently is either loved or despised by residents (some question whether it is truly art … in such an art-conscious community). The statue represents the infamous Alfred Eisenstaedt photograph of a sailor returning home from WWII on V-J Day (in New York) embracing  a nurse. You know the one, right? Unconditional Surrender is enormous at 26 feet tall! Jack Curran, an 88 year old WWII veteran, purchased the statue and loaned it to the city. Between coastal hurricanes and passing traffic (a car actually ran into it not too long ago), Unconditional Surrender's fate is uncertain, so if you happen to be in the area, have a look while it still stands, especially if you served in WWII! Mum loves it!
Bradenton Beach area, with its white sandy beaches and clear, blue waters of the Gulf of Mexico, has a few eateries, beach front accommodations, souvenir & other retail shops (check out Historic Bridge Street for antiques, jewelry & clothing shops). My favorite spot to dine is the Gulf Drive Café.  I've enjoyed breakfasts at this cafe pre and post celiac (alas my days of enjoying their tasty coconut and macadamia pancakes are over). The Gulf Drive doesn't offer a gluten-free menu but you can order a variety of delish omelets (all are cooked in a separate pan, never on grill), and a side of fruit is always available. While lingering over our cup of coffee, we enjoy the sound of the waves rolling in, while watching Pelican Pete and his buddies dive head first into the Gulf in search of their breakfast! The cafe expanded over the last year to include an outdoor tiki bar, and now has tables directly on the sand, so if you desire to kick off your shoes and feel the sand between your toes, you can (if not, eat inside in the wood planked casual dining area, still offering the best view in town)!
Bradenton center has a museum and several historic buildings as well as a thriving art scene. The downtown marina area is lovely, as is the new River Walk. Kids will enjoy learning about Spanish Conquistador Hernando de DeSoto's historic quest to find gold while visiting the DeSoto National Memorial (they can try on authentic helmets & gear from the period). McKechnie Field (the spring training camp of the Pittsburgh Pirates) is nearby to catch a baseball game. Anna Maria Island near Bradenton Beach is sublime (walk Bear Beach, you will have to ask the locals how to get there!). Kayaks are available everywhere. Sarasota has beautiful beaches, especially Siesta Key area, many golf courses, the Mote Aquarium  and is an art-friendly community with several museums, galleries and hosts many cultural events, from concerts to film festivals. Plan a visit to the tropical Marie Selby Botanical Gardens! If you love birds, as I do, visit Save Our Seabirds' Wild Bird Learning Center located on the former site of The Pelican Man Bird Sanctuary.
If you plan to visit the area, you will have many gluten-free dining options. There are multi-locational chains everywhere (Bonefish Grill, First Watch, Olive Garden, Tommy Bahama's & many more) and a variety of privately owned eateries with gluten-free options, here are just a few:
Harry's Continental Kitchen (Long Boat Key area)
Vertoris (Bradenton)
Veg (Sarasota)
The Cottage (Siesta Key, Sarasota)
Madfish Grill (Sarasota)
Lee Roy Selmon's (Sarasota)
(Of the above, I've only visited Vertoris, which was fantastic!):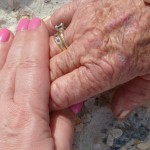 (mum & me, sarasota 2013)