A Gluten-Free Thanksgiving, Italia style! – restaurant review
---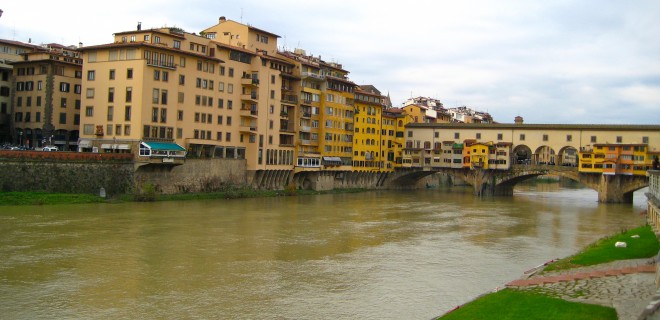 by Kelsey Laning, contributing author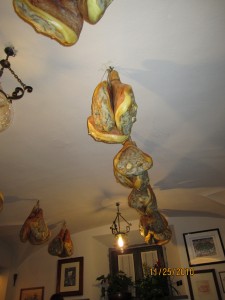 This restaurant gives a new meaning to family style dining.  On Thanksgiving, my family and I were in Florence and we weren't eating turkey.  We had reservations at a restaurant recommended to us by a friend.  About ten minutes before our reservation we walked to the restaurant and saw a crowd of about 40 people congregating outside.  I wouldn't say there was a mob mentality but I was feeling the pressure to get into this place first.  Ristorante Il Latini only opens for dinner.  They spend their day cooking and serve it at night.  They called in the reservations and we sat at a table similar to the one in our dining room at home with wine and meat displayed around the room.  A leg of what I believe was pig hung directly above our table.  Needless to say this isn't vegetarian friendly.  There were no menus.  No wine lists.  A bottle of Chianti sat in the middle of our table and the food arrived soon after we sat down.  I mentioned that I had celiac and the man said that I was the fourth person in the room who had it and that he would take good care of me.  There were only six tables in the room we were in.  They brought out our first course of soup: one specifically for me and then two different soups that the rest of my family shared.  Next was the pasta course where four different types of pasta were shared.  A boar-filled ravioli, a penne with meat sauce and others.  I ate my spaghetti with marinara. Then came the main course.  A platter containing roast beef, boar, rabbit, duck, and chicken was in the center of our table.  Definitely not your stereotypical Thanksgiving turkey dinner.  The au jus was homemade and gluten free.  I tried a little bit of everything and couldn't have been more satisfied.  It was obvious that there was nothing processed in this entire restaurant. It felt homey and warm like we were at a friend's house.  After grapa, limoncello and biscotti the owner came over wrote a number down on a piece of paper and that was our bill.  No itemized receipt here.  They gave everyone a bottle of their house wine as they left.  You have got to be an adventurous eater when going here, but it is all delicious and I swear the rabbit just tastes like chicken.
Highly recommended but be sure to make a reservation as this restaurant is in high demand.
Il Latini is located on via dei Palchetti 6/r (Palazzo Rucellai) 50123, Firenze, Italy
I have been diagnosed with celiac disease for less than two years and the advances in my health have been life changing.  I appreciate my health more than I ever have.  This and for many other reasons is why I am a public health major at the University of Massachusetts Amherst.  My goal is to raise awareness about celiac disease by expanding the gluten free market and raising diagnosis rates.  My love for travel has opened my eyes to how far behind the United States are in celiac awareness compared to some of the European countries I have visited.
Using my education and personal experience, I hope to change the way America sees gluten free.