A Families' Story of Living with Celiac Disease and Diabetes
---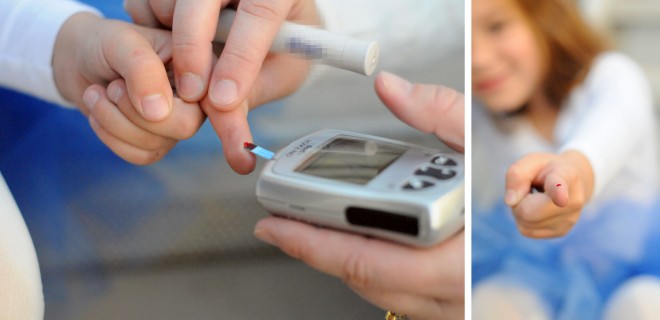 In honor of World Diabetes Day on 14 November 2011, we bring you a story about one families' experience of living with Diabetes and Celiac to help spread awareness – CeliacCorner
by Guest Blogger Wendy Rose
On July 25, 2005, I took our 24 month old daughter to her pediatrician, because I was concerned about symptoms she had been displaying intermittently for a few weeks.   Shortly after our arrival, an ambulance was summoned for transport to the Emergency Room; followed by a helicopter flight and admission to the Pediatric Intensive Care Unit.
The diagnosis:  Diabetic Ketoacidosis, a complication of Type 1 Diabetes.
Three years later, she was diagnosed with Celiac Disease.  Following her Celiac diagnosis, we had the rest of our family tested, and it was discovered that I, too, had Celiac.  It is estimated that 10% of people living with Type 1 Diabetes also have Celiac.  The two diagnoses share an autoimmune commonality.
November is National Diabetes Awareness Month, and the global symbol for diabetes awareness is the blue circle.
Over the past 6 years, I've discovered some common misconceptions about Type 1 Diabetes, and I appreciate the opportunity to debunk a few myths. . .
MYTH #1: Diabetes is Diabetes, and it's all the same.
TRUTH: There are several types of Diabetes, the most common being Type 2.  Type 1 Diabetes is an autoimmune condition, in which the insulin producing cells of the pancreas stop producing insulin.  Type 2 Diabetes is a metabolic condition which does not completely inhibit the body's ability to produce insulin, but instead limits the body's ability to effectively use the insulin it produces.  Type 1 Diabetes was formerly known as "Juvenile Diabetes", but it cannot be outgrown.  Children with Type 1 Diabetes grow up to become adults with Type 1 Diabetes.
MYTH #2: Type 1 Diabetes is caused by eating too much junk food, and other poor lifestyle choices.  Besides, since we don't have diabetes in our family, I don't have to worry about it happening to my child.
TRUTH: No one knows what causes Type 1 Diabetes, but the research is very clear that it is NOT caused by poor diet or lack of exercise.  A common theory is that a virus, such as a stomach bug or a simple cold, causes the autoimmune reaction that results in Type 1 Diabetes.  Type 1 Diabetes rarely has a genetic link, and no child is immune to the risk of developing it.  Adults (usually under the age of 40) can also be diagnosed, regardless of medical or genetic history.
Symptoms can occur suddenly, and include:  extreme thirst, frequent urination, sudden vision changes, fruity, sweet, or wine-like odor on breath, increased appetite, weight loss, drowsiness/lethargy, labored breathing, unconsciousness.
MYTH #3:  People with Type 1 Diabetes cannot eat sugar.
TRUTH: People with Type 1 Diabetes CAN eat sugar.  It is necessary that insulin be given when a person with Type 1 Diabetes consumes carbohydrates in any form.  It doesn't matter if those carbs come from a piece of fruit, a drink, or a sugary treat.  Insulin can only be given via injection, either through a syringe or an insulin pump.  Insulin is the only treatment available for managing Type 1 Diabetes, but it is not a cure.  Without insulin, people with Type 1 Diabetes will die.
My daughter is 8 years old now.   Since her diagnosis, she has endured nearly 20,000 finger pricks, 3000 shots, and 500 insulin pump sites.  We test her blood sugar 8-10 times a day, including at least twice every night.
She is my hero.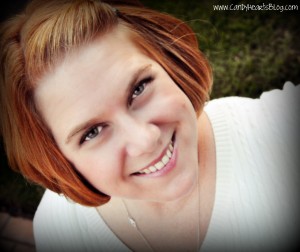 Wendy Rose has been a Registered Nurse since 1995.   After spending most of her career at the bedside in the Emergency Room, the Post Anesthesia Care Unit, and Labor & Delivery, she currently works from home as a Pediatric Telephone Triage Nurse.
Wendy's oldest daughter was diagnosed with Type 1 Diabetes in 2005, at the age of 24 months and Celiac Disease in 2008, at the age of 5 years.  Wendy herself was diagnosed with Celiac Disease in 2009.
Balancing the demands of her daughter's blood sugar management while maintaining a gluten free lifestyle; on top of her role as wife and mother; in addition to maintaining her nursing career can be a challenge at times.  She documents her family's journey at www.CandyHeartsBlog.com.
Wendy and her husband, Jason, have been married since November, 2000.  Together, they have three daughters, and Wendy also has a step-daughter who lives out of state.  The family resides in the Sonoran Desert with their rescue dog, Ivy.