A Day in Scenic Cape Ann, MA with (Gluten-Free) Dining at Woodman's of Essex
My family and I visited Cape Ann a few weeks ago. Cape Ann (about 30 miles northeast of Boston) is a lovely part of Massachusetts where you can drive along the Atlantic shoreline then head inland traversing country roads through bucolic farmland, meadows and marshes. There are several fishing communities which have become charming tourist towns filled with art galleries, pottery, antique and T-shirt shops, as well as a variety of eateries. The beaches around Cape Ann are pristine (our favorite is Cranes Beach, Ipswich) and there are many activities in the area to enjoy, among them kayaking, hiking, mountain biking, sailing, whale watching, music & art festivals, antique and art browsing. Many movies have been filmed in the area (for all you film buffs: The Crucible (on Choate/Hog Island), Witches of Eastwick, Mermaids, The Proposal, and Grown Ups – on Chebacco Lake, Essex – to name a few).
We visited three of our favorite towns … Essex, Ipswich and Rockport, which can easily be done in a day, as they are in close proximity to each other. We planned to stop for lunch at Woodman's of Essex. I discovered Woodman's restaurant many moons ago (pre-celiac) while living in Boston. When a little respite from city life was needed, friends and I would drive up the north shore passing through Gloucester, Manchester-by-the-Sea, Marblehead, and then inland towards Essex on Route 133, over to Ipswich, and eventually landing in Rockport to catch the sunset. At one point I was so taken with the beauty of the area, I considered leaving my beloved Boston behind to buy a small cottage with dreams of planting a larger garden (bigger than my apartment fire escape), some chickens and maybe a goat or two! Then I considered the daily commute to the city and remained firmly planted.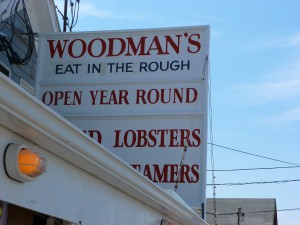 I hadn't been back to Woodman's for many years, until I discovered a few years ago (post-celiac diagnosis), that much of their food is gluten-free (who knew? I never had any reason to ask – pre-celiac!), and now Woodman's has become one of my all-time favorite "gluten-free" eateries where I can enjoy a plate of New England fried clams, scallops & shrimp! Usually fried seafood is coated with wheat flour and off-limits to the gluten-intolerant … Woodman's uses corn flour dipped in oil to achieve their perfect golden crust, which is light and very delicious!
"All of our menu items are GLUTEN FREE except clamcakes, onion rings & sandwiches. Please let us know if you need your meal GLUTEN FREE so we can accommodate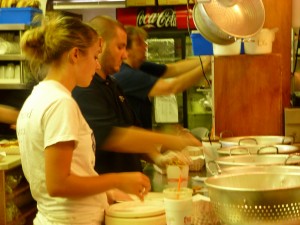 you".  (from Woodman's website).
Woodman's has been around since 1914 and is touted as having the "best seafood in America" (Forbes FYI Magazine); Zagat Restaurant Guide described the eatery as "An American Cult Classic – right up there with baseball and apple pie". No nouvelle cuisine served at Woodman's … no, this is where you can order a heaping portion of your favorite New England seafood (founder Lawrence "Chubby" Woodman actually invented the first fried clam back in the 1900's). If fresh Lobster is your delight, you can select one from the outside bin and have it steamed for you. If seafood is not your thing, Woodman's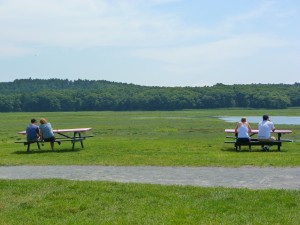 offers grilled chicken, chicken fingers, hot dogs too. I ordered a combo of fried shrimp and scallops, with French fries and cole slaw. The slaw is lip smacking good. Woodman's is kid-friendly and very casual … paper plates and all. The interior is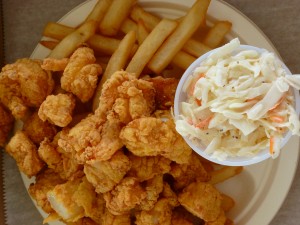 decorated with maritime New England Yankee memorabilia, photographs of the original owner and a few signed photos of celebs who have visited (one scene in Adam Sandler's "Grown-ups", part 1, was filmed inside Woodman's). Dine inside on the rustic wooden tables or do what we do and grab your food tray and head outside to the back of the restaurant. There are several picnic tables overlooking a very serene marsh. Dining out back also allows us the rare opportunity of having our sweet labradoodle join us for lunch/dinner … yes, dogs are allowed outside (on leash). There is an ice-cream shop (I hear the ice-cream is yum, though I don't buy it for fear of cross-contamination) and also a small gift store behind the restaurant.  Woodman's is open year-round, so you can experience New England seafood anytime of the year! Expect long lines in the summer, but don't let that discourage you, as they move quickly.  There is a second Woodman's location in Litchfield, New Hampshire, but we haven't visited as yet. For more info on the Essex area click HERE.
                                After lunch, we headed to
Ipswich
which is just a short drive from Essex. The town, originally inhabited by Native Americans, is charming and there are a few attractions to visit in the area. We usually go directly to
Castle Hill/Cranes Estate
. We love meandering around the grounds which consist of The Great House,  Italianate garden, an expansive lawn (2,060 feet in length) known as the Grand Allée which leads you to a breathtaking view of the Atlantic, and a few hiking trails. There is also the
Inn at Castle Hill
which offers accommodations, and lovely Cranes Beach is nearby. For more about the Ipswich area visit 
HERE
(Tip: When visiting Cranes, you can park in the lower parking area, and hike up (10 min.) through another garden passing a few stone estate outbuildings to reach the estate, which is what we like to do, however, when we visited last, our legs were covered in ticks. We just brushed them off but one of my sons didn't like it very much and was running around doing the "eeek, get them off FAST" dance! If you want to avoid the chance of getting "ticked", once you enter through the main gate, just drive up the winding road to the top and you will be right in front of the estate.)
After a walk around Cranes, we drove over to the picturesque town of Rockport to meander through the quaint shopping area of Bearskin Neck (Main St. & Mt. Pleasant). Rockport (a dry town .. no alcohol) has inspired many artists from past to present. Be sure to look for the red shed/fishing shack (known as Motif No. 1) which is located on Bradley Wharf. You can catch a nice glimpse of it (photo op!), in between buildings when walking along Main St. After visiting the shops, we walked over to Front Beach (about 10 minutes from Bearskin Neck shops) and enjoyed watching the sand crabs scurry in and out of the sand and our dog .. and boys .. frolicking in the water. Sunset is the best time to visit this small beach as the light on the water, lobster boats, rocks, and the wooden buildings in the distance make it a truly magical setting.  Bring your camera!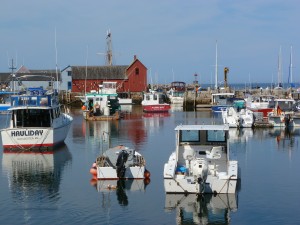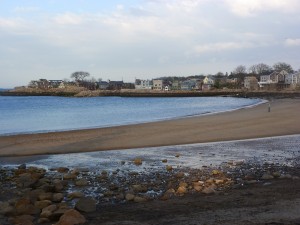 Have you been to Woodman's of Essex restaurant since living gluten-free? How was your experience? Do you have another favorite gluten-free eatery in the Cape Ann area,  feel free to share below! Do you have a favorite destination in Cape Ann?