Recruiting Celiacs with Ongoing Symptoms for Phase 2b Clinical Trial
---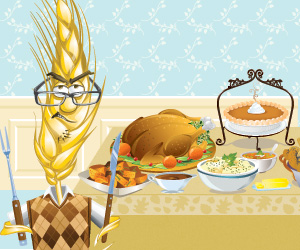 Do you or someone you know have Celiac Disease?
Are you currently following a gluten-free diet, but still experiencing symptoms when gluten is ingested, whether intentionally or inadvertent?
Are you interested in contributing to research which could ultimately benefit the Celiac community?

If you answered "yes" to the above questions, then consider becoming part of an important clinical trial sponsored by Alba Therapeutics.
First, you will need to complete a short Survey to determine if you qualify. You may qualify if you:
– are between the ages of 18 and 75 (male or female) and have been diagnosed with Celiac disease
– have Celiac disease proven by a biopsy and positive serology test results for 12 months (or more) before                    study entry
– have been on a gluten-free diet for 12 months or more before Study entry
– are still experiencing symptoms when exposed to gluten
– have positive serum anti-tTG (IgA or IgG) antibodies at screening
– are willing to maintain a current gluten free diet for the duration of the Study
– satisfy other inclusion criteria

To take the Survey, contact http://www.celiacteam.com or call toll-free 855.323.5422. Once the Survey is completed and it is determined that you qualify, you will be connected with a Study site near you. There will be sites located throughout the US and Canada.
Without human volunteers, advancements in research and subsequent therapeutic treatments would never be possible. Consider volunteering for yourself, or for someone you love living with Celiac Disease.
About Alba Therapeutics Corporation
Alba Therapeutics is a privately held, clinical-stage biopharmaceutical company focused on the discovery, development and commercialization of pharmaceutical products to treat autoimmune and inflammatory diseases. They are based in Baltimore, Maryland. http://www.albatherapeutics.com/ (contact http://www.celiacteam.com if interested in participating in the Study)
The purpose of the Study is to evaluate if an investigational medication is effective and safe when given to people with Celiac Disease.
For more information on the study: http://www.clinicaltrials.gov/ct2/show/NCT01396213?term=%22alba+therapeutics%22&rank=6
note: this is a paid advertisement for our sponsor.