1.2.3 Gluten Free (pumpkin) Pan Bars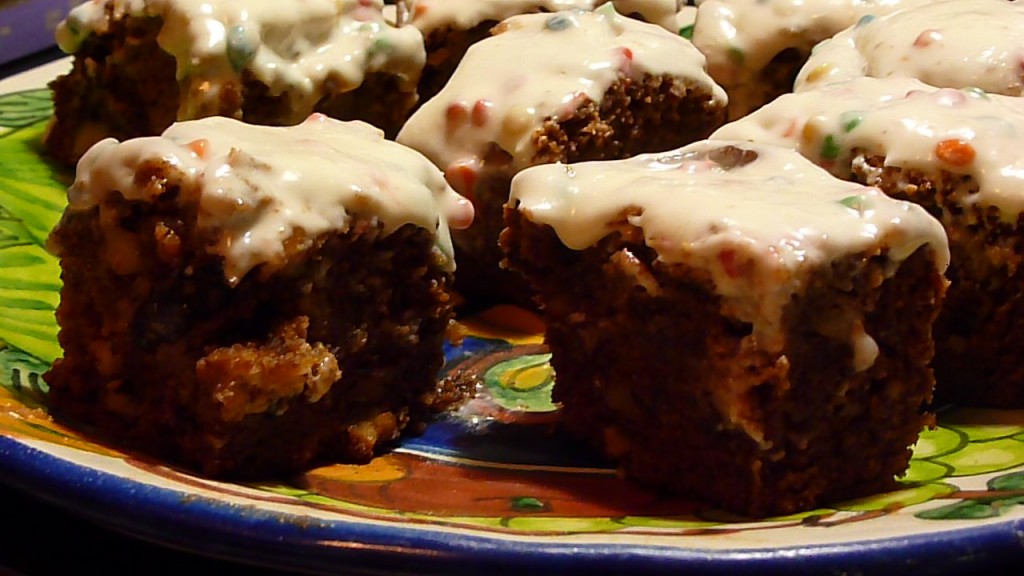 The other day I picked up a box of the sugar 'n spice Pan Bars by 1.2.3. gluten free.  Once I read the recipe could be modified to make Pumpkin, Apple Spice, Banana, Sweet Potato or Zucchini Bars, I thought it would be a great idea to make the pumpkin version, as I was heading over to a friend's house for brunch and thought bringing  something sweet and pumpkin flavored would be a great way to ring in Autumn!
The bars came out of the oven perfectly cooked, moist and just the right amount of cinnamon and pumpkin flavor, not too overwhelming.  I  topped the squares with gluten-free Betty Crocker cream confetti frosting, probably not waiting long enough to let the bars cool, which I am notorious for doing!  1.2.3. recommended frosting with a cream cheese icing or powdered sugar, which would have been a lighter, less sweet tasting topping, which I will try next time. The walnuts added a nice crunch. My friends absolutely loved them – and we washed them down with some refreshing apple cider!  The few bars I left at home  held up well, never drying out, and the kids enjoyed them the next day.
The quote on the box says "Easy to Make, Can't Beat the Taste"! – I'd have to agree with that!
ingredients for the sugar 'n space bars:  Sugar, Rice Flour, Tapioca Starch, Potato Starch, Baking Soda, Cinnamon, Aluminum-free Corn-free Baking Powder (Sodium Acid Pyrophosphate, Baking soda, Tapioca Starch, Monocalcium Phosphate), Salt, Xanthan Gum.
For the Pumpkin bars the following ingredients were added: eggs (not needed if making just the sugar 'n spice bars), vegetable oil, canned pumpkin, chopped walnuts.
Baking Time: 30 – 33 minutes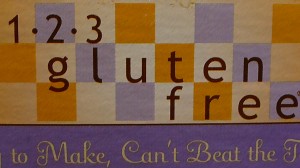 Why we also like 1.2.3. gluten free:
– the company was started by someone with Celiac who wanted to make good tasting products – manufactured in a dedicated allergen-free facility (no gluten, wheat, dairy, casein, peanuts, tree nuts, eggs and soy) – certified Gluten-Free – certified Kosher – gmo (genetically modified organism) free