Stealth Health Lunches Kids Love: a new cookbook of kid-friendly, healthy (gluten-free) recipes – Review & Giveaway!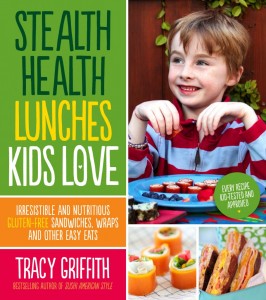 Parents, are your kids tired of the same old, same old sandwiches you are serving them for lunch? Need some fresh recipe ideas? Check out this wonderful new cookbook from bestselling Author and Chef Tracy Griffith called STEALTH HEALTH LUNCHES KIDS WILL LOVE: Irresistible and Nutritious Gluten-Free Sandwiches, Wraps and Other Easy Eats [Page Street Publishing, July 2013, $19.99 US/$21.99 CAN], featuring healthy, all gluten-free recipes (See Giveaway Below!). We all know it can be challenging at times to get our kids to eat healthy, well this book simplifies the task for everyone involved by including recipes that are not only fun and  innovative to entice your little ones to the table, but they happen to be nutrient-packed! With recipe titles such as Fruity Patootie Pockets (see recipe below), The Wolverine, AI Caramba! Wrap and Pirate's Booty Roll, among others, your little ones will be inspired to join you in the kitchen to create them! Have fun together rolling out the nori sushi rolls for "Flower Power Sushi" (includes cucumber and pickled carrots)! The cookbook is filled with colorful images along with detailed instructions for each "kid tested & approved" recipe. The author also includes chapters on Tips & Tricks, Pantry & Equipment and other helpful information.
Chapters include:
Pita Pockets

Tacos & Tortillas
Rolls
Gem Wraps
Rice Wrappers & Buns
Side Kicks & Nibbles
Dips & Spreads
Stealth Health Lunches Kids Will Love cookbook would be a great addition to the cookbook collection of families with a gluten-intolerant child(ren), autistic child(ren) following a gluten-free diet, or any family looking for healthy, fun food to prepare for the entire household.
The book will hit the bookstore shelves in July, but you can also pre-order it through our 

Amazon Store

 now!
Enjoy making this Fruity Patootie Pockets recipe which is included in the cookbook: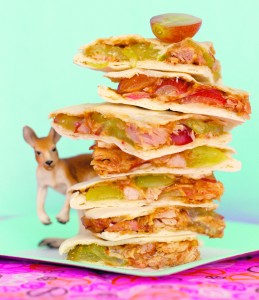 (Chicken, Grapes, Apples and Peanut Butter)
Makes 4 pitas
Ingredients:
½ cup/130 g crunchy peanut butter
2 tablespoons/30 g mayonnaise
2 tablespoons/30 ml honey
2 cups/250 g cooked chicken breast, shredded
½ cup/40 g green or red grapes, roughly chopped
1 crisp apple, cored and thinly sliced
In a medium bowl, mix peanut butter, mayonnaise and honey to combine well. Toss mixture with chicken and grapes. Spoon into whole pitas. Slip in a few slices of apple on top of the chicken mixture.
Serve with Bunny Nibbles or Origami Crisps.
More about the Author:
Tracy Griffith, who comes from a prominent Hollywood family, is a professional chef and the best-selling author of the cookbook Sushi American Style. She lives and works in Hong Kong, New York City and Napa, California. Ms. Griffith was the first woman to graduate from the California Sushi Academy, and is executive chef for New Gem Foods.
"Why did I make these recipes gluten-free? My own experience of going gluten-free (and I do not have celiac disease or gluten intolerance) was life-changing. The increased energy, better concentration and mood lift were remarkable. I got fired up with the challenge of preparing gluten-free gourmet dishes. I also learned that there are so many children who have to avoid gluten, and I felt for them, having to dig a little deeper to sort out their diets in a fast-food, cupcake world. These recipes—every one gluten-free—are fun to make and safe to eat for them and their whole families."
Disclosure:  I was provided a pre-release copy of this book to download and review.  I was not compensated for this review, and the opinions expressed our my own.  The Amazon link I provided above is a CeliacCorner Amazon link. CeliacCorner will receive a tiny amount if you purchase through this link .. your price does not increase. 
XX GIVEAWAY XX
NOW CLOSED .. thank you for entering! Lucky Karen is the winner!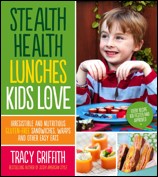 Courtesy of Tracy Griffith and Dalyn Miller Public Relations, LLC, one lucky CeliacCorner winner will have a chance to win one copy of "Stealth Health Lunches Kids Will Love" (list price $19.99). You can enter now through July 3rd 2013.  Once the book is released end of July, early August, a copy will be sent to you directly from the PR company
Giveaway begins Saturday, June 15th 2013 at 8:00 pm (EST)
and ends Saturday, July 6th, 2013 at 8:00 pm (EST).
Giveaway Rules:
Tell us why (in comments section below) you would love to win this wonderful cookbook (note: be sure to enter CAPTCHA code before hitting submit).
LIKE Stealth Health Lunches Kids Will Love on Facebook.
LIKE CeliacCorner on Facebook
Follow CeliacCorner on Twitter, if you are a tweeter & please tweet about Giveaway at least once!
That is it! Good Luck.
Open to US residents only, entrants must be 18+ years old to enter.
One winner will be announced and contacted via email at the end of July. Winner will have up to 3 days to respond, otherwise a new winner will be chosen