Product Review: Bavarian Brand Gluten-Free German Bread – all natural, vegan, dairy-free, nonGMO, allergen & digestive-friendly

Introducing Celiac Corner's newest sponsor, R & R Export-Import Specialties, the sole US importer of a variety of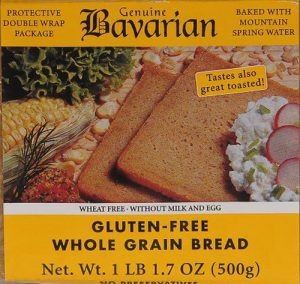 premium German breads, including the Bavarian Brand offering a healthier line of Gluten-free German Breads as well as traditional organic whole grain and yeast-free breads. The all natural Gluten-free bread is available in two vitamin-rich varieties: GF Whole Grain Bread and GF Toast Bread.
The Bakery has over 100 years of experience baking premium breads using mountain spring water which provides high bioavailability and the addition of healthy nutrients and minerals (they bake the bread at a low temperature in order to maintain nutritional value). The GF Bavarian bread is a caramel color and keeping with the European tradition of German bread, the slices have a firmer, dense texture, and when lightly toasted are delish.
For the production of the Gluten-free breads, only guaranteed gluten-free raw materials are approved for baking and storage in its own building, according to the distributor rep … "A special cleaning program is implemented for all equipment and the bakery maintains strict measures to ensure the quality and safety of these products. Every batch made will be checked again in the bakeries internal laboratory, and released by the quality department. Only then will the breads be ready for distribution". Way-to-keep our community safe from cross-contamination!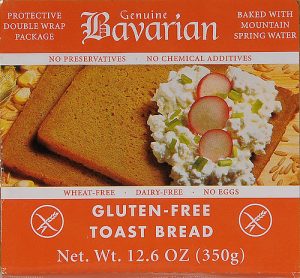 The GF Bavarian Whole Grain and GF Toast breads are made with just a few, all natural ingredients, one of which is Brown Rice Flour (check website for complete list of ingredients). The breads are low in fat, contain fiber and iron and other healthy vitamins and minerals and are GMO-free according to European standards. In addition to being Gluten-free, they are also:
Vegan .. Dairy-Free .. Egg-Free .. Cholesterol-Free .. Preservative & Chemical-Free .. GMO-free .. Shelf Stable (long shelf life, up to 6 mos.) .. Certified Kosher .. Easily Digestible
Because the packaging is very compact, the bread takes up less pantry/drawer and refrigerator space. The bread is also very convenient to pack when traveling (takes up less space than an average loaf, and no refrigeration until opened!). I'm taking a few packs along on my upcoming vacation. The protective double wrap keeps the bread fresh. Freezing is not recommended. Once opened, refrigeration is required and best eaten within a week. Separate slices with a butter knife.
9 slices come in a protective double wrapped package (individual pack of Whole Grain – net wt. 17.6 oz; Toast – 12.6 oz) and are available in 6 pack sizes for $37.50 if bought on-line (price also includes shipping and handling), see additional purchasing options below.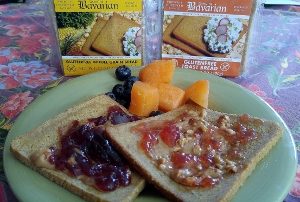 I questioned if the thinner* slice of GF Bavarian bread would be as filling as a standard slice of GF bread. After sampling I found the Bavarian to be every bit as filling, due to its dense texture. Toasting brought out a subtle flavor and while I slathered on peanut butter and jelly, you can certainly add your favorite topping, or enjoy with no topping at all. *Though an individual slice is thinner than an average slice of bread, the overall slice size is same or similar to other bread.
Gluten-free Bavarian bread is the perfect choice if you are looking for an alternative to other, less nutritious breads, follow a GF diet, are Vegan, Lactose intolerant, have an egg or milk allergy or suffer from digestive issues.
All bread varieties are shipped from Germany to R&R and are available to you! In addition to ordering on-line from HealthyGermanBread.com, iherb.com and vitacost.com you can also find the bread in most food co-ops, Whole Foods, Natural Grocers and numerous other natural food and mainstream supermarkets.
For Questions and Ordering options:
Tel:  1.800.818.7729
For distributor price list: orders@rrexportimport.com
Contact R&R/Healthy German Bread to locate a nearby retailer

Follow Healthy German Bread