Paleo Treats! Decadent & Delish Desserts (Paleo, Certified Gluten-Free & Dairy-Free) – Review
---

" …  at its simplest, Paleo is a return to the basics—it is the human diet that works with our genetics, not against it" (paleomagonline.com)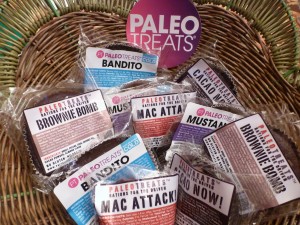 We are delighted to welcome Paleo Treats as a CeliacCorner sponsor and even more excited to introduce you to their line of healthy desserts created with all natural, clean ingredients (no added stabilizers, preservatives and synthetics).
Paleo Treats' desserts are paleo, grain-free, dairy-free and certified gluten-free by the Gluten Intolerance Group of North America (GIG)!
If you haven't yet discovered the paleo way of eating, the diet consists of lean meats, fish, eggs, veggies, leafy greens, fruits, nuts, seeds and healthy oils, and excludes grains, dairy, legumes, starchy veggies, refined sugar, high-fructose corn syrup, processed and a few other foods.*
Many in the celiac, gluten-sensitive community are turning towards paleo after discovering a gluten-free diet just isn't enough to regain and maintain optimal health.
A bit about the PT founders and their company philosophy. "We're a bunch of savage heathens who love dogs, fine dining, and cold starry mountain nights more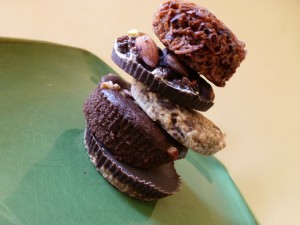 than damn near anything.  We curse like sailors, work like devils, bake like Motta and sleep like babies". (I want to meet them!) The friends began making their paleo treats in a small kitchen in San Diego back in 2009, relocated to a commercial kitchen and eventually opened a retail space located in The Glashaus Building, an artists' warehouse. The founders are committed to offering their customers the highest quality ingredients. "All our ingredients are natural and most of them are certified organic, and that quality costs more to make. Each cookie is hand poured or formed, we don't have a huge processing plant cranking out 400,000 cookies an hour, and we make sure to pay our workers a living wage."  The company uses packaging that is recyclable and compostable. "Our bakery generates most of its electricity with solar power. We use organic, natural, and local products as much as we can and we try and be mindful or our footprint on ol' planet Earth."
Paleo Treats' desserts are made with nutrient-packed ingredients such as almond flour, coconut oil, cacao powder, nuts, raisins, pumpkin seeds, flax meal, vanilla and honey for sweeteners. They aren't calorie-free (wishful thinking) but the treats are certainly a healthier option for those living a paleo lifestyle, diagnosed with celiac disease, a gluten sensitivity, wheat allergy or lactose intolerance.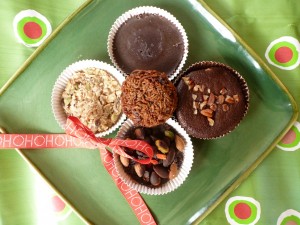 I was sent a variety of treats to sample and I'm thrilled to share the results with you. Let me say right here, right now, I-am-a-fan! All of the "cookies" (really more than a cookie!) are flavorful … sweet without being overly so, a combo of crunchy and smooth. I'm always on the hunt for new GF treats to try, but am often disappointed to find many are flavorless and lacking in healthy ingredients. Paleo Treats are a TREAT with a capital "T", and a welcome change from the standard nut & seed bar.
[see website for complete list of ingredients and nutrition facts]
Bandito – think Reece's Peanut butter cup, but larger (and without the PB, keeping it paleo). An almond butter base, with top layer of pure chocolate and honey for sweetener.
Brownie Bomb (paleo brownies!) – topped with chopped walnuts, these brownies have just 6 all natural ingredients and are dense, moist, fudgy, rich … de-lish! [nice to have a dairy-free brownie option]
Cacao Now (paleo chocolate/fruit/nut bars!) – thinner than the others, but chock full of crunchy nuts (almonds, pistachios) and dried gogi berries. Yum.
Mac Attack (paleo macaroons!) – if you love coconut, these are for you! Mac Attack is made with coconut slivers formed into a mound, the cacao nibs add a nice crunch … 5 grams of fiber!
Mustang Bar – combo of creamy and crunchy, coconut and almond butter flavor. Oh so yum.
If pressed to pick a favorite, I'd choose The Mustang … just love the creamy, almond butter & vanilla flavor, and nutty crunch, though my kids said hands down the Brownie Bomb was the best! We enjoyed them all cooled (right out of the freezer, some slightly cooled in the refrigerator) as recommended.
Paleo Treats can be enjoyed by both adults and kids looking for healthier, junk-free and great tasting sweets which also happen to be free of gluten, grains and dairy! Each treat sells for about $7. Sure a little pricier than your average gluten-free cookie or snack bar, but consider … they are a decent portion size, contain healthy, all natural ingredients and taste really good (read a few of the reviews on the Paleo Treats' website, including praise from leading Paleo bloggers). Consider ordering a 10-pack and you'll have a variety on hand when craving a sweet treat!
Note: Paleo Treats are made in a commercial facility that also processes wheat (soy, eggs, milk, peanuts, tree nuts), however, the owners have taken the extra safety step of having the treats certified gluten-free by the Gluten Intolerance Group of North America (GIG).

Paleo Treats would make a wonderful holiday gift for the paleo, gluten-free, grain-free, dairy-free loved one in your life … maybe that is YOU! TREAT yourself. More gift ideas on website.
Here is how you can get your hands on these awesome treats:
Retail space: The Glashaus Building, 1815B Main Street, San Diego, CA 92113 619.403.5424 Hours: Mon – Thurs. 10-5; Friday 10-2
Order On-line via Website: (They don't ship to PO boxes. They do ship FedEx to the lower 48 (any free shipping offers apply only to the US only). USPS to HI, AK, APO and FPO, and international via USPS
For other locations offering Paleo Treats, open HERE 
Follow

Paleo Treats

!
 *Learn more about the Paleo Diet HERE
CeliacCorner was sent samples for the purpose of this review. Paleo Treats is a current CeliacCorner sponsor, but I was not compensated monetarily for this review. The opinions contained in the review are my own, and have not been influenced in any way. CC founder.