Meet our Featured Food Blogger: JANE BARTHELEMY

Jane Barthelemy, MBA, CBP, CRM, Health Practioner, Gluten-free, Paleo chef, and author of
Paleo Desserts
and 
Good Morning Paleo
Jane's shares a recipe for Lemon Chia Seed Muffins, from her newest (print) cookbook Good Morning Paleo: More than 150 Easy Favorites to Start Your Day, Gluten- and Grain-Free.  
(Don't miss our Giveaway below! sorry, you just missed this)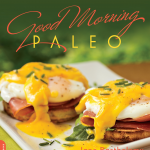 Lemon Chia Seed Muffins
(gluten-free, grain-free, dairy-free, refined sugar-free, egg-free, protein-packed … also diabetic and candida-friendly)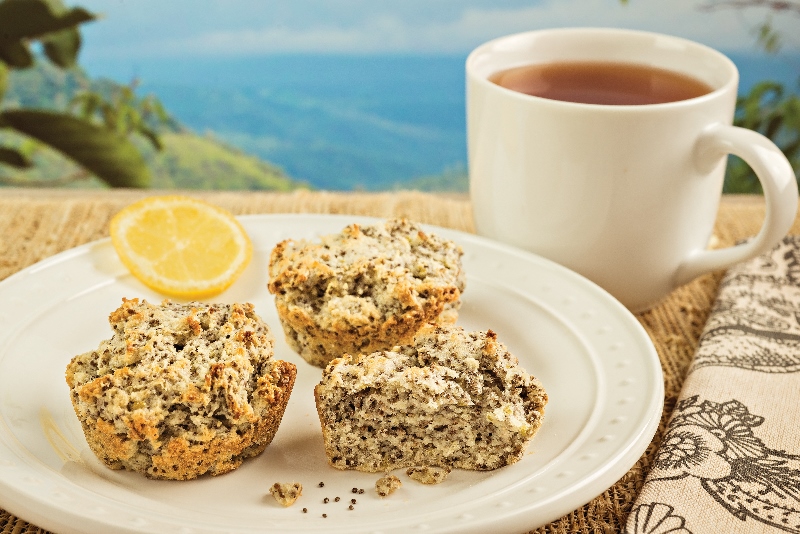 (photos by Lloyd Lemmermann)
I love the fresh taste of lemon poppy seed muffins. This totally unique recipe uses chia seeds, apple, and agar powder rather than poppy seeds and eggs. Agar powder is a tasteless seaweed— dissolve it in boiling water and it thickens much like albumen in egg. The result is a completely egg-free muffin that actually rises in the oven. Chia seeds give you an extra benefit of protein- packed, high omega-3 nutrition. Follow the recipe closely—it works—even though they don't rise quite as high as gluten flours. It works best if all the ingredients are at room temperature, and not cold. Wrap and freeze leftovers for a quick, nutritious breakfast.
Yield: Twelve muffins      Equipment: Food processor
Ingredients:
2/3 cup almond meal
1/2 teaspoon baking soda
1/4 teaspoon unprocessed salt
About 3/4 cup sweetener to taste
1 Granny Smith apple in course chunks, including peel (160 grams)
2 teaspoons vanilla
3/4 cup (170 grams) Coconut Butter (see below)
Zest of 1 lemon
1 teaspoon apple cider vinegar
1/2 cup whole black chia seeds
4 teaspoons agar powder dissolved in 1/4 cup boiling water
Instructions:
–  Preheat the oven to 350°F. Grease a 12-cup muffin pan with coconut oil and dust with coconut flour.
–  In a medium mixing bowl, whisk together the almond meal, baking soda, salt, and sweetener. Set aside.
–  In a food processor, add the apple, vanilla, coconut butter, zest, lemon juice, vinegar, and chia seeds. Mix well until apple is liquefied. Open the machine, scrape the sides, and mix again.
– Place agar powder in a warmed mug, as heat helps to activate its thickening power. Stir in 1/4 cup boiling water until agar dissolves. Cover and let it sit for 2 minutes—you can set a timer. Immediately add hot agar to the food processor and mix well.
–  Add the dry ingredients to the wet ingredients in the food processor. Mix well until all the ingredients are incorporated. Spoon the batter into muffin cups. Bake for 20 to 24 minutes, until a toothpick comes out clean, the muffins are baked on the bottom and loosening from the cups.
Enjoy!
Make your own Coconut Butter:
Coconut butter is a true staple ingredient. It's pure coconut meat, ground into nut butter, with a creamy, sweet taste. Sometimes called coconut cream or coconut manna, you can buy it in any healthy grocery. Or you can make it yourself for a fraction of the store price. I was amazed to discover that coconut butter, which is simply finely ground shredded coconut, can be used as a grain-free flour in recipes like Banana Bread (page 39 from Good Morning Paleo), Pumpkin Muffins (page 150), Fluffy White Bread (page 55), or as a cheese substitute in Spicy Cheese Sauce (page 258). Coconut butter is hypoallergenic and tree nut–free; it contains one-quarter of the carbs in wheat flour or processed coconut flour.
Coconut butter is quite hard at room temperature and requires a knife to remove it in chunks from the jar. Cold, solid coconut butter is easy to measure by weight, but more difficult to accurately measure by the cup—the hard chunks just don't go into cups very well. However, softened coconut butter is more liquid, so it can be accurately measured in cups. Each recipe will give you the amount in both cups and weight, so you can choose how you want to measure it.
Store at room temperature for up to a year.
Yield: See chart below     Equipment: A food processor or super-blender such as Vitamix or Blendtec (a regular blender will not work)
Pure unsweetened shredded coconut flakes
| | |
| --- | --- |
| Shredded coconut | Yield in Coconut Butter |
| 21/2 cups |                 1 cup |
| 31/4 cups | 11/4 cups |
| 31/2 cups | 1¹∕³ cups |
| 33/4 cups | 11/2 cups |
| 41/4 cups | 1²∕³ cups |
| 41/2 cups | 13/4 cups |
|                 5 cups |                 2 cups |
Put the shredded coconut in your machine and press start. The coconut will go through different stages as it grinds—first crumbly, then grainy, then balling up like dough. Finally it becomes smooth and creamy. Just let the machine run until the oil has released.
(Recipe from Good Morning Paleo by Jane Barthelemy, Reprinted with permission from Da Capo Lifelong, © 2014)
Thanks Jane!
For more delicious Gluten-Free, Paleo recipes and lifestyle tips follow Jane via:
Jane's website offers recipes that will suit most every special dietary need(s)  … anti-inflammatory, candida, celiac-friendly, dairy-free, diabetic-friendly, gluten-free, GMO-free, hypo-allergenic, low-carb, nightshade-free, paleo, paleo auto-immune, raw, SCD & GAPS, tree nut free, vegan and vegetarian!
Check out Good Morning Paleo: More than 150 Easy Favorites to Start Your Day, Gluten- and Grain-Free!  
Recipes include:  Lemon Berry Parfait, Cinnamon Sour Cream Coffeecake Muffins, Kefir Smoothie, Avocado Omelet, Caoulifower Hash with Eggs, Asparagus Frittata with Herbs and Cream Cheese, Arugla Eggs Benedict, Sweet Potato Latkes, Chocolate Pumpkin Bread, Zucchini Bread, Chai Tea, Cappuccino, Almond Sandwich Bread, Bacon Zucchini Quiche, Southwest Frittata, Blueberry Crumble Bars … to name just a few fabulous recipes to start your day!
Learn more about Good Morning Paleo on Facebook!
Can't wait for our Giveaway results, you can order Jane's book HERE
XX   GIVEAWAY  XX
NOW CLOSED 
Courtesy of Jane Barthelemy and her publishing company, Da Capo Press, we are giving away one copy of GOOD MORNING PALEO  (a print cookbook) to a lucky CeliacCorner winner!
Giveaway begins Monday August 4, 2014 at 6:00 pm (est) and ends Friday, August 8, 2014 at 6:00 pm (est)
– Open to residents (18 & older) of the US & Canada only –
Giveaway Rules:
1.  Tell us below why you would love to win Good Morning Paleo: More Than 150 Easy Favorites to Start Your Day, Gluten- and Grain-Free! (Be sure to enter Captcha Code … solve the math problem .. before hitting 'submit')
2.  LIKE Good Morning Paleo on Facebook and LIKE CeliacCorner on Facebook!
3. SHARE this post via TWITTER and your FACEBOOK page, so others will have an opportunity to win.
That is it … good luck!