Good and Easy Eats e-book by Kim Wilson – review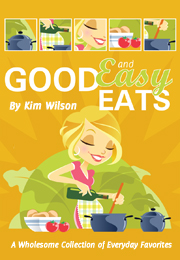 Cookbook author, Kim Wilson will be releasing her new e-book Good and Easy Eats on December 10, 2011, and you will not want to miss out on purchasing your copy.  Kim's recipes are a must have for anyone looking for traditional, tasty and healthy recipes, but particularly for families with special dietary needs. Her recipes are not only gluten-free, they are free from egg, dairy, soy, sugar and/or yeast.  Great for those following a gluten & lactose-free diet, or if you are vegetarian or a diabetic.
The recipes in Good and Easy Eats are well presented, straightforward, and contain only a limited amount of fresh, wholesome, plant-based ingredients which can easily be found at the store and stocked in your pantry.  So if you are cooking-challenged, or just don't want to spend too much time in the kitchen, this is the e-book for you.  Not only were the recipes intentionally kept simple for easier preparation, they are packed with nutritional value and flavor, and will certainly satisfy every member of the family, on a special diet or not.  Kim focuses on using healthy ingredients such as honey, agave & maple syrup as sweeteners, and avoids high sodium and unhealthy fats. She prefers to use real ingredients as opposed to processed.
Recipe categories include: Breakfasts – fruit smoothies, muesli, oatmeal, pancakes, muffins & more; Lunches – salads & dressings, wraps, hummus, soups, burritos & more; Dinners – American & ethnic fare, potato dishes, soups and weekend fare (seasoned popcorn, yum!) ; and Desserts such as Strawberry Shortcake and Apple Crisp, and more.  Traditional favorites include: Sweet Potato Fries, Quick Baked Beans, Mac and Cheese, Pizza, Chili, Biscuits and Gravy, Stews and Chowders, and many more delicious, wholesome recipes!  I tried two of the smoothie recipes which were yummily refreshing!
Kim also includes suggestions for menu planning, definitions of ingredients, tips to streamline baking, stocking the pantry, ways to cut costs when purchasing ingredients, kitchen tools to have on hand, cooking basics, how to choose organic, and other helpful information and cooking tips.
A former elementary teacher, Kim is founder of Simply Natural Health, and has published 7 successful diet and health books to date, focusing on allergen-free and wholesome ingredients. Her passion for healthy cooking was ignited after her husband, John, became ill.  By changing his diet to one rich in whole natural foods, his health improved vastly. If you visit Kim's website you can see the 'before and after' pictures of John … and Kim who also benefitted from following a healthier eating style.
Good and Easy Eats recipe e-book is a great value alone at just $4.99, but in addition to the over 70 healthy recipes, you will also have access to a few extra bonuses:
Video of Fruit Smoothie Demo
Fruit Smoothie eReport A Great Nutritional Start to Each Day
Podcast of Kim's Introduction to Wholesome Eating Class
Kim's Exclusive Menu Planning System
Good and Easy Eats ebook will be available for purchase on December 10th.  It is a wonderful holiday present and a must have for someone with special dietary needs or for anyone who simply wants to eat healthily. You can purchase the book by returning to our website after December 10, and clicking on the Good and Easy Eats badge on our home page!
You can also subscribe to Wholesome Tidbits to get weekly tips and encouragement on wholesome eating and living and also check out Kim's other cookbooks and resources by visiting her website at: www.simplynaturalhealth.com
Stay tuned for more details on our e-book Giveaway of a copy of Good and Easy Eats e-book!
Disclosure: No compensation was received for writing this review, however, CeliacCorner has joined the Good and Easy Eats' Affiliate Program and we could potentially receive a small percentage from the sale of the e-book, if purchased directly from our Home Page.  If you order the e-book from our Home Page, not only will you be receiving a great e-book filled with wholesome recipes, you will also be showing your support of  CeliacCorner!