Gluten-Free on a Shoestring Bakes Bread: Biscuits, Bagels, Buns and More – Cookbook Review & Giveaway
"The smell of good bread baking, like the sound of lightly flowing water, is indescribable in its evocation of innocence and delight … Bread making is one of those almost hypnotic businesses, like a dance from some ancient ceremony. It leaves you filled with one of the world's sweetest smells… there is no chiropractic treatment, no Yoga exercise, no hour of meditation in a music-throbbing chapel that will leave you emptier of bad thoughts than this homely ceremony of making bread."- M.F.K. Fisher, American Food Writer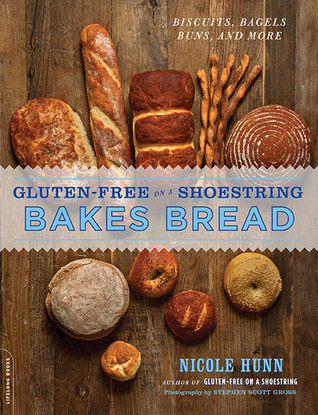 I think it is fair to say most people diagnosed with celiac disease, gluten sensitivity, or a wheat allergy, will likely admit to mourning the loss of bread in those first few hours or days after being diagnosed. Of course we all soon discover gluten-free bread is readily available (if you were diagnosed within  the last 4 years, that is!). If you happen to live down the street from a bakery specializing in gluten-free baked items, you are certainly among the fortunate ones … others turn to the overpriced, frozen blocks, which often lack in taste, texture, nutrients and portion size. Yes, some are better than others.
Breaking of bread … biscuits, muffins, scones & the like … is a time to savor with family and friends, and if you, like MFK Fisher, enjoy the "ceremony" and  "sweet smells" of baking bread in your own kitchen, then you will most definitely want to add Gluten-Free on a Shoestring BAKES BREAD: Biscuits, Bagels, Buns and More to your cookbook collection.
[Thank you Lindsey of Da Capo Lifelong Books, Publisher, for CeliacCorner's preview copy and an extra copy to offer CC fans as a Giveaway! – see details below.]
BAKES BREAD: Biscuits, Bagels, Buns & More is the 3rd book in the Gluten-Free on a Shoestring cookbook series authored by Nicole Hunn, of the popular Gluten-Free on a Shoestring blog. You don't have to be gluten-free, or even own a bread machine to enjoy making any of the 100 gorgeous recipes Nicole has created with not only taste and convenience in mind, but also ingredient affordability. Nicole is beyond excited about her newest cookbook."It's going to change things a lot. It's going to raise the bar. It's going to knock your gluten-free socks off! Everything I have done in the kitchen since I started baking gluten-free nearly 10 years ago has been leading up to this book, this bread, these methods. My heart is racing thinking about getting it out into the world" (from Nicole's blog)
Each baked item is beautifully photographed in all its gluten-free glory and ingredients are clearly listed. Nicole provides all the essentials required to get you started (equipment and bake ware, recipes for various all-purpose and high quality gluten-free flour blends, as well as Gum-Free, Whole Grain and Pastry flour blends). If you are a bread-making novice, no worries, Nicole provides the tips you need for fail-safe baking such as info on the basic principles for creating and handling bread dough, how to shape dough, rules for storing gluten-free bread, and of course how to save money (and much more!).
Recipes include:
Sandwich Bread … Focaccia … Ciabatta … Thin & Thick-Crust Pizzas
Cinnamon Sticky Buns … Zucchini Bread … Garlic Knots … Cream Puffs
Classic Pita Bread … Sweet Potato Bread … Irish Soda Bread
English Muffins … Strawberry Scones … Ritz-Style Crackers
Soft "Olive Garden-Style" Garlic Butter Breadsticks
To name just a few!
The cookbook also includes the section "Using the Dough: What to Do with All that Gorgeous Bread and Dough", where Nicole offers even more recipes such as Cheese Calzones, Spinach and Salami Stromboli, Monte Cristo, and Grilled Cheese Panini being among them.
Because I wanted to share our concurrent Giveaway right away (should the lucky CeliacCorner winner want to give this wonderful cookbook as a gift to someone over the holidays), I opted not to include a recipe that I prepared (Review/Giveaway would have taken longer to publish), but I think you'll be pleased to find a recipe from the book for Cream Puffs below.
Gluten-Free on a Shoestring BAKES BREAD would make a great gift for someone with celiac, a gluten sensitivity or wheat allergy. Maybe that someone is you – treat yourself!  You don't have to be gluten-free to enjoy Bakes Bread, any baker will cherish it.
To order, click HERE.
Visit Nicole Hunn's blog "Gluten-Free on a Shoestring" for even more delicious recipes.
Don't miss Giveaway below! (NOW CLOSED)
Following recipe is from the book Gluten-Free on a Shoestring Bakes Bread by Nicole Hunn.  Excerpted by arrangement with Da Capo Lifelong, a member of the Perseus Books Group. Copyright (c) 2013. www.dacapopresscookbooks.com
Cream Puffs
makes about 20 pastries
Pastry
• 1 cup milk (not nonfat)
• 4 tablespoons (56 g) unsalted butter, at room temperature
• 1/8 teaspoon kosher salt
• 140 grams (1 cup) Gluten-Free Pastry Flour (page 10)
• 4 large eggs, at room temperature, beaten
Whipped Cream
• ¾ cup heavy whipping cream, chilled
• ¼ cup (29 g) confectioners' sugar
• 1/8 teaspoon kosher salt
Chocolate Drizzle
• 4 ounces dark chocolate, chopped
• ½ cup heavy whipping cream
• First, make the pastries. Preheat your oven to 375°F. Line two large rimmed baking sheets with parchment paper and set them aside. Heat the milk, butter, and salt in a medium-size, heavy-bottomed saucepan over medium heat until the butter is completely melted and the mixture begins to simmer. Remove the pan from the heat, add the flour, stirring vigorously. Return the pan to the heat and cook, stirring vigorously, until the mixture begins to pull away from the sides of the pan and comes together in a ball (about 2 minutes). A thin film will form on the bottom of the pan. Remove from the heat, and allow the mixture to cool for at least 3 minutes, or until it is no longer hot to the touch.
• Transfer half the cooled dough to a blender or food processor. Pour the beaten eggs on top and then add the rest of the dough. Pulse until the mixture is smooth and uniformly well blended.
• Transfer the dough from the blender or food processor to a pastry bag fitted with a large, plain piping tip (about 1 inch in diameter). Pipe the dough into about 20 small mounds, each about 1 ½ inches high, about 1 inch apart, onto the prepared baking sheets. Smooth the tops of the pastry dough lightly with wet fingers so that nothing will burn during baking. Bake the cream puffs in the center of the preheated oven for 10 minutes, or until pale golden. Remove the baking sheet from the oven and, working quickly, with a sharp knife, cut a small slit in the side of each cream puff to allow steam to escape. Return the pastries on the baking sheet to the oven, turn off the oven, and prop open the oven door slightly. Allow them to sit in the oven until dry (about 30 minutes).
• While the pastries are drying in the oven, make the whipped cream. Place the cream in the bowl of your stand mixer (or in a large metal bowl) fitted with the whisk attachment. Turn the mixer on medium speed (or use a hand mixer on medium speed) and whip until soft peaks begin to form in the cream. Add the confectioners' sugar and salt, and continue to beat on medium speed until glossy and stiff, but not dry, peaks form. If you turn the mixer speed to high, your whipped cream will not be as stable.
• Once the pastries are cool and dry, slice them in half horizontally, spoon some whipped cream on the bottom halves, and then top with the remaining halves. To make the chocolate drizzle, place the chopped chocolate in a small, heat-safe bowl and set it aside. Place the cream in a small saucepan and cook over medium heat until the cream begins to simmer. Pour the hot cream over the chopped chocolate and stir until the chocolate is melted and smooth. Drizzle the chocolate mixture over assembled puffs. Serve chilled or at room temperature.
XX GIVEAWAY XX
NOW CLOSED!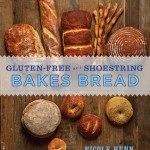 One lucky CeliacCorner winner will receive a copy of
Gluten-Free On a Shoestring BAKES BREAD:
Biscuits, Bagels, Buns, and More!
by Nicole Hunn
(a real book to hold in your hands … delivered direct to your door)
A great gift idea!
Giveaway begins Monday, December 9th at 7:00 pm (est) and ends December 15th at 7:00 pm (est)
(Open to US and Canadian Residents only)
Giveaway Rules:
In the comments section below, please leave a message telling us why you would love to win this book, and which recipe you might consider trying? Be sure to enter the CAPTCHA code BEFORE hitting the submit button.
LIKE Gluten-Free on a Shoestring on Facebook
LIKE CeliacCorner on Facebook, and Follow on Twitter (if you are a tweeter) – Please leave a message on Facebook that you have entered giveaway
Please share on your Facebook page so others will learn of this great giveaway, and Tweet about it at least once.
That's it!  Good Luck
Note: Winner will be notified via email and will have up to 2 days to respond, otherwise another winner will be chosen. Open to US and Canadian residents, 18 and older.
Please leave your comment below to enter Giveaway! (Don't forget to solve the Captcha Code, before hitting Submit – thanks)