Gluten-Free Accommodations and Dining at the Inn on Randolph, Napa, California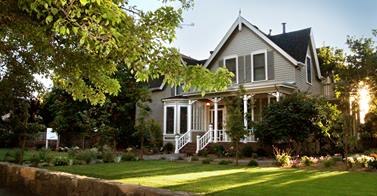 "Set on almost a full acre, beautifully landscaped gardens generate a variety of colors, textures and hideaways. Lovely terraces and meandering stone paths invite guests to stroll or sit while enjoying Napa's temperate climate."
I was fortunate to have had an opportunity to visit Napa, California, about 15 years ago. After spending a week in San Francisco, friends and I drove out to this beautiful region where we toured a few of the (over 450) wineries, shopped, gallery-hopped, and feasted on the local cuisine. The trip was pre-celiac diagnosis, so at the time I wasn't at all concerned with finding accommodations or restaurants where I could dine safely. Fast forward to the present, and now 100% gluten-free, I often plan well in advance of traveling, searching for both safe dining and accommodations. Locating restaurants is a slightly easier task these days than finding accommodations offering gluten-free food. One day I hope to return to Napa, and when I do, I will know exactly where to stay!
The Inn on Randolph is a renovated, boutique-style B&B located at 411 Randolph St., just a short walk from historic downtown Napa. Not only does the Inn offer beautifully decorated rooms with luxurious bedding and private outdoor spaces, it also happens to be a safe haven for anyone who needs, or chooses, to eat gluten-free. For the purpose of this Review, I was in contact with the delightful owner/innkeeper, Karen Lynch, and was told the Inn's kitchen has "never even seen a speck of gluten!" Karen was inspired to provide a safe dining experience for others following a gluten-free lifestyle, as she herself is gluten-sensitive.
The Inn has a gorgeous gourmet kitchen. "Our breakfasts feature fresh, local ingredients from the Napa Farmer's Market and the Inn's own garden.  All of the dishes on the menu are also completely gluten-free. The menu changes daily, but some of the specialties include bacon-wrapped polenta with based eggs, quinoa cakes with garlic lemon aioli, and sweet corn and fresh oregano corn cakes", says Karen.  No risk of cross-contamination.
Be still my gluten-free heart.
Karen and her team will do everything to make your stay a relaxing and gluten-free one. In fact, to help keep winery-visiting guests Gfree safe, Karen will prepare a goodie bag of gluten-free crackers for the cheese pairings at the wineries. Karen will help you plan your itinerary while visiting Napa, from outdoor adventures, winery tours, visiting the theater and dining at other gluten-free restaurants in the area … there happen to be 3 gluten-free within walking distance of the Inn including PicaPica  and CCasa. Coming soon, Gluten-Free Cate & Co., a bake shop.
The Inn on Randolph is a designated Historical Landmark Property and consists of a compound of buildings and cottages, all tastefully updated with comfortable furnishings and modern conveniences. The Inn offers 5 cottages, each with its own private entrance. The rooms are beautifully decorated with warm, earth-toned walls and furnishings, hardwood floors, luxurious bedding, fireplaces, heated limestone bathroom floors, spa tubs and organic toiletries. Some cottages open to a private sitting area or charming garden. The main Historic Residence (circa 1860) was completely gutted, with architectural details being preserved, and offers several rooms with oversized comfy chairs, fireplaces … some rooms have large bay windows, a private balcony or deck overlooking gardens.The Inn's newest buildings contain a Spa, just perfect for pampering after a day of touring and shopping, and the new Neiman Room hosts gatherings.
The Inn's grounds are stunning, from the smaller, quaint gardens to the Garden Terrace, consisting of 950 square feet of English gardens and a gazebo.
Not surprisingly, many couples choose the Inn for their special wedding day!
Room rates vary from $215 to $450 a night, depending on room and season.
Napa is a perfect destination for travelers who wish to enjoy the beautiful outdoors, unique shops, galleries, wine tasting and tours.  The Inn on Randolph is the perfect accommodation for the gluten-free (or otherwise!) traveler looking for a comfortable stay as well as a healthy one.
Enjoy this video of the Inn on Randolph.
Karen is available to answer any of your questions.  Be sure to inquire about the Inn's upcoming gluten-free pasta cooking classes (Jan. 2014)!
The Inn on Randolph
411 Randolph Street
Napa, CA 94559 USA
707.257.2886
Email: innkeeper@innonrandolph.com
www.innonrandolph.com facebook.com/innonrandolph
Here are just a few comments from visitors of the Inn on Randolph (from tripadvisor):
"The breakfast was very nice and the gluten free chocolate chip cookies were out of this world. The location is perfect, only approx. 5 min. walk to the center of Napa and short drives to the other nice towns in the wine country." Nov. 2013
"The hotel itself turned out to be one of the highlights of our Napa trip! This will be my go-to place in Napa going forward. Highly recommended" Nov. 2013
"Karen and her staff are fantastic. The property is beautiful, having just gone through what I'm guessing is a multi-million dollar renovation.The breakfast is excellent. The beds and linens are excellent. Their advice on wineries and restaurants is excellent. The rooms are nice sized, and wonderfully decorated. Worth every penny. I would NEVER, EVER stay anywhere else in Napa." 
"The rooms looked like they were out of a catalog — no doilies or lame frilly B&B decorations. Everything was modern and functional. The bathrooms even had heated floors! The sheets felt like sleeping in lotion. Check out the Neiman room for a big TV, a larger gathering space and all other entertainment needs."