Chuck E. Cheese's announces expansion of gluten-free options to all locations in the US & Canada
---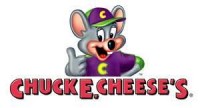 Earlier in the year Chuck E. Cheese's began a trial of introducing gluten-free menu options in their Minnesota and Iowa locations. The pilot program was a great success and has resulted in Chuck E. Cheese's announcing two gluten-free items will now be available at all their locations throughout the United States and Canada!  Chuck E. Cheese's collaborated with Conte's Pasta and Fabe's All Natural Bakery to ensure the development of a safe product and process. Families in the gluten-free community have been asking for this, and Chuck E. Cheese's Joe Eliot, "the man behind the menu's research and development" listened!
In a Press Release dated 13 November 2012, Chuck E. Cheese's announced they want every child to "experience the unleashed joy of a fun day at one of its stores"! Gluten-free items will include an innovative individual sized cheese pizza and a chocolate fudge cupcake, both of which have undergone rigorous safety procedures to avoid cross-contamination. The pizza slice will be the same price as the regular wheat-flour pizza.
"When we began this process, it was important that we focused on doing gluten-free the right way and making our product accessible even for guests with strict gluten intolerance," said Joe Elliot, Chuck E. Cheese's vice president of Research and Development. "With the gluten-free menu we're launching nationally today, we believe we have dramatically reduced the chances for cross contamination in our gluten-free products."
Chuck E. Cheese's worked with two respected partners to develop an innovative and unique pizza and dessert process. The gluten-free pizza arrives at Chuck E. Cheese's locations in pre-sealed packaging from Conte's Pasta's dedicated, certified gluten-free facility in New Jersey. The Bake-in-Bag® Pizza remains sealed while cooked and delivered, until it is opened and served with a sealed personal pizza cutter at families' tables by the adult in charge.
Under the same gluten-free procedure, chocolate fudge cupcakes from Fabe's All Natural Bakery remain in pre-sealed, single-serve packaging until opened and served at the table.
"Given that gluten-free products are something we've wanted to offer for the last few years, it feels very gratifying to deliver a product that reflects our commitment to providing even our guests with strict gluten intolerance with a product that still tastes great and expands the Chuck E. Cheese's experience from games to food and fun for so many families," Elliot said. "It's a great example of how we're working towards consistent quality across the board to make all facets of guests' visits more enjoyable."
In addition to the new gluten-free menu, Chuck E. Cheese's recently upgraded its traditional pizza recipe with dough made in-store as well as freshly shredded mozzarella and vegetables. In consideration of other food allergies, Chuck E. Cheese's provides a comprehensive online listing of each ingredient for all menu items to help parents determine the most appropriate foods for their unique family's dining experience.
The gluten-free cheese pizza can be purchased at more than 500 Chuck E. Cheese's locations in the U.S. and Canada for $5.99, the same price as its individual size pizza with traditional crust. The gluten-free chocolate fudge cupcake is sold for $2.99 in the U.S. and $3.49 in Canada. Chuck E. Cheese's encourages families to participate in Gluten-free Diet Awareness Month this November by tasting its new offerings and sharing their thoughts about dining out safely with food allergies on the company's Official Facebook Page.
Guests can find more information about Conte's Pasta at http://www.contespasta.com/ and Fabe's All-Natural Bakery at http://www.fabesnatural.com/."
[Update 11.16.12. according to a Chuck E. Cheese's rep:  The gluten-free items are currently available at all Chuck E. Cheese's in the U.S. and Canada except the stores located at 1199 Dillingham Blvd., Honolulu, HI 96817; 850 Kam Highway, STE 140 Box 1. Compartment 6, Pearl City, HI 96782; and 20 Backus Avenue, Danbury, CT 6810. To be sure, guests can locate the store nearest them at http://www.chuckecheese.com/discover/locations and call] 
About CEC Entertainment, Inc. (NYSE: CEC):
For more than 30 years, CEC Entertainment has served as the nationally recognized leader in family dining and entertainment and the place Where a Kid can be a Kid®. The Company and its franchisees operate a system of 562 Chuck E. Cheese's stores located in 48 states and eight foreign countries or territories. Currently, 511 locations in the United States and Canada are owned and operated by the Company. CEC Entertainment, Inc. and its franchises have the common goal of creating lifelong memories for families through fun, food and play. Each Chuck E. Cheese's features musical and comic robotic entertainment, games, rides and play areas, as well as a variety of dining options including pizza, sandwiches, a salad bar and desserts. Committed to providing a fun, safe environment, Chuck E. Cheese's helps protect families through industry-leading programs such as Kid Check®.
Chuck E. Cheese's aims to promote positive, lifelong memories inside and outside of its stores. In addition to providing a fun entertainment experience for millions of families across the world, Chuck E. Cheese's has donated more than $7.7 million to schools and non-profit institutions through its fundraising program. For more information, see the company's website at http://www.chuckecheese.com/
To read full Press Release click here
View Chuck E. Cheese's Video on Safety Procedures: http://youtu.be/1LiXszmhRLQ