Blackberry Cupcake Pies (Gluten-Free, Dairy-Free)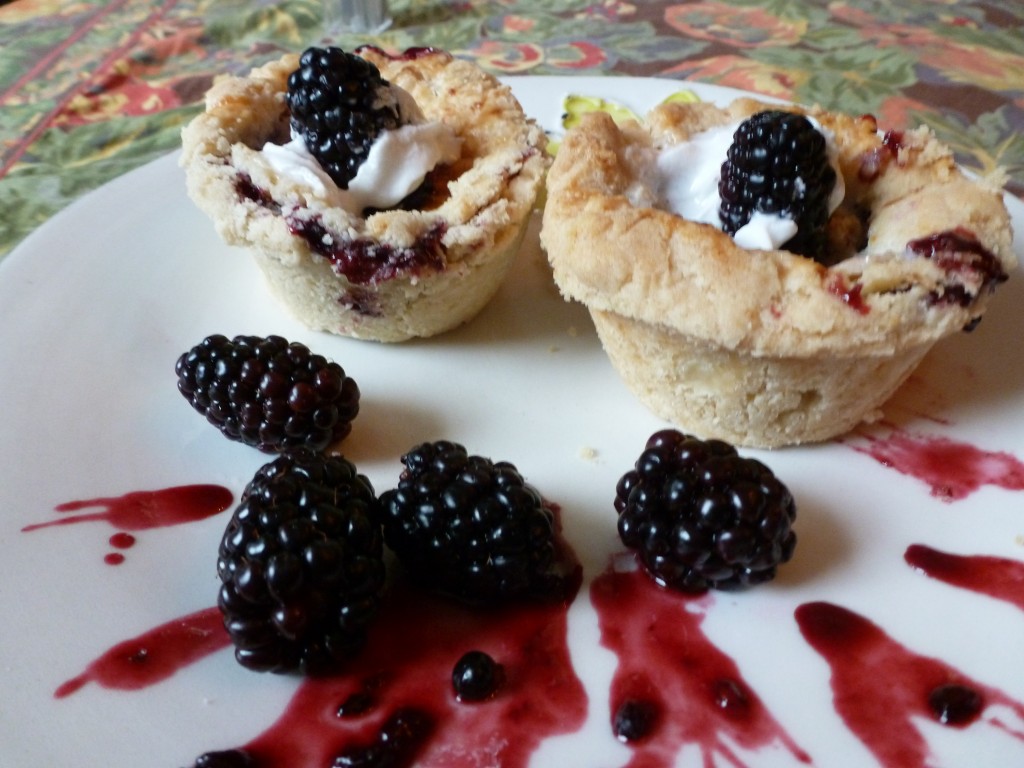 Although I really dislike seeing summer come to an end, one reason I do look forward to late August, is because my blackberry vines begin producing beautiful, plump berries in abundance! I've been picking them daily and my family and I are enjoying them in cereal, on top of yogurt, salads, and in sweet desserts!
I happened to have a bag of Bob's Red Mill Gluten-Free Pie Crust on hand and I adapted this recipe from one for Cherry Cupcake Pies on HealingCookery.com
Ingredients
– 2-3 cups of blackberries
– 1/2 cup of sugar (I used a combo of coconut palm sugar & organic white)
– 3 tbsp juice from 2 fresh squeezed lemons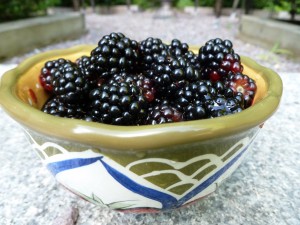 – 1 tbsp of GF cornstarch
– coconut oil spray (for greasing muffin tins, you can use butter, etc.)
– Gluten-Free Pie Crust ( I used a bag of Gluten-Free, Dairy-Free Pie Crust from Bob's Red Mill)
– 1 egg, whisked
– whipped Cream
Ingredients for Pie Crust
– one 16 oz. bag of Bob's Red Mill, gluten-free, dairy-free Pie Crust
– 8 tbsp of cold butter (Bob's called for 12), cut into pieces
– 8 tbsp cold shortening, cut into pieces (I used Earth Balance Butter Sticks, instead of shortening)
– 6 tbsp of ice water, more if needed
Makes 10 cupcake pies
Instructions:
Drop blackberries into a pan and add sugar. Cook on low heat until well combined (about 5-10 minutes). Add the lemon juice and continue to stir. In a bowl, combine the cornstarch with cold water, stir well and then add to blackberry mixture, to slightly thicken. Remove blackberry mixture from heat and let cool (be sure to reserve some of the mixture to drizzle over the freshly baked pies).
Prepare the pie crust according to package (I used a package of Bob's Red Mill Pie Crust … feel free to prepare your favorite pie shell recipe from scratch). Divide dough in half, roll out on top of parchment paper or in between plastic wrap. Flatten into discs. Wrap each disc in plastic wrap and refrigerate for one hour. Remove dough from refrigerator and roll out between plastic wrap. Remove top layer of plastic wrap, and cut out discs.  To get the perfect size of disc to drop into muffin tin is a little tricky. I used a coffee cup to cut the perfect size (you may need to experiment to be sure the disc fits all the way into the bottom of the muffin tin. I gingerly placed each dough disc into the pre-greased muffin tins, and then filled each with a few spoonfuls of the cooled blackberry mixture (leave about 1/4 in. from top). Then cut discs to use for the top crust, cut them slightly larger than opening of tin, then trim, press together and flute (I'm not the best fluter, I'm sure you will do better!). Next, brush each top crust lightly with whisked egg, sprinkle with sugar, and then poke a few holes on top with a fork.
Bake for 30 minutes at 350 degrees, then lower to 325 for 10 more minutes, or until crust is a light golden brown. Cover with foil if they begin to brown too much (avoid over baking). Pop them out of the tins, and enjoy them warm or let them cool! Drizzle with more of the blackberry mixture and top with whipped cream or add a scoop of ice-cream on the side! Enjoy.