Vertoris Pizza House – Bradenton, FL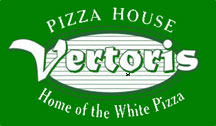 Serves lunch and dinner, 4:00 – 9:00 pm daily except Mondays
Vertoris is definitely more than a pizza house. We think the owners should change the name to Vertoris – a Celiac's Delight! Yes, they do serve a variety of gluten, vegan & dairy-free pizza, but their menu offers a wide assortment of gluten-free (as well as MSG, vegan, & dairy-free) options. GF menu items include: (appetizers) Turkey Chili, Buffalo Wings, Organic Eggplant, French Onion Soup, Foccacia bread with roasted Garlic Butter; (entrees) a "signature" Chicken Parmesan and Eggplant Parmesan; meat (or meatless) Lasagna, and Cheese Ravioli Florentine with organic baby spinach … and for dessert try the NY Style cheesecake (dairy-free version available), Tiramisu, Key Lime Pie or a delicious muffin of the day! GF beer also available. Owner Christine Harmon introduced gluten free items to Vertoris' menu after a friend was diagnosed with Celiac. If you are in or near Bradenton and looking for delicious gluten-free food made with healthy ingredients, do not pass this one up! Interior is small, casual, and family friendly. The servers are pleasant and efficient.
On Saturday mornings you can find Vertoris' baked items available at the Sarasota Farmer's Market (Main and Lemon Streets) in downtown Sarasota.
Driving note: Vertoris is located in a retail strip mall set back from busy 14th Street – we drove by the street sign (which included several other retailers) several times before finally seeing the name. Don't give up!
Gluten Free Menu: http://www.vertorispizza.com/pdf/Gluten-free%20Menu.pdf