Help With Label Reading
In 2004, Congress passed the Food Allergen Labeling and Consumer Protection Act (FALCPA) to help with identification of FDA regulated foods that contain major food allergens.  FALCPA has identified the 8 food allergens as: milk, eggs, fish, crustacean shellfish, tree nuts, peanuts, wheat and soybeans (and any ingredient that contains a protein derived from one or more of them).  FALCPA applies to food products that are labeled on or after 1 January 2006.  As a result of FALCPA, manufacturers are required to label food products that contain any of the 8 allergens by either including the name of the food source in parenthesis following the common name of the allergen, in the list of ingredients. For example:
Ingredients: Enriched flour (wheat flour, niacin, reduced iron, thiamin mononitrate, riboflavin, folic acid), sugar, partially hydrogenated soybean oil, and/or cottonseed oil, high fructose corn syrup, whey (milk), eggs, vanilla, natural and artificial flavoring) salt, leavening (sodium acid pyrophosphate, monocalcium phosphate), lecithin (soy), mono-and diglycerides (emulsifier)
Or, by adding the word "contains" followed by the name of food source from which the allergen is derived, either following or adjacent to the list of ingredients.  For example: Contains Wheat, Milk, Egg, and Soy
Important to Note: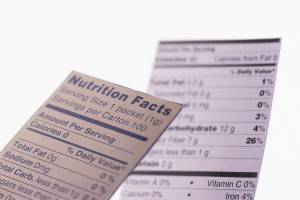 Barley and Rye are not part of the 8 top allergens and therefore not required by FALCPA to be identified on a label and could possibly be hidden under "flavorings". (Unless the product is labeled "gluten-free", then the product must contain less than 20 ppm (assumed to be a safe level) of either barley & rye, as per current FDA labeling of gluten-free products, which US manufacturers must adhere to by August 2014). Read more

here

on current definition of "gluten-free" for labeling purposes.
FALCPA does not require food manufacturers or retailers to remove or relabel products from shelves that were labeled prior to the January 2006 date, so there could still be some products out there without the noted allergens, though probably rare – but as always it is best to read the ingredients carefully.
Some products are exempt from FALCPA's labeling requirements:  fresh fruits, vegetables, highly refined oils that may have been derived from one of the 8 allergens.
FALCPA's labeling requirements do not apply to the possibility of cross-contamination occurring due to sharing of equipment.
FALCPA's labeling requirements do not apply to medications.
Meat, Poultry, Fish and Egg products are regulated by the USDA, not the FDA.  The USDA does not follow the same regulations of declaring the top 8 allergens. Therefore, a product could contain wheat (or barley) hidden under "natural flavorings, fillers, or modified food starch".  Though many manufacturers do declare if wheat was included, some do not – so it is best to call to verify.
For more information on FDA/FALCPA:
Bottom Line:  If WHEAT, or any of its derivatives, was used as an ingredient (& the product falls under FDA regulations), it should appear on the product ingredients' label, but you still need to be a food detective when considering if barley (malt) or rye have been added (unless it is a product labeled "gluten-free" after Aug. 2, 2014, then you can assume it does not contain barley/rye or does in levels under 20 ppm) and when purchasing an imported product.   Finally, unless a product has been "certified" gluten-free and processed on a dedicated gluten-free line, there is always a risk of cross-contamination. Many Celiacs can tolerate products that have been made in shared facilities, others cannot.
For that extra comfort level, to ensure a product is gluten-free, one can opt to purchase a product that has been certified gluten-free by:
The Celiac Sprue Association (CSA)
http://foodallergies.about.com/gi/o.htm?zi=1/XJ&zTi=1&sdn=foodallergies&cdn=health&tm=263&gps=619_303_1448_646&f=20&tt=8&bt=0&bts=0&zu=http%3A//www.csaceliacs.org/FDADefinitionofGluten-freeLabeling.php
The Gluten Intolerance Group (GIG)
Something to consider:  Even products which are certified as gluten-free can be made in a facility that also processes gluten-containing items, but most facilities will take extra precautions when cleaning lines, and many manufacturers test their products for gluten content.  Adding the statement about shared facilities is voluntary.
Other Countries' Gluten-Free Certification/Endorsement Programs:
Australia: http://www.coeliac.org.au/crossed-grain-logo/
Canada: http://www.glutenfreecertification.ca/about-gfcp/
United Kingdom: https://www.coeliac.org.uk/food-industry-professionals/the-crossed-grain-symbol/
For information on Labeling a product as

Gluten-Free

, (in the US and other countries) please see Section Celiac 101- "What is Gluten

– Gluten-Free Defined"

.