Hilton Hotel, Ave. of The Americas, NYC – Celiac Friendly
My family and I traveled to New York City (Aug. 2011) along with relatives visiting us from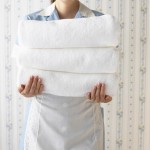 Houston.  I read the reviews of the Hilton/1335 Avenue of the Americas, also 6th Avenue, on TripAdvisor and since most were favorable I decided to book.  The location between 53rd and West 54th Streets, made it ideal for a short walk to Central Park, and not too far from Rockefeller Center and the great shopping venues along 5th Avenue and beyond.  I booked a standard, 2 double-bed room, which was comfortable and spacious enough for two adults and two children. I was glad I chose not to upgrade to a suite, and pay the extra bucks, as the 2 DB was completely adequate for our 2 night stay. The kids especially enjoyed the view from our room on the 34th floor. The only complaint I had was the bathroom countertop was rather small, barely fitting our toiletries – but the room was clean and updated … and yes, I did check and no bedbugs!
The price of the room ($263.20 per night on Hotels.com) included what I thought was going to be a continental breakfast (i.e. toast, muffin, a banana & a cup of Jo), but to my surprise we were offered a "full" buffet.  Our server was fantastic and told me to alert the omelet chef (a/k/a master juggler due to the quantity of omelets he prepared simultaneously) about my gluten issues. The server also mentioned gluten-free toast was available.  I had to ask again "did you say there was gluten-free toast available?"  Indeed. Delicious, toasted bread with caraway seeds which I was able to spread with the  jam also on the table and not containing any gluten ingredients.  Gluten-Free Toast and Jam – unexpected – great!  I enjoyed a delicious veggie omelet complemented by a decent assortment of fresh fruit. Before heading out of the breakfast café, I asked our server if I could speak with the Manager.  A petite woman walked out of the kitchen with a look on her face of  "oh no, another complaint", but to her surprise I complimented both our server and the fact that they considered the Celiac and gluten-sensitive community, by offering gluten-free bread!  She was visibly appreciative and thanked me for taking the time to give her complimentary feedback!  I couldn't help myself from adding it would be great to see even more gluten-free breakfast options in the future.
The lobby of the Hilton is modern, has several gift shops, a café/bar and is bustling with travelers.  It was nice having a Starbucks on the ground floor level as well.
Since we had a car, and a few pieces of luggage, we opted for the valet parking at $51 overnight, pricey but convenient.  When we departed, we all were handed a bottle of cold spring water to enjoy.  Nice touch Mr. Hilton.