Ricotta Cheesecake with Peaches and Honey (Gluten-Free)
by Jackie Ourman
CeliacCorner's Featured Food Blogger for September!
 Meet Jackie:
I am a food lover and mom of 3 with celiac disease and multiple food allergies. I completed Culinary Management School in August 2012 at the Institute of Culinary Education (ICE) in New York City and received the Nespresso Top Student Award for being the student who has demonstrated overall excellence in their studies and industry-preparedness. I am currently enrolled in the Culinary Arts program at ICE and am excited to be in a professional culinary environment. My blog, Jackie Ourman.com / Celiac & Allergy Friendly Epicurean (CAFE) was created as a means for me to share recipes, experiences dining out and other resources to help navigate food allergies and celiac in and out of the kitchen.
"… I was snacking on some sliced peaches with fresh ricotta and drizzled honey. I loved the combination so much, I decided to turn it into a dessert."
Prep time:  
Cook time:  
Total time:  
Serves: 8
Ingredients
¾ cup sugar, separated into 2 halves, plus more for sprinkling
the pans
1½ lbs fresh whole-milk ricotta
½ peach, pitted and diced into small pieces
¼ tsp cinnamon
1 tsp honey, plus more for drizzling
4 egg yolks
6 egg whites
¼ cup gluten-free flour blend (King Arthur or homemade)
finely grated zest of ½ lemon
¼ tsp salt
butter for greasing pan
1½ peach, sliced for garnish
Instructions
1.  Heat oven to 325 degrees
2.  Grease an 11′ springform pan with butter on the bottom and sides and sprinkle lightly with sugar
3.  Place fresh ricotta, diced peach, cinnamon and honey in a food processor and puree until creamy
4.  Beat egg whites in a stand mixer with whisk attachment on low until foamy. Add ½ of the sugar and gradually raise speed to high whisking until egg whites become stiff, white and glossy (about 3-4 mins).
5.  Meanwhile, whisk together ricotta, peach and honey mixture with egg yolks, gluten-free flour, remaining sugar, lemon zest and salt in a large bowl.
6.  Fold ⅓ of the egg whites into the mixiture using a rubber spatula until just combined. Gently fold in the rest until just combined.
7.  Pour batter into pan and bake at 350 until top is deep golden brown (about 25 minutes). Reduce temperature to 225 and continue to bake until center is firm (about an additional 35-40 minutes).
8.  Let stand for 20 minutes. Run a knife around the edge of the cake, release the sides and cool in the refrigerator at least 4 hours or overnight.
9.  Garnish with sliced peaches and drizzle honey all over the top of the cake. Serve and enjoy.
Thanks Jackie!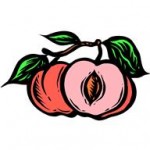 For even more delicious gluten-free, allergy-friendly recipes follow Jackie:
To see ALL CeliacCorner recipes visit HERE