Paleo Thai Food Fish Skewers (Gluten-Free)
by Tina Turbin, of

PaleOmazing

, our Featured Food Blogger for the month of March!
(Don't miss our interview with Tina, HERE)
Tina Turbin is a well-known Celiac advocate who researches and writes about the benefits of the Gluten-Free, Paleo-ish and Keto diets and is the award-winning recipe developer and owner of PaleOmazing.com. Tina has released award-winning eBooks, multi award-winning children's titles and thousands of articles. Tina also founded GlutenFreeHelp.info, voted #2 .info site in the world in 2009 out of over 6.7 million other .info sites; turning it over to her celiac daughter, Miranda Jade Turbin in 2012.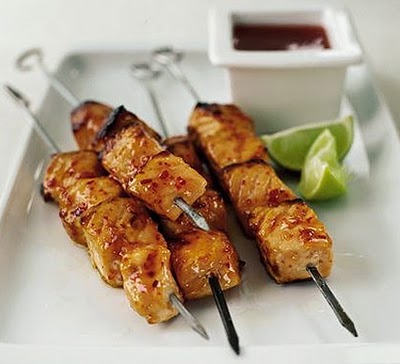 These Paleo Thai Fish Skewers are great to do on the grill in the summer and are wonderful with this paleo cabbage slaw on the side.
Finish off the meal with any of my delicious paleo desserts and you are sure to have some happy tummies!  Tina
Ingredients:
3 Tablespoons each fresh lime juice and gluten-free Asian fish sauce
2 stalks fresh lemongrass, the bottom third yummy part only, sliced
2 Tablespoons light neutral honey
¼ Teaspoon molasses (optional)
1 Tablespoon each peeled chopped fresh ginger and olive oil
1 large jalapeño chili, sliced (optional if you do not like spicy)
1 shallot, sliced (use a small onion if you are doing this on a whim and no shallots at hand)
2 garlic cloves, coarsely chopped
4 (6-oz.) ¾-in thicker fish such as halibut, cod, sea bass, or even domestic catfish fillets halved lengthwise
Olive oil for brushing on the fish
8 (12-in) bamboo skewers, about a ½-in wide
Instructions:
Process all marinade ingredients in a food processor until pureed.
Pour marinade into a large food-storage bag.
Add fish fillets.
Close bag and turn to coat.
Refrigerate 1 to 2 hours, turning bag once or twice
Soak skewers in water 10 minutes before using.
Heat an outdoor gas grill, or prepare coals for a charcoal grill for direct grilling over medium-high heat.
Remove fillets from marinade.
Wipe excess marinade from fillets with a paper towel.
Take skewers out of water and let sit.
Brush skewers with olive oil, then carefully thread lengthwise through fillets.
Brush the cooking grates clean and oil the grill rack.
Lightly brush fillets with oil.
Grill skewers over direct heat until you can turn them without sticking, 3 to 4 minutes.
Grill 4 minutes more or until barely opaque in the thickest parts.
NOTE: I do recommend you reserve ⅓ of the marinade to serve on the side in case someone would like to add some or use as a side "dip".
Enjoy!
Thank you Tina!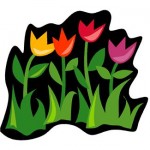 Fore even more delish paleo, gluten-free recipes, follow Tina!
Check out Tina's videos on

YouTube

!
For all CeliacCorner Recipes open HERE